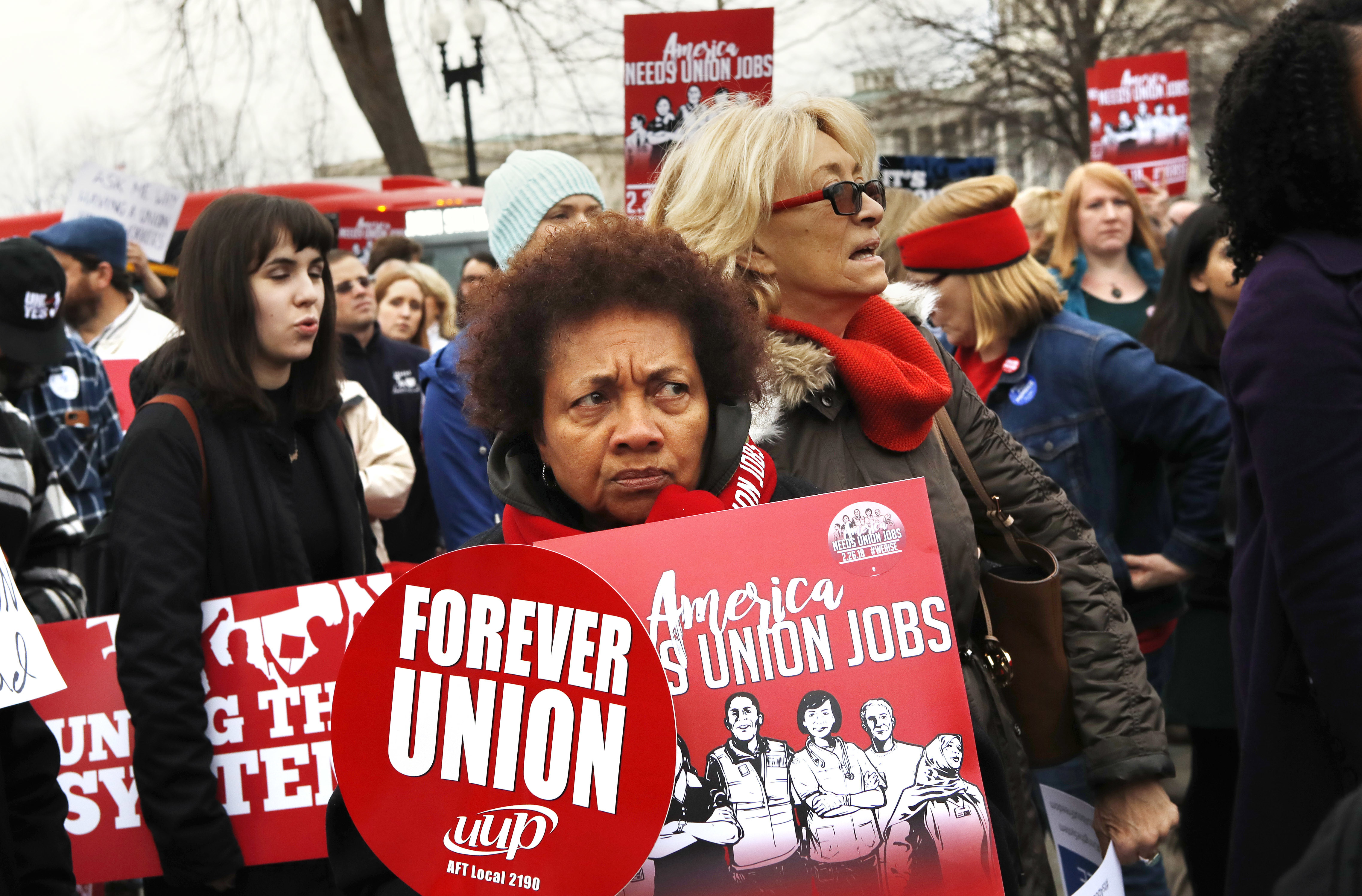 WASHINGTON—Top union leaders—and the woman worker who triggered one of the justice's most-memorable dissents—praised the late Supreme Court Justice Ruth Bader Ginsburg. And many coupled it to demands there be no replacement for her on the High Court bench until after the next presidential inauguration, Jan. 20, 2021.
Ginsburg, 87, the senior progressive and intellectual driving force for that bloc on the court, died the evening of Sept. 18, as the sun was setting and the Jewish Holy Day of Rosh Hashanah was starting. Ginsburg, the longtime crusader for equal rights for women and minorities, was one of the court's three Jewish justices. She died from complications of pancreatic cancer.
Only 78 minutes after the court's press office announced her death, Senate Majority Leader Mitch McConnell, R-Ky., produced a crass statement that briefly noted her passing, coupled with a promise for a quick vote on whomever right-wing GOP President Donald Trump nominates as her successor.
His declaration, 44 days before Election Day, raised the stakes on the balloting even higher, as McConnell gives Trump free rein to nominate another far-right-wing jurist. The Kentuckian also set off a political firestorm, with many of the union leaders who lauded Ginsburg immediately joining the demand elsewhere for no vote until next presidential term.
"America has lost one of the greatest jurists in our nation's history. Justice Ruth Bader Ginsburg spent her career defending the Constitution and the everyday working people who bring that document to life. She was a consistent, unshakable champion of civil and women's rights and the freedom to form a union," AFL-CIO President Richard Trumka said.
"The AFL-CIO, the labor movement, and all those who aspire for dignity on the job are better off because of Justice Ginsburg's service. Her passing leaves a hole in our collective hearts and a vacancy on the highest court in the land. You can rest assured unions will honor Justice Ginsburg's memory as we fight for our democracy in the days and weeks to come."
Other union leaders, including presidents of three of the nation's largest unions, coupled praise for Ginsburg with warnings to the Senate's ruling Republicans and Trump not to push a replacement through. Trump and his puppet, McConnell, however, show no signs of even listening. Trump planned to unveil his nominee, whom he said will be female, by Sept. 26.
Union and other comments included:
"Justice Ginsburg is an icon," said Teachers (AFT) President Randi Weingarten, a New York City civics teacher. "She leaves behind a legacy as a brilliant, hardworking jurist and a trailblazing feminist. Her loss is incalculable."
The justice "broke barriers most never even dreamed to approach. Her unfailing sense of justice reminded us of its awesome power, and her unbending sense of duty reminded us to remain committed to protecting our democracy, our Constitution, and the rule of law. But it was her personal courage and resilience, especially in the face of illness, that reminded us just how much strength one single person can have."
"The best way to honor Justice Ginsburg is to cherish the justice she pursued and to honor her final wish to wait until the next president is inaugurated before considering her replacement."
National Education Association President Becky Pringle, a Philadelphia science teacher, said, "Justice Ginsburg was a woman, teacher and tenacious fighter for equal rights for women and girls. She reminded us the only thing that keeps women from being on equal footing with men is to take 'their foot off our necks.'"
"Truly the Notorious RBG"—a popular nickname, for Ginsburg modeled on one for the late rapper Notorious Big—the justice "showed us the power of dissent. In the landmark decision of Ledbetter v. Goodyear, she boldly wrote what many of us know far too well and personally: women can be victims of sex discrimination, and we are far from achieving equal pay for equal work. In the power of the written word, Justice Ginsburg urged Congress to take up the issue."
In that ruling, the court's five-man GOP-named majority ruled against Lilly Ledbetter, a former supervisor at the Goodyear Tire Plant in Gadsden, Ala., who sued for sexual discrimination in pay after she found—after 20 years there—that though she had equal or better evaluations than males, she was shorted on pay from her first day on the job.
Ledbetter won in lower courts but lost in the Supreme Court in 2006. The majority ruled Ledbetter had only 180 days from the date she was hired to sue. In a biting dissent, which she read from the bench, Justice Ginsburg ridiculed that conclusion, given that Goodyear banned supervisors from sharing pay information. The justice demanded Congress remove the limit. It did when Democratic President Barack Obama took office. It was the first law he signed in 2009, with Ledbetter looking on.
Ginsburg "has changed lives that will always be changed simply because of her and her reputation and her fight for the law and equal justice," Ledbetter told Alabama media. "I'm just so sad because I lost a dear dear friend and a champion." The two corresponded for years afterwards. Ginsburg had the Lilly Ledbetter law, restoring the right to sue, hanging on her office wall.
"Justice Ginsburg gave this nation so much and asked little in return. But she made one request to the nation on her deathbed: 'My most fervent wish is that I will not be replaced until a new president is installed,'" Pringle added. "Donald Trump and the Senate, indeed the nation, should honor her wish."
"We should celebrate her life, vote in a fair and free election, and then the next president can consider who should attempt to fill her unfillable shoes. She made this wish, not for her sake, but for ours. Our nation is being pulled apart at the seams. She understood that the people must be heard in the election and any consideration of replacing her should wait. We should heed her wish—and her sage advice."
After praising Ginsburg's record of fighting for women, workers, and people of color, Service Employees President Mary Kay Henry and AFSCME President Lee Saunders sounded that warning, too.
"Justice Ginsburg's dying wish was for the next president to appoint her successor," said Henry. "That wish must be honored. Anything less would be an affront to the Americans who expect to have a voice in their democracy, including the people who are already casting ballots. There can be no movement on a nominee to replace her enormous shoes before the next president is sworn in."
"No justice should be nominated or confirmed until January 2021," Saunders warned. "To fill this seat now, just weeks before Election Day…would be a corrupt, norm-breaking power grab without precedent in American history. The February 2016 rationale for refusing to consider Merrick Garland's nomination should apply in September 2020. To suggest otherwise is rank, shameful hypocrisy."
"All of our most cherished rights are at stake–workers' rights, women's rights, civil rights, voting rights, and more. Another right-wing justice could radically alter American law and society for generations, wreaking havoc on the lives of people who depend on the court to safeguard their freedoms. Millions… could have their health care coverage ripped away. It will mean unchecked corporate power and widening inequality, with renewed threats to the ability of working people to come together in a strong union. The cause of racial justice will come under ruthless attack, with people of color marginalized and immigrant communities dehumanized."
"Filling Justice Ginsburg's seat with someone dedicated to rolling back so many hard-earned rights and freedoms would be an insult to her proud, principled legacy."
The Communications Workers, too, cited the Ledbetter case and praised Ginsburg's dissent. "From her groundbreaking work with the ACLU demonstrating that discrimination on the basis of gender is unconstitutional to her opinions and dissents as a Supreme Court Justice, Ruth Bader Ginsberg used her powerful intellect to advance equality," the union said. "Ruth Bader Ginsberg has served as an inspiration for countless activists. In the critical months ahead, we will follow her example and never, ever stop fighting for justice, for equality, and for our democracy."
Teamsters President Jim Hoffa cited another Ginsburg pro-worker dissent from yet another party-line 5-4 High Court vote against workers in praising the justice for always standing on their side. In that May 2018 case, Trump-named Justice Neil Gorsuch wrote for the majority that mandatory arbitration provisions always override union contracts and labor law provisions that protect workers against bosses.
"When labor and civil rights advocates sought justice at the Supreme Court, we knew that Justice Ginsburg would be there for us," Hoffa said.
"Justice Ginsburg authored a strong dissent" in that case, which "for the first time determined workers may not band together to challenge violations of federal labor laws. She called the majority 'egregiously wrong' in its decision, saying the result of the ruling would be a significant under-enforcement of state and federal laws designed to protect workers."
News Guild Local 32035 Vice President Elise Bryant, president of the Coalition of Labor Union Women, called Justice Ginsburg "a trailblazer, a brilliant jurist and committed to justice for all. As we mourn her passing we must also take inspiration from her lifelong commitment to, 'help repair tears in her society, to make things a little better through the use of whatever ability she has.'" Bryant asked CLUW members to contribute memories and reminiscences to be forwarded to Ginsburg's children and grandchildren. Pride@Work Executive Director Jerame Davis also lauded the justice's trailblazing record for equal rights, including for LGBTQ people.
"The best way to honor Ruth's life is to make sure every woman eligible to vote is registered and that her vote is counted," Bryant continued. "We do this in loving memory of a life committed to 'Fight for the things that you care about, but do it in a way that will lead others to join you.' RBG, Rest In Peace and power."
"Last month, Justice Ruth Bader Ginsburg addressed a group of newly naturalized American citizens, expressing the need for our nation to remove the 'stains' of racism, and reminded the new citizens about the role they now played as part of the nation's electorate," Labor's Council for Latin American Advancement reported. The legacy RBG leaves behind is that of equality, justice, and respect for human life, one which will be boldly defended by future generations committed to a more inclusive nation."
The School Administrators were another union that quoted Ginsburg's own words as they lauded her.
"I try to teach through my opinions, through my speeches, how wrong it is to judge people on the basis of what they look like, color of their skin, whether they're men or women," the justice said in the quote AFSA posted.
"Justice Ginsburg worked hard her whole life to make the world a better place. With her passing, our country has lost one of the greatest jurists in our long and storied history and one of the toughest advocates for civil rights and women's rights," the union added. "She would always remind her audience" the U.S. Constitution "starts off with three words: 'We the people'—meaning all people."
"As we honor her life, let's take a lesson from her words—'Fight for the things you care about. But do it in a way that will lead others to join you.'"