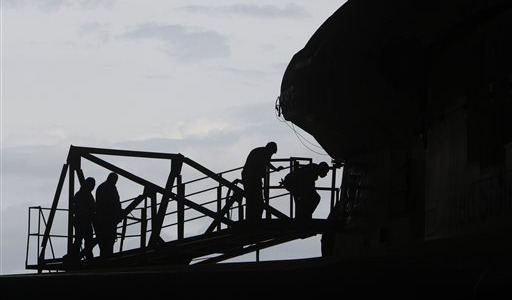 ORLANDO, Fla. – Workers, their unions, small business owners and community activists in central Florida are fighting to save 7,000 local jobs at the National Aeronautics and Space Administration and 16,000 more in the public and private sectors. Their drive comes as labor leaders from across the country hold a major strategy session here on the national jobs crisis.
Under pressure from "deficit hawks," the Obama administration wants to save money by outsourcing to private companies NASA programs that include lunar landers, moon bases and replacement parts for space shuttles.
Unions say this will devastate central Florida, which is already one of the hardest hit areas in the nation's foreclosure crisis.
Among the unions gathered for the AFL-CIO executive council meeting this week are three that represent many of the workers who will lose their jobs here – the Machinists (IAM), Transport Workers (TWU), and Electrical Workers (IBEW). The three unions were instrumental in putting together a rally attended by 2,000 in nearby Titusville on Saturday.
"This is no time to tear out the foundation of this community," AFL-CIO President Richard Trumka told the crowd. "At a time when so many in Florida are out of work, have lost their homes, does it really make sense to pile on more misery?"
Dan Ryan, business manager for IBEW Local 2088, said in a phone interview after the rally that the action was intended to "get Washington's attention on what the impact really is of cutting off this funding and shutting down a program without any regard for the labor force that's going to be released."
Several union leaders here for the AFL-CIO meeting were at the rally including IBEW President Ed Hill and Ironworkers President Joseph Hunt.
"We don't need a jobs destruction program here in Florida or anywhere in our country," Trumka declared. "We need a national jobs creation program that keeps people working and puts people to work."
Many of the labor leaders attending the national strategy session on the jobs crisis are angry about what they see as a steady stream of handouts to Wall Street with nothing to show for Main Street. Many are saying they are particularly fed up with politicians who, as one leader put it, "act as if it is government's job to represent the rich rather than the people who work for a living."
That type of sentiment can potentially impact the 2010 midterm elections because union leaders here this week intend to, among other things, map out a political action program. Many here say that labor, which spent hundreds of millions of dollars in the 2008 election cycle, will continue making a major impact in the electoral arena. They are warning that union support is not something any politician can take for granted.
Photo: NASA employees work on space shuttle Discovery in the Vehicle Assembly Building, preparing it for its upcoming launch at the Kennedy Space Center in Cape Canaveral, Fla., Feb. 22. (AP/John Raoux)