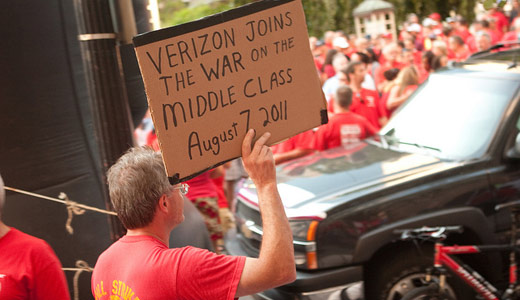 The Communications Workers of America (CWA) and the Electrical Workers (IBEW) have reached a tentative agreement on a contract with Verizon after two months of federal mediation.
The unions are giving credit for the agreement to what they say was the unprecedented mobilization of tens of thousands of their members and supporters in the labor and progressive movements over a long period of struggle.
Some 34,000 CWA members and 6,500 IBEW members work for Verizon along the East Coast.
"The workers stood up to the most sweeping and intensive attack on our standard of living and bargaining rights in the history of the telecommunications industry," declared Chris Shelton, vice president for CWA District One.
"In this tough economic climate, with many politicians and CEOs preaching more and more austerity for the middle class, working families at Verizon stood strong and stuck together to get the best possible agreement," said IBEW President Edwin Hill. "We don't agree with everything in it, but it allows us to move forward and continue to fight for good middle-class jobs at Verizon in the years to come."
The unions have released only a few details of the agreement saying they are withholding much of what was agreed to until local unions have an opportunity to present the information to members at their work locations over the next week. They also have not released specifics about how the agreement will be ratified except to say that voting by the membership will take a month to complete.
What is known is that the new contract keeps existing job security language, including a clause that forbids the company from laying off workers hired before 2003 and a clause that restricts the company's right to relocate jobs or workers themselves out of the region or long distances from home.
The new contract also keeps the existing defined-benefit pension plan for all current employees and workers at Verizon Wireless have a contract that contains wage increases and no concessions.
There are no details available about a new and separate agreement that has been negotiated between Verizon wireless and 70 CWA-represented technicians who maintain cell sites in the metropolitan New York area.
IBEW and Verizon are still putting the finishing touches on a separate agreement covering 6,000 members in New Jersey and Pennsylvania.
Photo: Paul Weiskei // CC 2.0