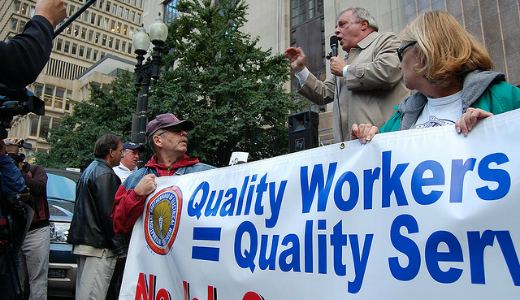 Unions representing the 45,000 Verizon workers who ended their two-week strike by returning to work yesterday have rejected claims by the company that their return to work marks a victory for the company.
Harry Mitchell, a spokesman for Verizon, said Aug. 21 that ending the strike was the company's decision. "It was our choice to let the strikers back to work." Marc Reed, another spokesman for the company, followed that up with a statement that Verizon hopes "to convince the unions to begin bargaining with us in good faith."
The Communications Workers of America has called the comments "inaccurate and insulting.
"We agreed with management not to claim victory in changing the process, reinstituting the contract or shaping our goals," the CWA statement reads. "We will live by that commitment. But Reed's comment, if not retracted, means that we will be prepared to fight hard whenever necessary if Verizon believes it can resume negotiations on that basis."
The decision to end the strike came after the unions and the company agreed on a structure and focus for bargaining on key issues such a jobs, employment security and financial issues such as healthcare contributions and pensions, according to CWA President Larry Cohen.
Workers say that the company was anxious to bring them back on the job, even if it meant reinstating an expired contract the company said was too expensive, because of the difficulty managers had in keeping operations going during the strike.
Reports from people who were potential Verizon customers seem to validate that contention.
In New Jersey many ordering television and Internet service during the two-week strike were given installation dates in late December.
In New York, people were routinely told, after completing the entire sign-up process for services, that they could not be given an installation date at all and that they would be contacted when the company was able to give them such a date.
"You can't pull out of any system 45,000 people who are the hands and minds of a company and expect to provide the same level of customer service as before," said George Kohl, an aide to Cohen.
A manager who worked in New York to cover for striking workers, speaking on condition of anonymity, said weather forecasts were actually involved in the company's decision to bring back the striking workers.
"Verizon called the strikers back because they knew that supervisors and managers would never be able to survive the mess or be able to deal with the aftermath of something like Hurricane Irene later this week."
Weather forecasters have been saying since late last week that Irene could be the first hurricane to make landfall in the U.S. in three years and that, if it does, it could impact 60 million living on the East Coast.
Photo: Elizabeth Washburn // CC 2.0