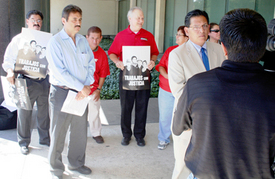 Unions and immigrant rights organizations praised a federal judge's Oct. 10 decision barring the Social Security Administration from using "no-match" letters to force employers to fire workers who cannot quickly clear up discrepancies. At the same time, the groups said, much work lies ahead to achieve fair immigration policies.
Federal District Judge Charles R. Breyer ruled on a challenge to the Bush administration's proposal to send no-match letters containing a new rule on firing such workers. He said the plan "will, under the mandated time line, result in the termination of employment to lawfully employed workers" and would bring "irreparable harm to innocent workers and employers."
AFL-CIO President John Sweeney, in a statement, called the decision "a significant step towards overturning this unlawful rule, which would give employers an even stronger way to keep workers from freely forming unions."
The executive vice president of the Service Employees union, Eliseo Medina, said the federal court has seen the no-match regulations "for what they are — an illegal, ill-conceived measure that would threaten thousands of innocent workers and lead to discrimination and massive workforce disruptions."
"It's time to stop the indiscriminate roundups and get back to finding solutions that strengthen — rather than divide — our nation," Medina added.
In August, the Department of Homeland Security announced a new rule that would give employers 90 days to resolve a discrepancy, and a further three days for a worker to submit a new Social Security number. After that, an employer who did not fire the worker would be liable to criminal prosecution or fines.
The American Civil Liberties Union's Immigrant Rights Project, the AFL-CIO, the Alameda County and San Francisco labor councils and the National Immigration Law Center (NILC) filed suit to block implementation, and were granted a temporary restraining order. Judge Breyer's Oct. 10 preliminary injunction bars the rule from taking effect pending a trial, expected to be some months in the future.
While the new regulation would hurt both native-born and immigrant workers, those "most harmed by this extreme proposal would have been immigrant workers, documented and undocumented alike," said Sharon Cornu, head of the Alameda County Central Labor Council. "American labor law fails to protect them, their freedom to choose a union and the right to bargain collectively," she added.
Cornu said the labor council will continue working with community organizations, the faith community and elected officials to inform people about their rights and educate them on the real issues behind immigration reform.
Monica Guizar, employment policy attorney with the NILC, said, "Overall, we're pleased that the judge agreed with us that the government's proposal would affect more than 8 million workers, including lawfully employed workers," many of whom would lose their jobs.
The Social Security Administration acknowledges that its database contains 17 million records with discrepancies, and that 70 percent of the mismatches involve U.S. citizens, Guizar noted.
"Our goal is to educate the public and employers, and have them realize that what DHS [Homeland Security] is proposing is not an effective immigration enforcement tool and will negatively impact all workers and employers as well," she said. A staff attorney with the San Francisco-based Asian Law Caucus, Shirin Sinnar, said
Judge Breyer's ruling is "very significant" and "hopefully will deter many employers from unnecessarily firing immigrant workers."
"At the same time," she cautioned, "it is important to remember that other government programs are currently under way to enforce immigration rules."
It is important to continue "to send a message, through community action, media advocacy and political pressure, that one-sided workplace enforcement without comprehensive immigration reform is not an answer," Sinnar said. "That message needs to continue to get out, because it's not just the no-match letters, it's so much else the government is doing that's problematic."
Though currently no-match letters are not grounds to terminate workers, employers have repeatedly misused them to get rid of workers who seek to organize or to stand up for their rights. An example is the firing earlier this year of 12 immigrant workers at the Woodfin Suite Hotel in Emeryville, Calif., who joined others in asserting their right to a living wage and other protections under a city ordinance.
mbechtel @pww.org