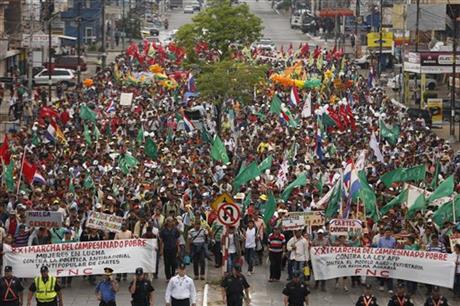 Paraguayan labor federations and small farmer organizations launched a general strike on March 26. Some 90 percent of workers in Asuncion honored the strike that paralyzed the capital and spread to other cities. Labor leaders had called the strike in December 2013 in the midst of protests against the Colorado Party's Horacio Cartes, who became president in August. Planners allowed three months to ensure that both labor and agrarian rights groups could participate in the strike in March.
The U. S.-supported Colorado Party held power for 61 years, 31 of them under the sway of dictator Alfredo Stroessner. In 2008, a leftist coalition secured Fernando Lugo's election as president, thereby ousting the Colorado Party. In 2012 Paraguay's right-wing congress illegally dismissed Lugo on the pretext that his government showed incompetence in dealing with agrarian rights activists occupying dubiously titled land in Curuguaty.
An assault there by 300 police, some U.S. trained, had left 23 dead – six of them police – and over 20 wounded. The police allegedly killed prisoners. Demonstrators on March 26 called for the release of still-imprisoned Curuguaty resisters, some on a hunger strike.
Echoes of the Curuguaty incident at the strike illustrate the centrality in Paraguayan politics of struggle over land. Paraguay, the world's fourth largest soy producer, is an agribusiness powerhouse. Dizzying expansion of soy monoculture has led to marked inequalities in wealth and land and to ecological disruption and social disaster.
Protesters took the Cartes government to task for its privatization policies and subservience to multi-national corporations. In Asunción, disciplined groups of subsistence farmers led by the National Campesino Federation marched along one route to a demonstration in front of the National Congress. Joined by students, unionists allied to several labor federations moved along another route to Democracy Plaza. The police had warned of violence. Instead, a festive mood prevailed and police had only to attend to routine traffic duties.
Reversing his government's position, President Cartes early in the day called for negotiations. In response to demands for a minimum wage increase, he granted a 10 percent hike, rejecting a sought-after 25 percent increase. In statements, union leaders accepted negotiations, but insisted that another strike would follow in four months if no agreement is reached. Sociologist Mariel Palau emphasized that negotiations would not fix "structural problems needing to be solved within the framework of building a full popular movement."
The strikers demanded reduced transportation fares, agrarian reform and "respect for life," free heath care and free quality education, respect for human rights and labor rights, and repeal of the government's Public-Private Alliance.
Paraguay's Congress had approved a Public – Private Alliance Law in October 2013. Favored by conservative governments in the region, such legislation relies upon private investment to promote efficient, expanded government services and infrastructure.
With its record of interventions in Paraguay, the U.S. government, one assumes, monitored the strike. The Paraguayan Peace and Justice Service recently discussed U.S. concerns over "people who endanger order, peace, and stability, [and those] who occupy plazas and territories, indigenous people who resist, and many other actors … all of whom are poor." The human rights group was reporting on the installation in February of an "Emergency Operations Center" in San Pedro operated by the U.S. Southern Command.
According to the report, agrarian rights mobilizations are continuing in San Pedro, located north of Asuncion, and "since Horacio Cartes became president, the department has been militarized." As bishop in San Pedro, ex -President Lugo supported agrarian rights activists there. Wikileaks documents testify to U.S. concern over Lugo's supposed association as bishop with leftist guerrillas in San Pedro. Beginning in 2012, struggles over land there have escalated to the extent of triggering murderous police repression.
U.S. analyst Richard Doughman suggests the U.S. base in San Pedro will be used as a military intelligence center and back-up for "high precision" military operations.. He regards the alleged purpose of responding to natural or humanitarian disasters as a cover for a U.S. military presence in the region.
Earlier, the U.S. military carried out training exercises with Paraguayan soldiers as part of its New Horizons program, set up ostensibly to carry out humanitarian missions. In 2006, the U.S. military re-opened its huge Mariscal Estigarribia airbase located near the Bolivian border and built during the Stroessner era. Authors commenting on Paraguay's strategic value to the U.S. government cite the region's natural resources, especially the Guarani aquifer; proximity to U.S. adversary Bolivia and to the triple border area, hub of drug and human trafficking, and the country's location between Brazil and Argentina.
However, the U.S. government may have its hands full in trying to control social protest in Paraguay. At the closing rally on March 26 outside the National Congress building, peasant leader Luis Aguayo told the crowd that "Truth triumphs over the lie, over government shenanigans. Truth wins. Organized people, from the city or from the country, shape history with [their own] sacrifice. He critiqued the Public-Private Alliance as "an order for sale and surrender of sovereignty."
Photo: Jorge Saenz/AP