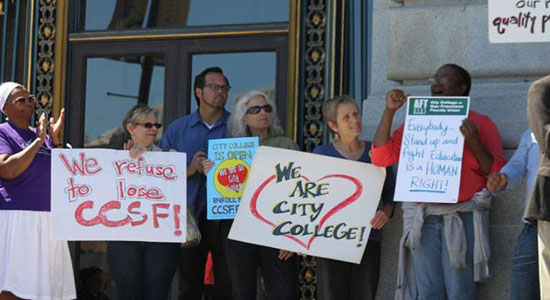 SAN FRANCISCO – Teachers' unions and others here are suing an accreditation agency over its decision to revoke accreditation of the City College of San Francisco.
A lawsuit filed Sept. 23 against the Accrediting Commission for Community and Junior Colleges (ACCJC), by American Federation of Teachers Local 2121, along with the California Federation of Teachers and others, seeks an injunction and restitution for the harm caused by the agency's July decision to pull the accreditation of the city college.
The lawsuit "charges that the ACCJC engaged in unfair and unlawful business practices in sanctioning City College." according to AFT 2121. Furthermore, "it argues that these reckless actions have already caused harm to students, faculty, and other employees of City College, and will cause much greater harm both to them and to San Francisco if the college closes."
The union's lawsuit caps a month of reversals for the accreditation body, manifested in moves by a number of public agencies to pressure ACCJC to reconsider its decision.
* Aug. 13, the U.S. Department of Education concluded in an official letter that ACCJC was deficient and out of compliance in several areas, after examination of the 300-page compliant filed jointly by AFT 2121 and the CFT. The letter puts the accreditation agency on notice that it could itself have its accreditation revoked it these issues are not addressed.
* Aug. 21, the California Bureau of State Audits announced its intention to audit ACCJC. The audit should take seven months and will look at a number of issues, including the cost of the accreditation process to community colleges, which support the agency in part with fees. In a public hearing, state Sen. Jim Nielsen, a Republican,and member of the Joint Legislative Audit Committee, remarked on the especially "arrogant" and "dismissive" tone he had encountered in meeting with ACCJC President Barbara Beno. Beno is also being scrutinized for conflicts of interest in appointing her husband Peter Crabtree to the panel that reported on CCSF.
* Aug. 30, San Francisco City Attorney Dennis Herrera also filed a lawsuit against ACCJC. The suit alleges unlawful engagement in political activities by the agency, by pressuring community colleges to alter their mission from providing open access to education to providing "outcome-based" education. ACCJC has accepted grants from foundations with the stated intention of changing the educational culture of community colleges to focus resources on degree-seeking students.
* Sept. 19, Tom Torlakson, California State Superintendent of Public Instruction, sent a letter to urge ACCJC to rescind the "show-cause" sanction that originally led to the agency's accreditation panel decision to revoke CCSF's accreditation. Torlakson pointed to the preponderance of evidence that the "process was flawed," as revealed by subsequent reports.
The San Francisco Board of Supervisors Budget and Finance Committee released findings in a public hearing Sept. 18 that outlined the economic loss that would result from the closure of CCSF. The closure would affect thousands of students who are intending to transfer to four-year institutions. These students would have to complete general education requirements at a higher tuition rate at a new school if forced to transfer earlier than planned.
In addition, CCSF serves thousands of English language learners in nondegree programs and also aids students who seek to complete GEDs. These students could be forced into more expensive for-profit programs in the wake of a CCSF closure, or be compelled to go without updating their skills entirely, which would lead to thousands of dollars lost in projected wages over their working lives.
The San Francisco Unified School District also reported preliminary data suggesting there has been a 24 percent drop in enrollment of San Francisco high school graduating seniors into CCSF this year.
The closure of the college would also, inevitably, cost faculty and staff their jobs. CCSF would be the largest college ever to lose its accreditation, if the decision of ACCJC is not reversed this year. Part of the damage suffered already by the college has been a significant loss of faculty in the wake of the threat of closure. Between Fall 2012 and Fall 2013, the total number of faculty has dropped from 1,649 to 1,491.
Photo: AFT 2121 Facebook page