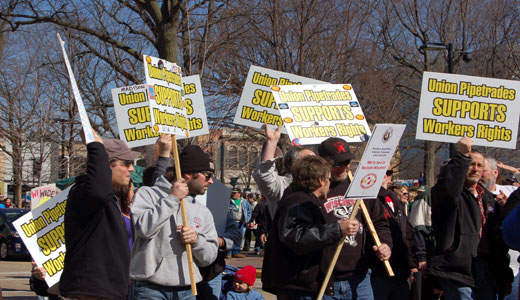 ORLADO, Fla. — The labor movement is beginning to mount a legislative offensive in the states to stop what it says are "under the radar" attacks on workers.
"The big push to end collective bargaining rights and the push for so called right-to-work laws got a lot of attention in the states and nationally," said Naomi Walker, the AFL-CIO's Director of State Government Relations, in an interview here last week. "But they are only part of the problem. We are also mounting a push for legislation in many states that is designed to stop other practices that are used on the state level to hurt workers."
Walker was in Orlando attending a special meeting of the AFL-CIO's executive council focused on the 2012 elections.
She gave as an example of the legislation she spoke about, the Keep Jobs in the State Act, which, if passed, would prohibit states from contracting with or providing assistance to companies that ship work offshore.
"The bill ensures that state tax dollars are used to create jobs," Walker said, and "includes a money-back guarantee for state taxpayers: companies that violate the offshoring ban during the course of a contract must repay the state, and violators would be banned from receiving taxpayer dollars for five years."
States where the bill has been introduced are Arizona, Colorado, Florida, Georgia, Missouri, New Jersey, Wisconsin, Washington and Virginia.
"Workers who are unemployed are facing a tough time being considered for new jobs and there is a lot states can do to assist them," said Walker. "Really outrageous are the 'help wanted ads' all around the country that tell unemployed workers they need not apply," she added.
The AFL-CIO is pushing the Fair Chance for Employment Act, she said. This would prohibit an employer from refusing to consider an applicant because he or she is currently unemployed and would bar any state contractor who violates the law from receiving state contracts for up to three years.
The bill has been introduced in Arizona, California, Colorado, Hawaii, Indiana, Nebraska, Ohio, Oregon, South Dakota Washington and Wisconsin.
Other areas the labor movement is tackling on a state level are the issues of raising state revenue by closing tax loopholes and by taxing the rich.
So far, only in Rhode Island has there been introduced a bill to raise state taxes on the wealthy. "This must be done in all the states," said Walker, "because massive cuts have and continue to be made in education, public safety, and other important services needed by children, seniors and working families, And lower and middle income people pay a much larger share of their income in state taxes than the very rich."
Only Pennsylvania has introduced a bill to close corporate state tax loopholes.
"States spend billions each year on outsourced services, as well as tax credits, deductions, exemptions and other breaks that they call tax expenditures," Walker explained, "yet do little to track what is spent or evaluate the impact and effectiveness."
Still another area the AFL-CIO wants states to address is the issue of misclassification of workers, an area that Walker said involves fraud by many employers.
"A growing number of employers are misclassifying workers as independent contractors in an effort to avoid paying certain taxes like Social Security, Medicare, and unemployment taxes," Walker noted. "With states having budget shortfalls, misclassification must be stopped. Its costing states millions of dollars in lost payroll and related tax revenue, and denying workers key safety net protections and rights.," Only two states, New Mexico and Washington, have introduced laws to halt this practice.
All of these bills are important," Walker said, "because they bring attention to the real causes of the economic crisis and they tell our elected officials to stop scapegoating workers as the cause and start instead focusing on passing bills that will help create jobs."
Photo: Union members join in the fight for workers rights, Recall Walker rally, March 12, Madison Wisc. Blake Deppe/PW