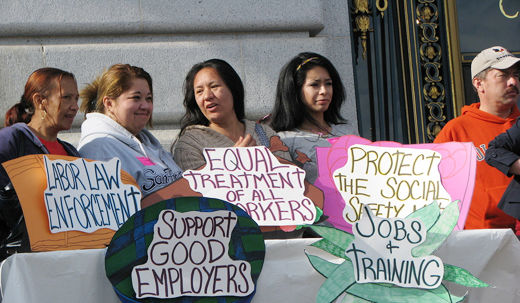 WASHINGTON – With Latinas being among the most-discriminated-against groups in U.S. society, the union movement's major constituency group for Hispanic-named workers, the Labor Council for Latin American Advancement has issued a comprehensive report documenting their conditions and demanding reforms.
"For Latinas, the pathway to social and economic advancement is lined with hurdles," says the 134-page Trabajadoras: Challenges and Conditions of Latina Workers in the United States. The report, available from LCLAA, was released Mar. 27.
"Most Latinas are concentrated in low-skilled, low-status jobs that fail to provide wages and benefits that allow working families to rise above poverty, meet basic needs, and build long-term financial security," it says.
"From wage theft to sexual violence, Latinas are becoming increasingly susceptible to a wide range of attacks on their labor, human, and civil rights. To provide for their families and maintain a job, they endure abuses that go unreported and thus prevent labor law enforcement from safeguarding their rights."
The problems Latinas face on and off the job include low wages – a median wage 60 percent of that earned by white men – high poverty (12.1 percent) and joblessness (12.3 percent), less access to health care, sexual harassment at work (77 percent) and disproportionate employment in service (33 percent of Latina workers) and sales and office jobs (32 percent).
"Latinas are more likely to hold unstable and low-wage jobs than all other women. Positions within the service industry do not provide hard-working Latinas with enough economic capital to sustain themselves and provide for their families," the report says.
To help solve the Latinas' woes on and off the job, the report had a wide range of recommendations, with the right to unionize leading the list. "Unionization can provide these vulnerable workers with a stronger voice as well as protections that will improve their working conditions and promote their prosperity," the report says.
"Before I had a union, I had a very little voice," said Lily Eskelsen, a teacher from Utah who is vice president of the National Education Association. "The union said to us, 'Stop whispering. What you have to say is important,'" added Eskelsen, one of three trailblazing Latina women honored at the luncheon where the report was released.
But Latinas are less likely to be unionized than other groups, due to intimidation by employers and fear of harassment, arrest, and deportation, among other reasons.
Yet the number of Latinas represented by unions grew by 139,000 to 829,000, from 2000-2011.
Besides the unionization recommendation, the report also advocated other measures to boost Latinas on and off the job. Some, such as passage of the Employee Free Choice Act, to help level the playing field between workers and bosses in organizing and bargaining, would help all workers.
Other universal measures include passage of the Equal Rights Amendment, and equal pay, paid sick leave, and stronger federal job safety laws. Hispanic-named workers suffer a disproportionate number of on-the-job injuries and deaths.
Other proposals, such as comprehensive immigration reform, administrative changes in the U.S. immigration system pending that reform's approval, and passage of the Dream Act, would help all immigrants. Still others were more specific, including:
Creating opportunities for Latinos and Latinas in clean-energy jobs, through expanded apprenticeship and job training programs. And the Davis-Bacon Act, which pays prevailing wages on federally funded construction, must cover all workers.
Improving air quality through enforcement and updated air quality standards. "One of every two Latinos reside in communities that frequently violate clean air rules," the report says.
As part of administrative changes in immigration, passage of laws to ensure that when immigration officers arrest Latinas, mothers are guaranteed contact with their children.
Improved access to birth control and emergency contraception education through proposed legislation funding such programs.
Extension of federal child labor law to cover child farmworkers.
Hector Sanchez, LCLAA's executive director, said the report is only a first step. He said LCLAA would undertake a major drive to publicize its findings. "This is the beginning of an important campaign to stop violations of labor rights, human rights, and civil rights against our Latina sisters and friends in the workplace," Sanchez added.
Photo: At National Day of Action Against Wage Theft rally, San Francisco, Calif., Nov. 18, 2010. Marilyn Bechtel/PW