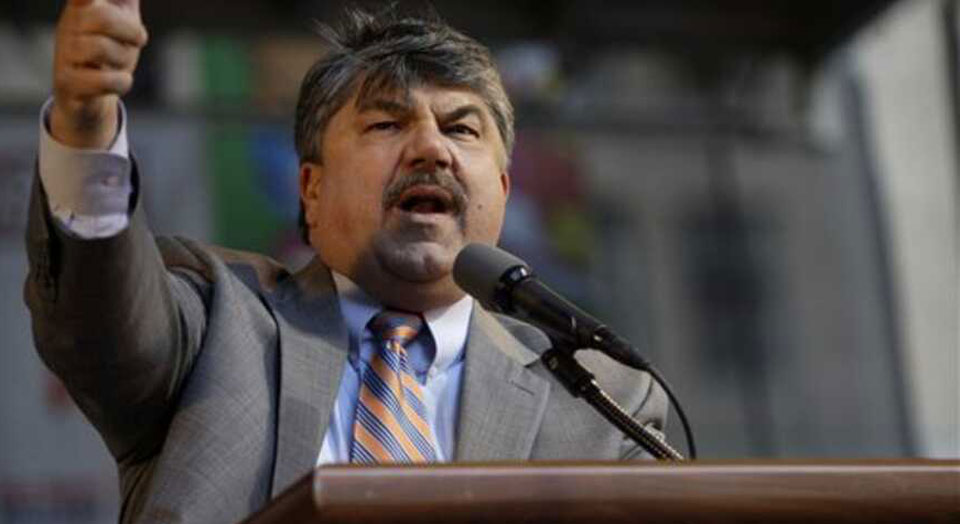 WASHINGTON —The $900 billion stimulus law Congress passed and bitter GOP Oval Office occupant Donald Trump reluctantly signed has both good news and bad news for workers and their families whose lives have been physically and financially smashed by the coronavirus pandemic and subsequent shutdowns and economic depression used to fight it.
And union leaders greeted ultimate approval of the measure with a "Yes, but…" attitude, saying it was fine as far as it went—but that it didn't go far enough. Democratic President-Elect Joe Biden said much the same thing.
Biden backed this bill's passage after the Senate's ruling Republicans and Trump adamantly refused to even consider larger measures, the more pro-worker Heroes Act, which the Democratic-run House passed twice. Biden backed the Heroes Act, too.
But Biden also made clear that once he takes over at noon on Jan. 20, he'll send a new, bigger economic stimulus package to Capitol Hill.
"I have said all along this bill is just a first step—a down payment—on addressing the crisis. There's a lot more work to do. Early next year I will put before the Congress my plans for what comes next," he told a late-December press conference.
In the meantime, workers and families, union and non-union, will have to live with what lawmakers wrought in the waning days of December. AFL-CIO President Richard Trumka's statement was typical.
"Millions of Americans are sick with this virus, have depleted life savings to stay afloat or are suffering economic hardship through no fault of our own," so "we are pleased a relief deal is finally on its way to the president's desk," Trumka said before Trump signed the measure on the night of Dec. 27.
"It will put money in people's pockets, keep transportation workers on the job and bolster housing, health care, and food assistance. It's an important step as President-elect Joe Biden prepares to wage a long overdue national fight against this virus. But this package should've been so much more," the AFL-CIO president added.
Trumka also took another shot at Senate Majority Leader Mitch McConnell, R-Ky., for holding aid hostage to his demand to exempt corporations who don't protect workers or customers from the coronavirus from being sued, not just under coronavirus relief acts, but labor laws, too.
"McConnell's delay tactics meant to protect corporations whose negligence led to thousands of deaths is despicable. His decision to block state and local aid is an insult to the public service workers who make America go. It will only lead to more layoffs as well as slower emergency response times, higher patient ratios, dirtier streets, and overcrowded prisons," said Trumka. So did Teamsters President Jim Hoffa.
"We have seen many employers put profits over people until compelled in court to do the right thing. That said, the Teamsters continue to be disappointed lawmakers could not approve a broader package that would address additional needs of workers and state and local governments," said Hoffa.
Their comments highlight the big hole in the coronavirus economic aid bill: Virtually nothing for state and local governments, who saw their revenues tank due to forced closures and soaring joblessness as a result of the coronavirus. They've had to lay off a million workers.
The states and cities first sought $1 trillion, then cut it to $500 billion and the House agreed. McConnell grudgingly offered $160 billion, but only as a tradeoff for his corporate giveaway. Both got dropped.
Despite that, AFSCME President Lee Saunders endorsed the measure. "There are several positive items in this package, including continued enhanced unemployment, direct payments to workers, and funding for schools, child care, and vaccine distribution," he explained. Nevertheless, the lack of state and local aid shows "Congress has turned its back on our front-line heroes and the communities they serve."
Steelworkers President Tom Conway was one of many leaders who praised lawmakers for providing the relief now but warning more will be needed later.
"With 20 million workers seeking continued unemployment insurance claims, it is vital that Congress prepare to extend relief past March as the country continues to recover. We cannot repeat the failure of Senate Republican leadership holding pandemic relief up for months," he said.
The stimulus package, including $25 billion-plus for vaccine production and distribution, was tied to the $1.4 trillion bill to keep the government going through Sept. 30. That's where Republicans got some extraneous goodies. One was a tax break for wine, beer, and spirits producers. Another restored the full corporate tax deduction for moguls' "three-martini lunches." The overall cost of the tax breaks: $110 billion over a decade. And the government money bill has $1.4 billion more for Trump's Mexican Wall, which Biden promises to stop.
Here's what else is in, out—or in at least one case, both—and reactions to the bill:
IN: One-time $600-per-person stimulus checks, and $300 weekly in federal jobless aid, including aid to gig economy workers, independent contractors, farm workers, household workers, and other workers not covered by regular wage-and-hour laws. But those workers will now have to document their prior jobs, and that'll cause more delays. The $300 would also top current jobless benefits—a boon to workers in states with low benefits.
OUT: The prior weekly amount, which ran out months ago, was $600. And the $300 checks are only for 10-11 weeks. Further, as House Majority Leader Steny Hoyer, D-Md., pointed out, Trump's one-week delay in signing the legislation will delay those checks, too. That means workers likely got nothing between Dec. 26 and Jan. 1, or later.
ALSO OUT, THANKS TO THE GOP: Trump's last-minute demand, accompanying his rumblings that he would veto the whole thing, for $2,000-per-person one-time checks. Sen. Bernie Sanders, Ind-Vt., pushed $2,000 since the pandemic and the depression began, and Rep. Alexandria Ocasio-Cortez, D-N.Y., joined in. Sanders welcomed Trump aboard. The House GOP didn't and blocked it. House Democrats later approved a stand-alone $2,000 aid bill. McConnell killed it. There's also no hazardous duty pay for "essential" workers.
IN: $45 billion for transportation, including mass transit systems ($14 billion), Amtrak ($1 billion), and airlines, plus another $10 billion line of credit for the Postal Service, all saving jobs. OUT: $6 billion of the $8 billion allotted to intercity buses and school bus firms. The Amalgamated Transit Union represents intercity bus workers. The Teamsters, ATU, the Teachers, and AFSCME, among other unions, represent school bus workers.
"Since the beginning of the pandemic, our members have been heroes on the frontlines providing critical transportation to keep their communities moving. We have lost 101 brothers and sisters to this deadly virus," said ATU President John Costa. "This new aid is welcome and will be critical to stave off layoffs and restore service for riders."
Then he, too, went after the GOP.  "However, let's call it like it is," he said of the school bus and intercity bus funding cut. "This was literally a highway robbery, and the suspects are the Senate Republicans."
The bill revives the special Payroll Support Program for airlines, contingent on rehiring their workers. That prior aid, $25 billion, expired Aug. 31, and some 100,000 airline workers have been laid off since then. The new aid is $16 billion, and the Association of Flight Attendants-CWA was the key player in obtaining both sums.
The aid bill "includes recall of everyone who has been involuntarily furloughed and forced into a no-pay status. This means that over 100,000 airline workers recover a paycheck and stay connected to healthcare. And this is just emergency relief, so we have the ability to fight for a full #WorkersFirst recovery in the New Year," AFA said.
"You never gave up, and you kept the pressure on to get this bipartisan bill signed. We brought lawmakers together by demanding action. Well done, AFA members. Let's continue to fight forward by having each other's backs," union President Sara Nelson added.
IN AND OUT: Extension of the government-ordered moratorium on evicting some 12 million renters and on lenders foreclosing on even more mortgage-holders. But the extension is only for a month, so landlords could start throwing people out of homes and apartments on Feb. 1, in mid-winter. There is, however, $25 billion in aid to renters for the time after that day. Pro-tenant groups say that's not enough. Small landlords wonder how they'll be able to pay for mortgages and upkeep on their buildings with no money coming in.
IN: Extended paid personal and family leave due to the coronavirus. There's also $10 billion to fund child care providers, including those that had to close due to the pandemic and want to reopen, and $13 billion more, through April, for food stamps. With one-fifth of families now "food insufficient," that's important.
IN: $284 billion more for forgivable small business loans, on the condition firms keep their workers on board. And this time, the measure makes sure the money goes only to small businesses, as the maximum size will be 300 workers. Loans can also now go to non-profit groups, plus newspapers—a goal of The News Guild.
Union musicians will get help: Another $15 billion in Paycheck Protection Program money for forgivable loans to arts and cultural institutions, from jazz clubs to orchestra halls. There was no earmarking before.
IN: $54 billion to help K-12 public schools implement anti-coronavirus measures such as physical distancing, smaller class sizes, daily temperature checks for students, teachers, and staff, sanitizers, and deep-cleaning. Another $7.5 billion is earmarked for private schools. Colleges get $22 billion for those measures and to offset enrollment declines.
Teachers union leaders accepted it, but Becky Pringle, the Philadelphia science teacher who heads the nation's largest union, the National Education Association, was caustic. She also noted the zero funding for state and local governments hurts the schools and the kids, too.
"While it [the economic aid bill] will help alleviate some of America's suffering, it is arriving far too late for the many working families that lost homes, savings, or even loved ones," said Pringle. "It arrives far too late for the students whose schools have desperately needed these resources for months. And it still falls drastically short of what these unprecedented times demand."
"With the life-sustaining benefits provided by the Cares Act"—the economic aid bill last March—"set to expire, it's not a moment too soon," Teachers (AFT) President Randi Weingarten, a New York City civics teacher, said of the $900 billion measure.
"This emergency aid would invest much-needed resources into our public schools for testing, cleaning, PPE, ventilation upgrades and other safety guardrails, as well as $16.5 billion for Title I"—aid to schools with high percentages of poverty-stricken students—"and $14.1 billion for special education, so educators can help address the social and emotional well-being and academic needs of their students. These resources are vital to reopening school buildings safely—and, in turn, to help get people back to work safely as well."
NOT IN: A solution to long-standing financial ills of those multi-employer pension plans hit hard by the 2008 financial crash and which have never recovered. Current law lets plan trustees cut current recipients' pensions in order to keep the plans alive for future recipients.
Backed by the Teamsters and other unions, Sen. Sherrod Brown, D-Ohio, pushed the Butch Lewis Act to offer low-interest long-term federal loan guarantees to such troubled plans, on condition they don't cut payments to present beneficiaries. "Multiemployer pension plans have been further jeopardized by economic conditions created by the coronavirus, making action to protect the hard-earned pensions of retirees and workers more urgent," Hoffa said.
ONE GOOD INFRASTRUCTURE BILL IN, ONE BAD TAX BREAK IN, in the opinion of Laborers President Terry O'Sullivan. The positive: Including a large water projects measure in the money bill to keep the government going. It "will unlock thousands of construction jobs with authorization for the construction of 46 Army Corps projects and 27 feasibility studies for water resources development projects, and authority to appropriate $2 billion in additional funds from the Harbor Maintenance Trust Fund for much needed infrastructure improvements," he said.
O'Sullivan believes, however, that the bad tax break was continuing the preference to solar and wind industries without "important labor protections" for workers for their projects. It was among the $110 billion in business tax breaks in a $1.4 trillion measure to keep the government going—and "an assault on the workers."
"Much of the renewable energy sector continues to build their respective industries on the backs of poorly paid workers with no, or deficient, benefits packages while simultaneously begging for taxpayer-funded subsidies," O'Sullivan said. The two industries are also only 5% or so unionized, while one of every six construction workers are union members. But they're in oil, gas, coal, and nuclear, not wind and solar.
IN: A 1% FEDERAL PAY HIKE. OUT: TRUMP'S FEDERAL PAY FREEZE. "A year-end omnibus spending package combined with a COVID-19 relief package is an imperfect but much-needed end to the year, and federal employees are grateful that Congress chose, in its final hours, to reject efforts by Senate Republicans and President Trump to freeze their pay in 2021," said Treasury Employees President Tony Reardon.
And in September, Trump ordered the Treasury to stop payroll withholding for federal workers. But the feds would have to repay the non-withheld funds by tax day, April 15. Reardon reported Sen. Chris Van Hollen, D-Md., inserted a provision that stretches the payments out in installments over all of 2021. Trump had wanted to stop all payroll withholding, including in the private sector, for good, to put more money in corporate pockets. After Social Security's chief actuary warned it could bankrupt the system by 2023, other Republicans shot that down.