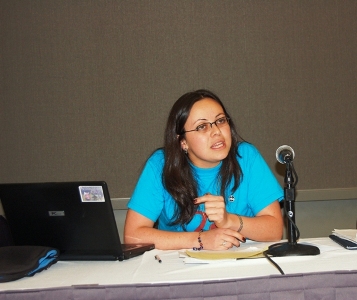 Yessica Hoyos could be your neighbor. A young woman with a presence that lights up a room, she could be the woman organizing your next block party or running for office.
But Yessica Hoyos is from Colombia, where workers and union members are murdered with impunity. Her father, a trade union activist and leader, was killed in 2001.
Now this young lawyer has devoted her life to seeking justice for her father and the thousands of other families of murdered trade unionists.
Hoyos is touring the United States after receiving the AFL-CIO's Human Rights Award at its recent convention in Pittsburgh.
When her father, Jorge Dario Hoyos Franco, was assassinated eight years ago, Yessika immediately went on the air, telling radio listeners that her father's murder would not silence her. She declared that she would fight for an end to the official impunity, demonstrated by the fact that Colombia's attorney general secures convictions for only 5 percent of the more than 2,700 assassinations of trade unionists.
Her father would not be just another statistic, she vowed.
She was just 17.
Two days after her father's murder, her family began to receive death threats.
Despite it all Yessica continued to press the case. In 2003, two young men were found guilty of the shooting. They said they had killed Dario for "being a subversive" and were carrying out orders from a "higher authority."
It is those higher authorities that Hoyos and the organization she founded, Sons and Daughters Against Impunity and for the Memory of the Fallen, are determined to bring to justice.
At a Sept. 15 panel on labor rights and violence in Colombia, during the AFL-CIO Pittsburgh convention, Hoyos addressed these issues along with Reinaldo Villalba of the Colectivo de Abogados Jose Alvear Restrepo (Lawyers' Collective) and Julio Roberto Gomez, general secretary of the CGT (Confederacion General de Trabajadores) one of the trade union federations in Colombia.
Hoyos and the other panelists said the violence against unionized workers comes from the government and employers. In fact, they said, it is governmental policy.
"Colombia has an anti-union policy. It uses its own agencies to murder trade unionists. The national army has murdered trade unionists," Hoyos said through a translator.
The panelists said the government uses the 40-year civil war in Colombia as a pretext to murder trade unionists who are doing legitimate union work. The army and government claim the victims are "unionists in the daytime and guerillas at night" as a way to stigmatize union activity, Hoyos said.
The Colombian government claims it is negotiating with right-wing paramilitary groups, but lawyer Villalba charged that it's not negotiations but "cooperation on impunity."
Such cooperation "hides responsibility of the state in starting and sponsoring these groups and it hides the economic support of employers, foreign and domestic, that are behind the groups," he said through translation.
The "higher authorities" who are responsible have remained "invisible," and the Colombian justice system has not held these order-givers responsible, the panelists charged.
They leveled the lion's share of blame at the far-right paramilitaries, government and employers for the violence. However, CGT's Gomez said guerilla groups have also been known to kill trade unionists. "We don't want to reduce the number of unionists killed, we want zero trade unionists killed," he said.
Two U.S.-based corporations have been accused of having ties with anti-union "death squads" – Drummond Coal and Chiquita Brands International (the original United Fruit). The Organization of American States revealed that 3,000 automatic weapons and 2.5 million bullets were shipped through Chiquita's private port and picked up by operatives with the notorious death squad AUC.
Drummond Coal has been in and out of courts in both the U.S. and Colombia for its alleged ties to paramilitaries. Recently, a Colombian judge has ordered top Drummond executives to be criminally investigated for allegedly conspiring with paramilitaries to carry out the 2001 murder of three union leaders: Valmore Locarno, Victor Orcasita and Gustavo Soler.
Hoyos' trip is having an impact not only in the U.S. but in Canada too, where the Colombia Free Trade Agreement is currently being debated. News reports quoted one MP, Tony Martin, as speaking passionately against the pact and citing his meeting with Hoyos.
"Trade unionists are simply exercising a right that we take for granted in this country," Martin said. Martin joins the Steelworkers and others demanding human rights violations be addressed first before any trade pact is signed.