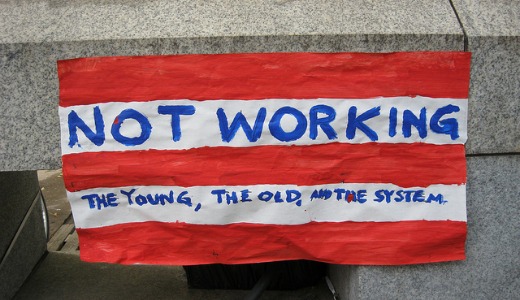 "Job creation is the key to the future of your careers," AFSCME President Gerald McEntee warned GOP lawmakers this week. "Continue the partisan games and come Nov., 2012, you'll be on the unemployment lines.
"Hundreds of thousands of frustrated Americans are occupying cities and taking to podiums and they're saying 'enough!,'" the leader of the nation's unionized public service workers declared. "Enough with the giveaways and tax breaks to the richest 1 percent and enough with the political gamesmanship. It's time to put Americans back to work now."
Although a slim Senate majority of 51 to 49 voted to advance the president's jobs bill earlier this week, the vote was short of the necessary 60 required to break a unanimous Republican filibuster. In the end, Democratic Senate Majority Leader Harry Reid, D-Nev., switched his vote to "no" because, under Senate rules, the final tally of 50 for and 49 against allows it to be brought up in the Senate again.
Two Democrats from "red" states sided with all the Republicans and voted against the president's bill. They were Sens. Jon Tester, D-Mont., and Ben Nelson, D-Nev.
AFL-CIO President Richard Trumka called the GOP action on the bill "appalling." He said Republicans were willing to sacrifice the country and the economy in order to beat President Obama next November.
"It is unconscionable that during this time of economic distress, Republicans would deny millions of Americans job opportunities in order to advance the GOP quest to un-employ one man, President Obama," said Steelworkers President Leo Gerard.
As for President Obama himself, he has vowed not to give up the fight for his jobs bill. He went on Facebook late yesterday with a video being viewed now by millions.
"A lot of folks in Washington and in the media are saying the jobs bill is dead now and let's move on to something else. I've got news for them," the President declares in his video. "Not this time. I will not take 'no' for an answer. Congress will be forced to vote 'yes' or 'no' on more jobs, they will be forced to vote on whether they want to say 'no' to continuing tax cuts for the middle class."
Democrats are planning to force votes on individual component parts of the President's bill.
One of the things in the President's bill that riled Republicans the most was his proposal to pay for the jobs program with a 5.6 percent surtax on millionaires which, polls show, is supported by 75 percent of the public.
Randi Weingarten, president of the American Federation of Teachers, blasted the Republican filibuster. Passage of the bill would save 280,000 jobs for teachers and result in the physical repair of at least 35,000 schools.
"While the country is suffering from consistent and grinding joblessness, it is an outrage that a group of senators voted against a bill to put teachers, cops, firefighters and construction workers back to work," Weingarten said. "Those who voted 'no' will have to explain why they voted against a bill asking millionaires and billionaires to pay their fair share in order to create 1.9 million jobs at a time when there is a 9.1 percent unemployment rate."
Photo: Ben Sears/PW