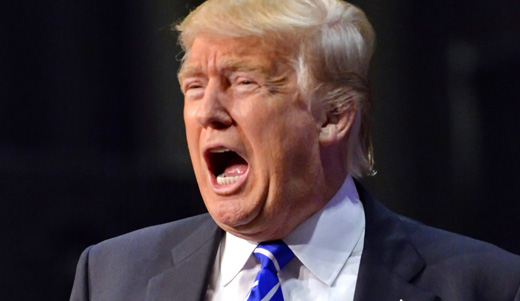 WASHINGTON – The United Food and Commercial Workers and the Service Employees have become key members of a wide-ranging coalition that aims to convince at least 1 million Latino "green card" holders in the U.S. – all legal permanent residents – to become citizens. Coalition members then register them to vote.
And the two unions and their Hispanic-group allies, such as MaVotaLatina, have picked up an extra impetus for talking the green card holders into full citizenship: Donald Trump.
The anti-Latino hateful statements by the presumed Republican presidential nominee have driven tens of thousands of green card holders – more than ever before — to go through the citizenship process since Rep. Luis Gutierrez, D-Ill., began the drive in February. Citizen-ship applications are accelerating, and that's where the unions, particularly UFCW, come in.
That's because while SEIU and the other groups concentrate on convincing green card holders in big cities and swing states to become citizens, UFCW extended its campaign to small towns and rural areas where Latinos are rising in population, says its director of Latino outreach, Omar Martinez.
"We formed the Stand Up To Hate campaign" – the name for the joint drive – "because right now is the perfect time for them to become citizens," he explained to Press Associates Union News Service. "There's enough time for them to become citizens, register and vote.
"We've been doing this even before Trump," Martinez elaborates. And his union will keep campaigning for citizenship in those smaller towns even after November's vote, he notes.
UFCW is concentrating on contacting Latino green card holders, both union members and non-union members, in towns such as Dodge City, Kansas, and Omaha, Neb., with meat-packing plants. The meatpacking workforce has become increasingly Latino in recent years.
"We may have only three or four people come to a meeting in Dodge City," Martinez adds. But if they're green-card holders, unionists at workshops explain the citizenship process – which takes several months – and provide free legal counsel to walk applicants through it.
Now is the right time: Far enough in advance of the election to become citizens, then register.
"Most of these people don't even know they can become citizens," he notes. Including Latinos, there are an estimated 8.8 million-10 million green card holders in the U.S. "They should know what their rights are," Martinez says.
To become a citizen, green card holders must be at least 18 years old, have a crime-free record, reside in the U.S. for five years – or three years if married to a citizen – and read and write English. Many fluent green card holders have been U.S. residents for years. They must pay a $680 application fee, but can seek a partial waiver on financial grounds.
As of May 11, federal officials report the number of people filing naturalization applications climbed almost 14.5 percent in the first three months of this year. Latino advocates in the Stand Up To Hate campaign estimated the percentage increase would rise. Some 28 million Latino citizens will be eligible to vote in November.
Trump's negative comments are responsible for that rise. His calling Mexicans rapists and criminals, his schemes to build a wall on the U.S. southern border and his threats to de-port 11 million Latinos menace them. A recent Gallup poll reported 77 percent of Latino res-pondents view Trump unfavorably. So they become citizens to register and vote against him.
Gutierrez noticed the surge, too. "There is something going on here, and the way Donald Trump and other Republicans have been talking about immigrants, refugees, Latinos, Asians and Muslims is frankly scaring people into becoming citizens," he told news media. "We could literally hold a citizenship workshop every weekend and still not satisfy the demand" in his Chicago district for naturalization and citizenship.
Photo: The union campaign to increase citzenship among documented Latinos is, in part, a response to the hateful campaign mounted by Donald Trump. | AP