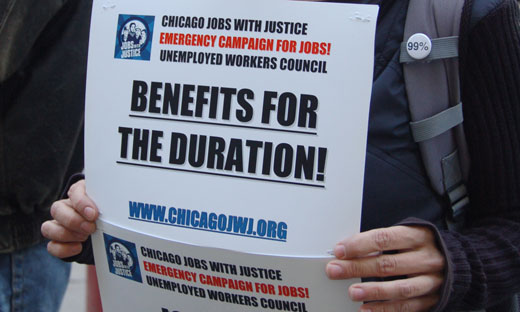 The Republican-run House Rules Committee early Tuesday morning voted to block a full House vote on the bipartisan Senate compromise that extends unemployment insurance benefits and also extends the payroll tax cut for workers and employers. Without House approval, the unemployment benefits and tax cut expire Dec. 31.
The AFL-CIO is urging everyone to call House Speaker John Boehner at 202-225-0600, telling him to stop playing politics with the lives of working families and pass the Senate's bipartisan bill to extend unemployment aid and the middle class tax cuts now.
"While the bipartisan compromise negotiated by Republican and Democratic leadership and approved overwhelmingly by 89 senators is not ideal, it would give millions of working families assurance as they head into the holidays that their unemployment benefits will not be cut off in January," said AFL-CIO President Richard Trumka.
House Republicans, rather than extend the tax cut or the unemployment benefits, wanted to first change those programs to their liking. Last week they voted on an unemployment benefits extension that cut by more than half the number of weeks workers can collect next year. Their bill also extended the payroll tax cut, but rather than financing it with a small tax on millionaires, it slashes federal workers' pay.
"Two things the House Republicans are most passionate about," charged Trumka, "are protecting millionaires from having to pay taxes and cutting unemployment benefits."
The rescheduling from Monday night to Tuesday of the House vote on the Senate compromise was a maneuver to buy the leadership time to find a way to save face for GOP lawmakers who did not want to be seen casting votes against tax cuts for workers and aid to the jobless.
Under the plan in place yesterday, if enough Republicans had split with their party and voted for the extensions, the Senate compromise would have passed, saving the tax cuts and extending the jobless benefits for two months. Under the procedure now in place the compromise goes down because of inaction by the House.
Democrats blasted the Republicans' procedural moves. House Minority Leader Nancy Pelosi, D-Calif., met with reporters last night, charging that the postponement of the vote until today was proof that GOP leaders were afraid of a direct vote and that their real aim was to increase taxes on 160 million Americans without taking responsibility for doing so.
The GOP, meanwhile, has been rapidly losing credibility with the American public on the issue of taxes. In a new ABC/Washington Post poll voters say they trusted President Obama to do a better job handling taxes than Republicans by a margin of 48 to 41 percent. The results are a dramatic shift from just two months ago, when voters favored the GOP, 46 percent to 39 percent.
Senate Democrats have made it clear that House Republicans will have to bear responsibility for killing the bipartisan compromise. They accused House Speaker John Boehner of walking away from the deal as a capitulation to tea party extremists who, they said, have no intention of reopening talks. They declared that if the House rejects a plan that passed 89 to 10 in the Senate it would amount to killing the tax cut for workers and to cutting off unemployment benefits for millions.
Boehner claimed that all Republicans were doing was temporarily rejecting two-month payroll tax cuts and that his party wanted a full-year solution.
Capitol Hill observers note the hypocrisy of that position, saying that it was Republicans, two years ago, who argued that a two-month payroll tax cut would effectively stimulate the economy. During that discussion Republicans had called for a total payroll tax holiday, reducing the tax to zero for a two month period.
Democrats and the President have, from the beginning, called for a full one-year extension of both the tax cut and the unemployment benefits. It was GOP opposition that forced them to go for a two-month compromise.
Millions face disaster next week if Congress fails to extend the unemployment benefits lifeline.
Two million will be cut off in January, alone, according to estimates from the National Employment Law Project. Without the federal extensions no one can get more than 26 weeks of benefits. In six states, workers will have even fewer than the 26 weeks of benefits that state programs have historically provided because of cuts those states made to their own programs this year.
Photo: People's World