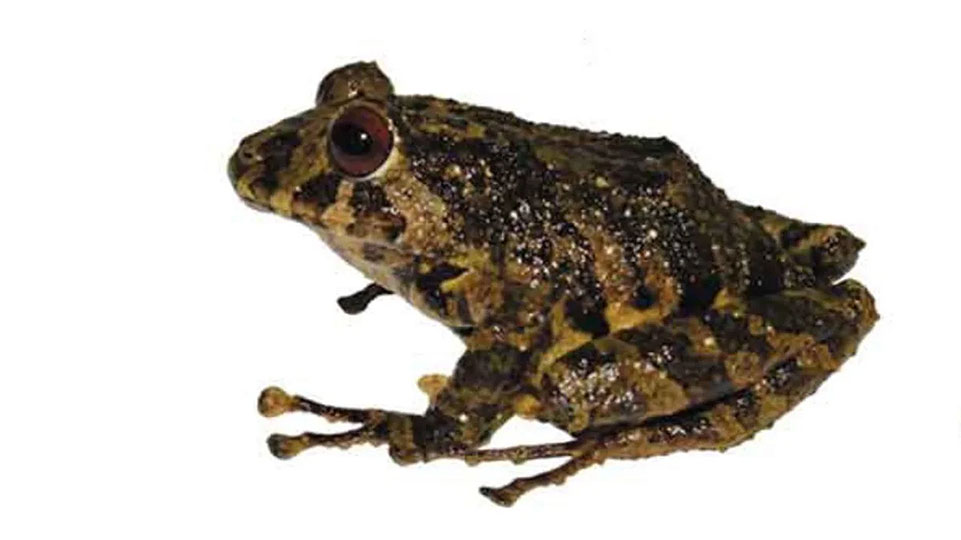 A new species of frog has been described by scientists for the first time, and it's a real rockstar.
The new frog, introduced to the world in the journal Neotropical Biodiversity on Sunday, hails from the Ecuadorian Andes and bears the name Pristimantis ledzeppelin, or Led Zeppelin's Rain Frog.
"The name honors Led Zeppelin and their extraordinary music," the frog's discoverers David Brito-Zapata and Carolina Reyes-Puig wrote in the paper announcing their find. "Led Zeppelin was a British rock band formed in London in 1968, one of the most influential bands throughout the 1970s, and progenitors of both hard rock and heavy metal."
The new frog was described thanks to the research efforts of the San Francisco de Quito University and Ecuador's National Institute of Biodiversity (INABIO), the latter announced. The males of the species measure about 23.9–24.6 millimeters from snout to vent, the study authors wrote, while the one female identified measured 36.1 millimeters. It has coppery red eyes and skin that is a mix of yellow, brown, black, and orange, according to The Guardian.
It is also an example of the unique amphibian biodiversity of the Ecuadorian Andes. The new frog belongs to a genus of land-based frogs known as Pristimantis, the study authors explained. This genus currently contains 569 species, and scientists are learning more about its proliferation in Ecuador. In the past two years, 28 new species of this genus have been described in the country, 14 of them in the southern slopes of the Andes mountains.
"This region has proven to be one of the most diverse in small vertebrates, with high endemism," the study authors wrote.
Led Zeppelin's Rain Frog specifically was identified in a region known as the Cordillera del Cóndor, a mountain chain between southeast Ecuador and northern Peru that is to the east of the main eastern Andes chain.
Scientists still don't know very much about the biodiversity of this region, but they are learning that it is home to many unique plants and animals only found amidst its cloud forests. Among them are at least five species of the Pristimantis genus, in addition to the new find.
However, much of the region's unexamined biodiversity is already under threat from human activities, INABIO explained. The top dangers facing the region are:
The expansion of farming and ranching.
Large and small-scale mining.
The introduction of new diseases.
The climate crisis.
Therefore, the newly discovered species may already be in need of help.
"Due to the high endemism of the Cordillera del Cóndor, the new species here described is likely to be found only in this restricted area, therefore it is important to consider new long-term initiatives for small vertebrate conservation actions," Brito-Zapata and Reyes-Puig wrote.