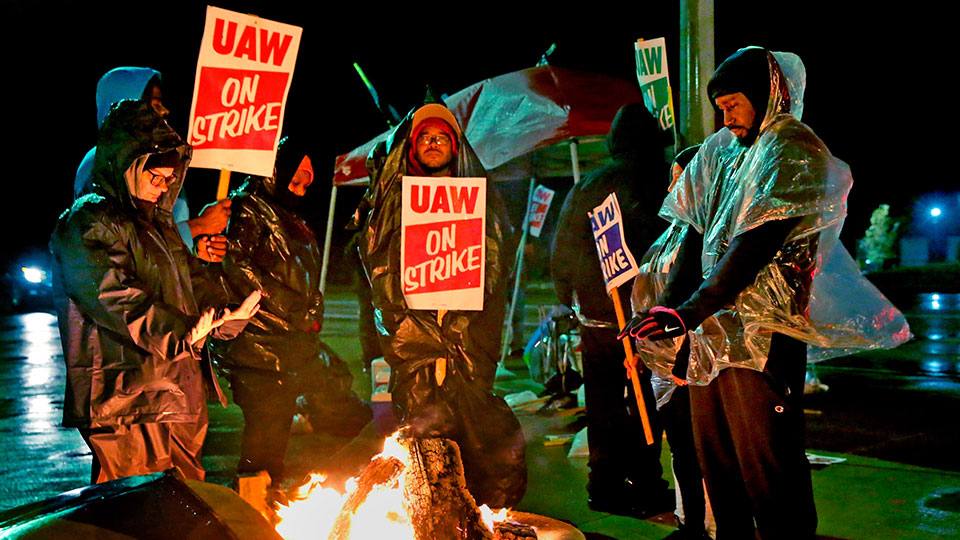 DETROIT—The United Auto Workers and General Motors reached a tentative agreement on a new contract on Oct. 16, UAW Vice President Terry Dittes, its GM department director, announced.
The agreement was forecast the day before when UAW local presidents whose members work at GM plants flew into Detroit for a mass conference at union headquarters.
Dittes did not release details of the pact, pending a decision by those local leaders on Oct. 17. Union bargainers recommended ratification. If the local leaders agree, the union's 48,000 GM members, whom the firm forced to strike precisely a month before, would vote on the pact over the following two weeks.
Also left to the local leaders: Whether the GM workers would return to their jobs pending ratification, or whether they would stay out until the voting result is known – and after, if they reject the pact. If the unionists OK the contract, it would become UAW's "pattern agreement" for contracts with the other two of the Detroit 3 automakers, Ford and FiatChrysler.
The strike was the longest at GM since 1970 and the largest private-sector strike since UPS forced its Teamsters to walk almost a decade ago. This strike cost GM millions of dollars a day in revenue. And even with union strike fund weekly payments, it affected the GM workers, their families and local businesses that depend on those GM workers' spending for their own income.
"The #1 priority of the national negotiation team has been to secure a strong and fair contract our members deserve," Dittes said in a statement. "Out of respect for our members, we will refrain from commenting on the details until the UAW GM leaders gather together and receive all details."
Dittes also thanked "the thousands of Americans who donated goods and helped our striking workers and their families. Please know that the outpouring of community and national support will be etched in the memories of all of us at the UAW for years to come."
Union President Gary Jones, who, on his election last year, warned auto worker members to save up for a potential strike – though UAW hadn't chosen a target firm then – praised his GM members' "dignity, grace, and solidarity," which "are prime examples of what this union is all about — supporting one another in the good and bad times and never giving up."
With wide public support, Jones added, the union bargainers fought "one day longer" than the company to obtain a good deal for the GM workers.
Top worker goals in the bargaining included raises, at a time of record GM profits and executive pay, an end to the two-tier wage system negotiated when the company went broke and reorganized during the Great Recession, faster progression to full-time status for the tens of thousands of part-time workers GM has hired since, and an end to the company's moves of jobs and plants to Mexico.
News reports indicated the tentative pact includes a raise of at least 2% and a signing bonus. Public pressure forced GM to take another thorny issue, health care coverage, off the table. Early, it yanked coverage from all the workers, and UAW was prepared to take it over – and use strike fund money to pay for it. But public uproar forced GM to retreat and reinstate coverage. The reports also said GM promised to invest billions of dollars in modernizing U.S. plants and to at least partially reopen its iconic Lordstown plant in Ohio.
Like free stuff? So do we. Here at People's World, we believe strongly in the mission of keeping the labor and democratic movements informed so they are prepared for the struggle. But we need your help. While our content is free for readers (something we are proud of) it takes money — a lot of it — to produce and cover the stories you see in our pages. Only you, our readers and supporters, can keep us going. Only you can make sure we keep the news that matters free of paywalls and advertisements. If you enjoy reading People's World and the stories we bring you, support our work by becoming a $5 monthly sustainer today.