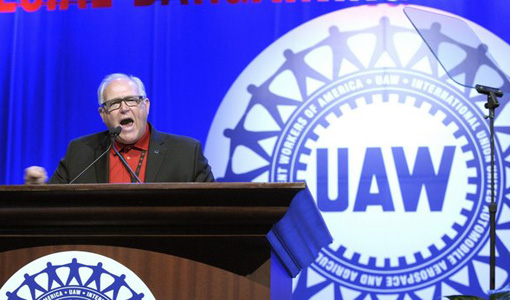 DETROIT (PAI) – After what leaders said was an extensive poll of its members, the United Auto Workers board formally endorsed Hillary Clinton's candidacy for the U.S. presidency, in a vote just before Memorial Day.
The decision is notable because of UAW's past history as a beacon of progressivism, starting with its late and revered president, Walter Reuther. But the board said a majority of UAW members preferred the former Secretary of State over her more-progressive Democratic primary challenger, Sen. Bernie Sanders, Ind.-Vt.
Indeed, even data collected by Sanders backers showed little formal UAW backing for the Vermonter on the local level.
Local 4121, a UAW local representing research assistants and teaching assistants at the University of Washington, formally endorsed him. And the CAP political action committee for locals in the Quad Cities of Illinois-Iowa sent a Sanders endorsement recommendation to the parent union.
"Hillary Clinton understands our issues on trade, understands the complexities of multinational economies and supports American workers, their families and communities," said UAW President Dennis Williams in a statement after the board vote.
He also took the pragmatic position that Clinton, current leader in the Democratic delegate race, would unify the Democratic Party in the face of billionaire businessman Donald Trump, the presumed Republican presidential nominee.
That may be easier said than done: Polls for Working America, the AFL-CIO affiliate established to contact workers who can't join unions but who agree with union goals, show 31 percent back Trump. News reports add 28 percent of UAW members do, too, citing his stand against job-losing so-called "free trade" pacts. Those pacts particularly hurt the auto industry.
Sanders also has opposed every single "free trade" pact during his 25-year congressional career. Clinton, as Democratic President Barack Obama's Secretary of State, was for the pending Trans-Pacific Partnership, before she was against it.
And Sanders points out that Clinton has lost her opinion poll lead over Trump, as voters dislike both of them, while he enjoys a double-digit polling lead over the mega-mogul.
"Bernie Sanders has brought to this campaign a dialogue that has been needed for far too long. He has been, and remains, a great friend of the UAW, and of working men and women in this country. But, the fact is, Hillary Clinton has shown under pressure her ability to lead and get elected in November," said Williams.
He called both Clinton and Sanders "very good UAW friends" but said the union had to choose between them "and move forward as a united membership."
The union sent questionnaires to all political candidates of both parties, and none of the Republicans – Trump included – replied. That's similar to results other AFL-CIO unions got. Former Gov. Mike Huckabee, R-Ark., early on, both replied to the AFL-CIO's questionnaire and appeared before the federation's executive council last year. But he was the only one.
Trump also wants to move UAW jobs to move to nonunion, low-paying states to compete with Mexican wages, the union said, leading Williams to comment that "Trump clearly does not support the economic security of UAW families."
Williams said Clinton stood up to attacks on collective bargaining, even in 2009 during her State Department service. He called her an advocate for expanding overtime rules and a believer in equal pay, paid family leave, and quality, affordable child care."
Clinton also "believes we need to protect workers against employer misclassification, wage theft, workplace exploitation and efforts to undermine retirement benefits" and "works to support good-paying manufacturing jobs here by opposing the TPP, and recognizes the need to address unfair, existing trade agreements" by appointing a special prosecutor on trade.
"A Hillary Clinton presidency will focus on collective bargaining rights and fair treatment of workers, including creating high standards for domestic sourcing and 'buy American' laws. She also will create tax incentives for our hardest-hit manufacturing communities and support skills training for America's workforce," Williams concluded.
Photo: UAW President Dennis Williams announced his union's support for Hillary Clinton. | Todd McInturf/Detroit News via AP