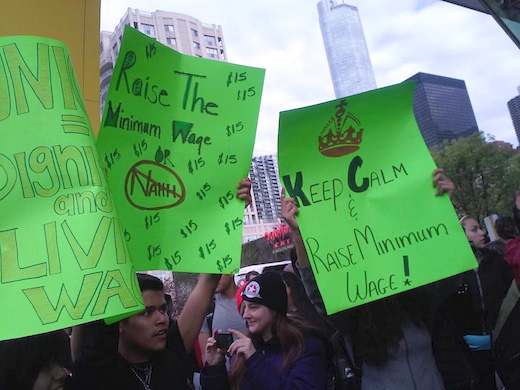 CHICAGO – With fists in the air, tattooed teenagers joined with their sign-carrying elders in front of the Rock and Roll McDonald's here near the city's Gold Coast May 15 as part of the global fast food workers' strike. Hundreds jammed the narrow public sidewalk, sandwiched between the busy street and police car on one side and McDonald's "private property" on the other. A lone private security guard patrolled the billion-dollar fast food chain's perimeter. But when the disciplined crowd – in a show of brief and peaceful civil disobedience – surged onto McDonald's territory, there was nothing he could do. A policeman on his bicycle stood against the plate glass window of the restaurant also watching the protesters chanting in English and Spanish their demands: "What do we want? $15. When do we want it? Now." There was nothing he could do either. Like an idea whose time has come, there was no holding back this group of fast food workers and their supporters.
The movement of low wage workers demanding livable wages, dignity and respect on the job has gone global. From Sapporo, Japan, to Sao Paolo, Brazil, fast food workers walked off their jobs and joined unions and their allies in rallies and marches at McDonald's. Like Walmart in the low wage retail workers movement, McDonald's has become the global symbol of corporate greed in the fast food industry. Going up against the corporate giant, workers say their strength comes from their unity and solidarity.
LaRhonda Young, a cashier and crew leader at a South Michigan Ave. McDonald's, said the strike was a "great thing."
"As long as we stick together as a union, we'll get some justice. I believe that we can win."
Young's co-worker, Matthew Herring, has been working alongside Young at the same McDonald's for the last year and a half. Herring said he does a variety of jobs at the restaurant from maintenance to grilling to security. "If someone is unruly," he said, the male employees are expected to escort the person out.
"When I come in I have to go around the whole [parking] lot to clean up, do the windows and bathroom," he said. When he works the grill, it can get really hot, especially if the air conditioning is not working. "You be sweating," he said.
Herring is single but he helps out his sister and mother – sometimes – financially and his rent for a studio apartment is $550 a month. That means, if Herring works 40 hours per week, his monthly rent would be almost 50 percent of his gross pay.
But Herring doesn't see the Fight For $15 through his single lens, but through a much wider angle. With $15 an hour, " poverty would go down," he said, "people could buy stuff that they need, not want, NEED."
A truck rolled by and honked in solidarity. A loud "yeah" rose from the crowd. Wendy's and McDonald's workers spoke to the media. Coming all the way from Rockford, Ill., Jamie Branch, wearing her McDonald's uniform, told the media that she started at McDonald's at age 16 and made $3.35 an hour. Two and a half decades later she said she is a crew trainer and works hard at teaching new employees how to "do a good quality job according to McDonald's standards." Branch said her job is demanding and she takes it seriously, just as seriously as she takes the movement for higher wages and dignity. "We're making demands just like McDonald's makes demands. We want more money! We are fighting together and just like today it's a global movement now."
The Rev. John Thomas, a leader of the faith-labor group ARISE, joined the press conference and thanked the workers for "fighting for justice and dignity" for all. "It's a great day! You made news all over the world!" he said and the crowd went wild hearing that last part.
Thomas said he heard the owners of Chipotle make $25 million a year. "If the owners can earn that kind of money, you can earn $15 an hour."
Photo: Protesters in front of Chicago's Rock and Roll McDonald's demand a higher minimum wage and livable wages for fast food workers, May 15. (PW/Teresa Albano)