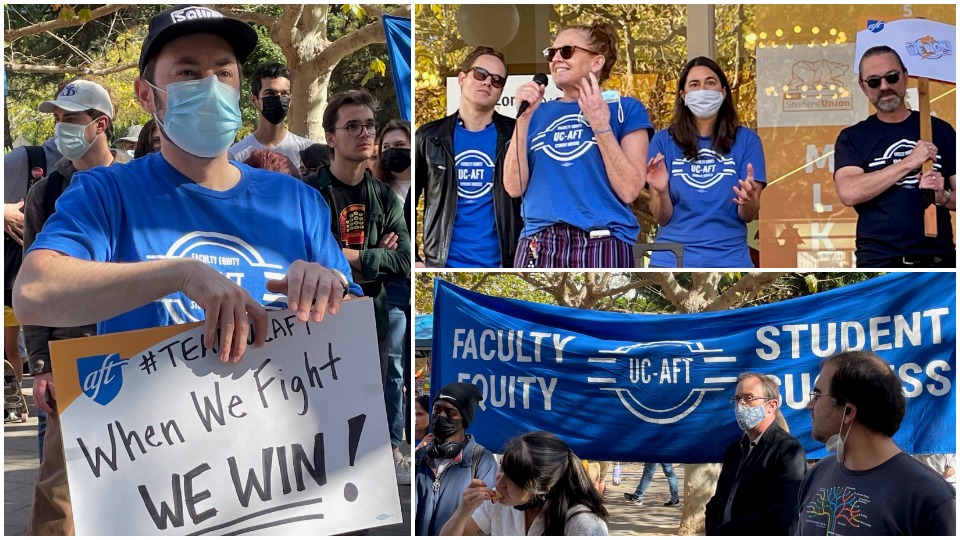 BERKELEY, Calif. – There were supposed to be picket lines. Lecturers – some 6,500 contingent faculty members who teach a third of undergraduate courses on the University of California's 10 campuses – went to sleep Tuesday night expecting to come out early next day with their picket signs and launch a two-day strike pressing the administration to stop nearly three years of stalling over a fair contract.
And then the lecturers, members of University Council – American Federation of Teachers, or UC-AFT – awakened to learn that at 4 a.m. on Wednesday, Nov. 17, their negotiators had indeed succeeded in stopping the administration's stalling and a tentative agreement addressing many of their demands was waiting to be ratified. Union members will now vote on the tentative pact in the coming two weeks, and if ratified, the contract will extend through March 2026.
Here at UC Berkeley, as lecturers – some bleary-eyed from the long night's negotiating – joined students, other faculty members, campus workers, and community supporters in a noontime celebration, cheers erupted and chants rang out: "We teach UC!" and "When we fight, we win!"
Crystal Chang Cohen, a global studies and political economy continuing lecturer who co-chairs UC-AFT's Bay Area chapter, told the crowd, "We couldn't have won without all the lecturers who bravely stepped up to say they were willing to cancel classes today. That's not an easy thing to do. And that's how we won this."
Chang went on to thank tenured faculty "who also signed a pledge – I couldn't believe it yesterday, I almost cried when I asked my students, how many of you had a professor today who said they were going to cancel class? All of my students raised their hands!"
She passed the mike to "another group without whom this wouldn't have been possible: the strike team," who shared their joy, one by one.
Said one, amid applause and cheers, "This shows us what we can do together, social movements are started like this." And another, "It's very meaningful to me to be able to say to the students I teach, who I hope will follow in my footsteps, that there is a path forward!" And a third, "It's been amazing over the past three or four weeks to see the support especially of tenured faculty – to see a list of 900 names!"
"I was prepared to come up here and talk and be really angry," anthropology lecturer Annie Danis told the crowd. "And today is a historic day for me … there is a place for teaching at this university, and this contract shows the administration wants to support that."
Danis, who said she's only been a lecturer at UC Berkeley for a year, but did six years of graduate work here, all the while teaching undergraduates, told the crowd, "Oh behalf of 40% of the teaching faculty here at UC Berkeley, I want to say thank you to the lecturers, the students who supported us, and to the bargaining committee and all the work you have done."
Meanwhile, at UCLA in Los Angeles, UC-AFT President Mia McIver was joined by American Federation of Teachers President Randi Weingarten and California Federation of Teachers President Jeff Freitas as she told supporters there, "It's the best contract in UC-AFT history and among the best nationwide for contingent faculty."
Said Weingarten, "What you have done with this contract is taken a giant step to eliminate precarity." Freitas added, "It has taken 20-plus years to get this victory … It's in solidarity that we win."
Across the UC system, many lecturers have been in a very precarious position. Many must commute to two or three campuses, over half are part-time, and some may work one semester but not the next. A significantly larger proportion of lecturers are women and people of color than among tenure-track faculty.
A study by CalMatters showed lecturers' average annual pay hovering around $33,000, far less than tenure-track faculty, and found that about a quarter or more of lecturers working at UC during one academic year were not employed the following year. Many lecturers also work less than full time.
Crucial to UC-AFT in calling off its pending strike was the provision in the tentative agreement that all the lecturers will now be eligible for four weeks of fully-paid leave for family care and bonding, with the right to return to work.
Among other key provisions:
Pay hikes of 7%, 3%, 3%, 3%, and 4% in successive years of the contract, plus a $1,500 signing bonus.
A step-by-step plan to strengthen job stability, with an initial one-year employment contract followed by successive contracts of two years followed by three years if lecturers pass performance reviews.
A new path to Senior Continuing Lecturer, allowing continuing faculty to apply for promotion to this position after their successive one-year, then two-year, and then three-year contracts.
Expanded eligibility for paid medical leave, stronger health and safety provisions, and professional development funding.
In a conversation after the celebration rally, Crystal Chang Cohen shared her thoughts about the significance of the new provisions.
"Right now," she said, "there's what's called a 'pre-six lecturer.' For the first six years we work here, we just wait every semester, every year – will we have a job next semester, next year? Now we will have a more stable process, going from a one-year contract to two years and then to three years. At that point you become a "continuing lecturer" – that's what I am.
Before, she said, that was the highest level. The new Senior Continuing Lecturer position "is something I would really aspire to – that's a huge thing for me."
Chang also said she welcomes the "huge raises" in the new proposal, though in Alameda County she would likely still be considered low income. The increased compensation "will really help. For thousands of lecturers across the state, that increase will somewhat ease the burden of housing costs, feeding our families, and inflation, as we've all experienced."
Of course, not everything the union wanted made it into the contract. Among missing items: the university won't pay into Social Security, or pay retirement contributions, for lecturers who work less than half of full time. Nor did the university respond to their wish to have a neutral arbitration committee to deal with grievances and workload issues.
Waiting in the wings, and undoubtedly encouraged by what UC-AFT did win, are two more unions of UC workers, the Union of Postdocs and Academic Researchers/UAW Local 5810 and Student Researchers United – also affiliated with UAW. Both unions are voting this week on whether to authorize strikes. Student Researchers United hasn't yet been recognized by UC.