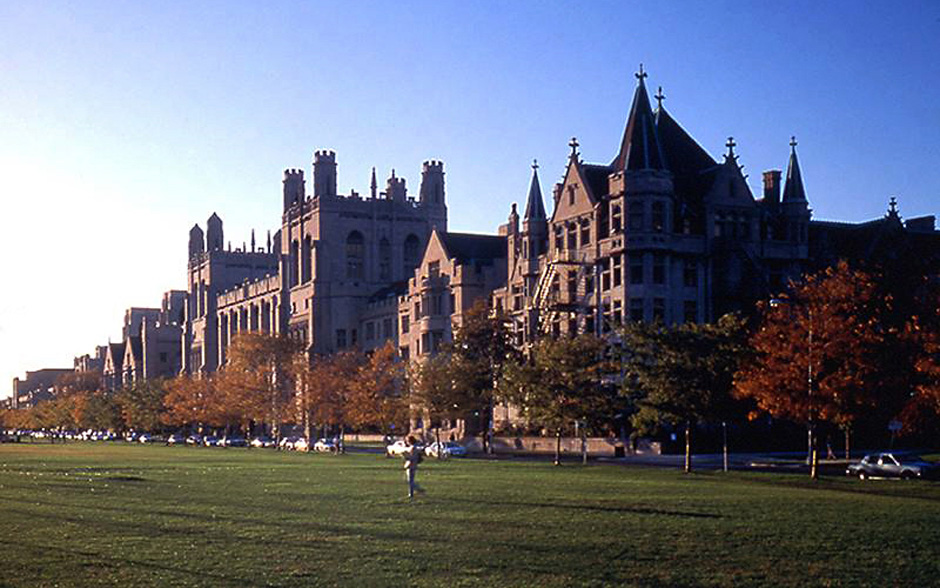 CHICAGO—By a more than 2-to-1 ratio, graduate teaching assistants and research assistants at the University of Chicago, one of the nation's elite private universities, voted on October 19 to unionize with the Illinois Federation of Teachers/AFT and the American Association of University Professors, who ran a joint campaign there.
The final tally was 1,103-479 with 179 challenged ballots, the National Labor Relations Board's regional office said. The new unit, Graduate Students United, covers approximately 2,500 people.
The outcome overjoyed the RAs and TAs, who shoulder substantial research duties for the university's professors, along with some teaching duties, especially in the institution's larger lecture sections. "We have a union," Graduate Students United tweeted after the tally was announced. "And we have a room full of joyously crying @UChicago grad workers."
The Chicago vote is one of a string of union organizing successes at top private universities ever since the Obama administration-named NLRB majority declared the TAs and RAs are "employees" under labor law, with the right to unionize and bargain collectively.
The Chicago vote is also significant because the university administration, headed by President Robert Zimmer, ran a nasty anti-union campaign. Zimmer was a top official at Brown University when the then-George Bush-named majority on the NLRB ruled TAs and RAs were students, not employees, and thus could not unionize.
And the TAs and RAs at Chicago got to vote before a Trump-named GOP board majority reverse the prior pro-student ruling. But it's not the first pro-union vote among UofC students: In June, the undergraduate student workers in the university's libraries voted 67-13, with 13 challenged ballots, to unionize with Teamsters Local 743. They're the first-ever undergrad student worker group in the U.S. to go union. The university may challenge that vote, the Chicago Tribune reported then.
"Graduate employees work with students every day. They understand what their students need better than most. With a union, they will have the voice they need to push for improvements to the classes they teach and the research they conduct," Graduate Students United said in a statement.  In its organizing drive, the 10-year-old GSU has emphasized health care coverage, better stipends to match the city's cost of living and a regular pay schedule. It hopes to open talks with the university administration soon.
"Our overwhelming victory is a testament to our long-held belief: Graduate workers perform unquestionably valuable work and are the backbone of the University of Chicago," third-year mathematics TA Claudio Gonzalez told IFT. "We exercised our democratic right and have elected to sit at the table when decisions are made that affect our lives, and also the lives of our students and those in the broader community. With the power of collective bargaining, we can and will improve our working conditions.
"But in this long and challenging process we have also secured a powerful institutional voice. With it, we can stand with our fellow workers against all manners of injustice, and we can pursue university policies of equity and inclusion on terms that we dictate. We can even challenge the idea of who, by socio-economic circumstance, is able to attend graduate school in the first place. Today, we showed that grads at U of C are prepared to take responsibility in the world that our labor helps to shape."
Ecology and evolution student Daniela Palmer, a student said, "It's incredibly energizing to work with other graduate employees to have a voice on campus. It's really exciting how this election fits into the national political landscape. We have received lots of support from allies at other institutions. It's great to feel the solidarity nationwide from graduate workers and others. I feel so proud and happy we have sent a strong message as a collective group."
"University of Chicago graduate workers came together to fight for this union and worked very, very hard against all the obstacles to win — and win decisively," said AFT President Randi Weingarten in a statement.
"They get in their gut that a union gives them voice to make a difference in their lives and the lives of their students. The grass-roots passion that animated their struggle was apparent from the beginning, and for 10 years they stood strong to achieve this historic victory. GSU will inspire others to follow their path: A real say over the work they do, the same rights won by their peers and colleagues. The AFT will have their backs every single day."