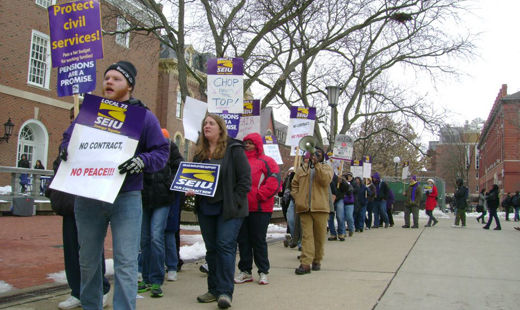 URBANA, Ill. – Campus workers are on strike at the University of Illinois Urbana-Champaign (UIUC) after several months of contract negotiations with the university's administration yielded little results on wages.
Campus food service and building service workers, represented by the Service Employees International Union, Local 73, voted down a proposal designed by university negotiators who seem to believe university employees do not understand UIUC's financial situation. Over 800 workers will now be walking picket lines.
UIUC leadership began pressuring workers with the onset of the Great Recession and seem intent on keeping wages low despite the university's continually growing operating budget. From 2009 through 2012, the university's budget increased by 12.9 percent and had over $430 million in unrestricted funds. In the same time period campus workers saw a meager wage increase of 1.3 percent.
Employment data from UIUC suggests the college is undergoing a makeover, from the top down. Despite campus staff growing an average 1.9 percent from 2005 to 2010, total administrator/professional positions grew by more than ten times that number, at 19.9 percent in the same time period. To cope with the shortage of personnel in a growing institution, the university has been violating its contract agreement with employees. On more than one occasion, building service workers arrived to prepare a building for the following day's classes and found private contractors buffing classroom floors.
"The university's not broke – it's broken!" was a common chant among those picketing in the early months of 2013.
In the course of the activism and bargaining which led up to last weekend's vote, UIUC is alleged to have broken several other laws. Five of six members on the bargaining committee received disciplinary action for their roles as union members. Three were docked pay for time spent in negotiations, and another two reprimanded.
If such actions were meant to quell solidarity, they certainly failed. A well-spirited, raucous crowd of over 60 people gathered outside the campus union building during a March 7 meeting of the University of Illinois Board of Trustees, and they let them know how they felt. "They will not break us! Stronger together!" one participant exclaimed.
The next day, UIUC refused to budge on its proposed wages. The proposal was voted on over the weekend.
Regarding the decision to strike, SEIU field organizer Ricky Baldwin put it this way: "Take home pay is currently less than last year, and much less than six years ago – not even counting inflation. We also expect health insurance costs and pension costs to increase in the near future. Our members are working 2-3 jobs and still hurting. This cannot continue."
Baldwin's comment reflects the sentiments expressed by many of the university's food service workers. The demand for better food on campus has lead to the increased employment of community members in the dining halls, but the university continues to pay wages which do not match those required by families. Many earn less than $20,000 a year, and all of the workers pay the total cost of their benefits during the summer months. Many hold second jobs to make ends meet.
The workers ultimately rejected the university's proposal and began their strike at midnight on March 11.
Graduate employees, organized as part of the Graduate Employees Organization (GEO), have joined those picketing as part of SEIU, as has the local Jobs with Justice chapter, various other community groups, and concerned students.
They will strike for three days before resuming negotiations.
Photo: Jean Paul Holmes/PW