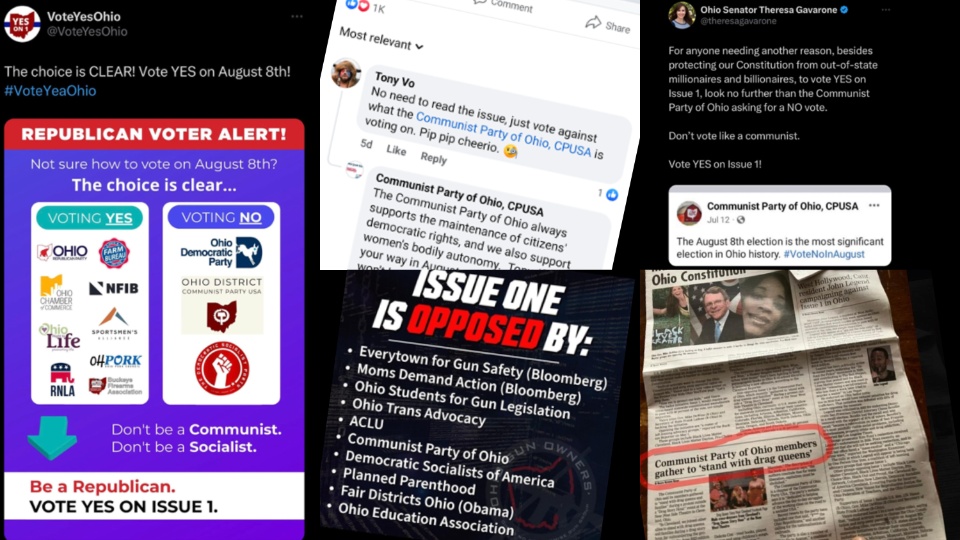 COLUMBUS, Ohio—In the final weeks before Ohio's Aug. 8 special election to decide Issue 1—the direct democracy referendum—the state Republican Party rolled out new messaging for the final media push: Don't be a Communist. Vote Yes on Issue 1.
The media campaign appeared to be centrally coordinated and financed by out-of-state big money interest groups. Despite the GOP's best propaganda efforts, it failed to convince voters to pass Issue 1, which failed at the ballot box by nearly 15 points.
Issue 1 was designed to further entrench conservative power in the state of Ohio by requiring a supermajority of 60% approval on citizen-led constitutional amendments and doubling the already tough signature collection criteria for amendment proposals.
Issue 1 failed by a wide margin as voters turned out in large numbers from both urban and rural counties to prevent further restrictions on their democratic rights.
In the days leading up to the special election, the political action committee Protect Our Constitution posted an ad on social media under the alias "VoteYesOhio" that associated a No Vote 1 with the Ohio Democratic Party, the Ohio District of the Communist Party USA, and something called the "Democratic Socialist Party," which may have been meant as a reference to Democratic Socialists of America but used a logo not associated with DSA.
PACs like the misnamed Protect Our Constitution are legal entities which can pool monetary donations from any source in unlimited amounts for use in political campaigns. Protect Our Constitution has been the main source of cash pushing Issue 1. However, more than 80% of the contributions to Protect Our Constitution came from outside the state of Ohio.
Top donations included $6.4 million from Susan B. Anthony Pro-Life America, a 501(c)(4) based in Washington, D.C., that seeks to end abortion procedures in the U.S.; $4 million from Richard Uihlein, Illinois-based businessman and CEO of the Uline Corporation; and $4 million from Protect Women Ohio, an Arlington, Va.-based committee acting on behalf of the Concord Fund, a well-known conservative advocacy group that has been highly influential in the federal judiciary. The Roman Catholic church also donated $900,000 to Protect Our Constitution.
Ohio Republican State Sen. Theresa Gavarone appeared to have taken her messaging directly from these out-of-state interests, posting on her social media, "Don't vote like a communist" and referencing a tweet by the Ohio District of the Communist Party USA. Gavarone represents parts of northwest Ohio and has influential appointments on the state senate finance, small business, and elections committees.
Newspapers distributed in central Ohio and in the Cleveland area contained a front page story on the Communist Party's support for the LGBTQ community and participation in a recent Drag Story Hour counter-protest in Cleveland. The same article also mentions the Communist Party of Ohio's opposition to Issue 1.
The newspapers are published by Metric Media, a network of more than 1,200 local news websites and print newspapers with extensive ties to out-of-state business interests and Christian fundamentalists. According to the Columbia Journalism Review, publications by Metric Media frequently pose as citizen journalism but are in reality "part of a sprawling network that promotes political agendas and corporate interests, without disclosing those ties to the public."
Yet the massive influx of out-of-state money and media was unable to compel Ohioans to vote in favor of restricting their own democratic freedoms.
The failure of Issue 1 has massive implications for the vote on an amendment to enshrine abortion rights in the Ohio constitution this November. That amendment, which begins with the assertion that "Every individual has a right to make and carry out one's own reproductive decisions," can now still be approved by a simple majority vote and will not be subject to a 60% supermajority rule as proposed by the failed Issue 1 amendment.
Republicans and their big-money operation miscalculated when they thought they'd be able to manipulate voters with their anti-communist media campaign, but they were right about one thing—the Communists really are opposed to efforts to restrict Ohio democracy and reproductive freedom.
Anita Waters, Chair of the Ohio District of the Communist Party USA, which was active on the ground in opposing Issue 1, spoke with People's World about the group's position.
"The Communist Party of Ohio supports the maintenance and expansion of citizens' democratic rights, as well as people's right to bodily autonomy," Waters said. "That's why we opposed Issue 1, along with the vast majority of Ohioans."
We hope you appreciated this article. At 

People's World

, we believe news and information should be free and accessible to all, but we need your help. Our journalism is free of corporate influence and paywalls because we are totally reader-supported. Only you, our readers and supporters, make this possible. If you enjoy reading 

People's World

 and the stories we bring you, please 

support our work by donating or becoming a monthly sustainer today

. Thank you!