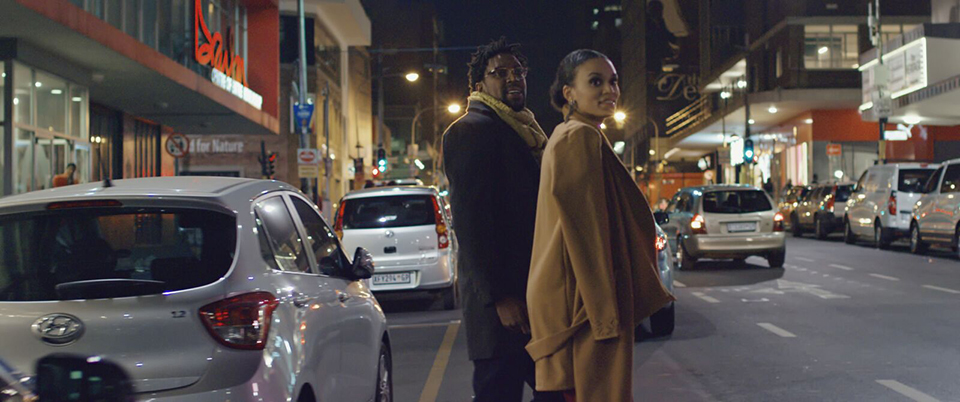 Writer/director Kagiso Lediga's new film Catching Feelings received its world premiere on June 18 at the Los Angeles Film Festival. Lediga is a familiar figure in South Africa as a comedian, actor and writer. He stars in this film, his directorial debut, as Max Matshane, 34, who had a bestselling book early on, but acquired a serious case of writer's block. Now he's teaching advanced-level writing at the University of the Witwatersrand (known as Wits) in Johannesburg. He has a stunningly beautiful wife Samkelo (Sam), played by Pearl Thusi, and they are living in an expensive, heavily guarded home in a Joburg suburb that they can barely afford. She's a journalist, and for the time being they've ruled out having children.
Sam would rather be out seeing the world—indeed, she is reading Noam Chomsky's How the World Works. Max, in his anomie, is cruising along on autopilot as a distinguished African academic. Most of their time, so it seems, is spent bouncing from art openings to poetry readings, from bars to cafés, hotel eateries and well appointed private home parties. An unnamed but frequently seen featured player in the film is the bottle: Prodigious amounts of alcohol are being consumed. Other substances make cameo appearances as well.
Max's buddy Joel (Akin Omotoso), an economist, is also married, to Lazola (Precious Makgaretsa), but carrying on a barely concealed affair with Tabitha (Kate Liquorish), a white woman whose own marriage has dead-ended. (Liquorish played the anti-apartheid activist Ruth First alongside Laurence Fishburne's Nelson Mandela in the BET miniseries Madiba.)
As in the long-running television show Sex in the City, and also recalling any number of Woody Allen films that twist human relationships into a complex entanglement of lies and indiscretions, the urban environment establishes the setting for the actors to work. In this case it's today's Johannesburg, the modern, sparkling, consumerist high-rise economic engine of Africa. The struggle against apartheid, one of the world's greatest movements for human dignity in the 20th century, is now only distantly perceptible in the rear-view mirror. Joburg is fast, pulsating with movement, it's hip, it's where the action is happening, and the newly emancipated middle class is rushing to drink it all in.
Into this mix drops the character of Heiner Miller (Andrew Buckland), a much celebrated and hedonistic older white ex-pat author who left South Africa for reasons of his own convenience but achieved undeserved renown abroad as a supposed "anti-apartheid" intellectual. Never married, by choice, he has savored life as an indiscriminate, all-purpose copulater. He's back at Wits now for a residency in Max's department, and the two become friendly over their mutual literary concerns and careers, and over that familiar bottle.
After experiencing a sudden health crisis, Heiner moves into Max and Sam's home to recuperate. His presence, and his excessive behavior, only further stress the marital relationship with many complications.
Catching Feelings is billed as a "highly nuanced dark romantic comedy." Now "comedy" is when no one gets killed, so it's a broad term that can encompass a lot. There's a lyrical interlude in this 118-minute film where Max and Heiner take a bicycle trip around Soweto, the township that was the epicenter of the anti-apartheid struggle. It's all cleaned up, portrayed in pastel and smiles—and that ever-present bottle.
Yet the film also has its unseen, underlying tragic facets. Millions of South Africans who have been left out of the new prosperity reflected in the film—such as the huge trade union movement in the country and the South African Communist Party, which are two of the three legs, along with the African National Congress, that comprise the governing tripartite alliance—are now questioning if this is the best that could have been achieved out of the anti-apartheid saga. Is this what Nelson Mandela and his fellow convicts on Robben Island wanted? Did Ruth First sacrifice her life for this? Are extravagant corruption and favoritism—and the persistence of mass poverty—simply the unavoidable byproducts of freedom?
Other than some observations about the white writer's privilege and some remaining colonial attitudes, the fact that no one in the film is "catching failings" is obviously Lediga's deliberate choice, perhaps motivated by considerations of commercial appeal. In a director's statement, he says that in contrast to many "heavy and tragic" films about poverty, violence and drought being made in Africa, "we were grateful to tell a light story with reasonably unencumbered urban Africans who have consensual sex and pay mortgages."
If Max and Sam, and other couples as well, are reaching a crossroads in their relationships, can this be taken as a metaphor for the nation? I believe most viewers, both inside and outside the country, will likely come away thinking that all the alcoholic and sexual escapism can be explained by a reticence to ask these more deeply troubling questions about the nature of the new nonracial society that is modern South Africa. And about the responsibility of the educated middle classes to help effect change.