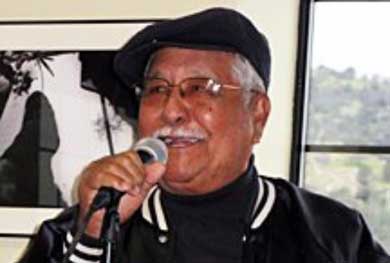 The civil rights, labor and farm worker community is mourning the loss of Richard E. Chavez, long-time farm worker and civil rights advocate and brother of Cesar Chavez, who died July 27 at 81 in Bakersfield, Calif.
"Richard was one of those little-known giants in our organization," said current United Farm Workers president Arturo Rodriguez to Bakersfield.com. "Those of us who have been a part of the organization know and understand the effectiveness of his leadership."
President Obama also paid tribute to the many contributions made by Richard Chavez.
"Richard fought for basic labor rights but also worked to improve the quality of life for countless farm workers," said Obama in a statement. "And beyond his work, Richard was a family man."
Obama added, "Richard understood that the struggle for a more perfect union and a better life for all America's workers didn't end with any particular victory or defeat, but instead required a commitment to getting up every single day to keep at it."
Richard Estrada Chavez was born on Nov. 12, 1929, in Yuma, Ariz. When he was eight years old, his family was forced into migrant farm work when the family farm was lost to taxes during the Great Depression. They migrated to California where Richard and his older brother, Cesar Chavez, began working in the fields, orchards and vineyards throughout the state. In 1949, the brothers left farm labor to work in the lumber mills.
In 1951, Richard started a carpenter's union apprenticeship program in San Jose and found work framing suburban homes. By 1952, he had moved to Delano and was president of the Delano chapter of the Community Service Organization, a Latino civil rights group.
By trade, Richard was a skilled carpenter and building contractor. But in 1966, he left his job as a carpenter and committed himself to helping his brother Cesar build the organization that would become the United Farm Workers union.
Richard is credited with helping to build the Forty Acres complex in Delano, which became the union's headquarters. He worked as a union organizer, planning grape and lettuce boycotts as director of the Detroit, Mich., boycott in 1972-73 and the New York City boycotts in 1973-74. Richard was in charge of administering union contracts and oversaw union bargaining.
He retired from the union in 1983 but stayed active in the Cesar Chavez Foundation and the Dolores Huerta Foundation, as well as building a tract of homes in Tehachapi and custom homes in Los Angeles.
Many UFW offices, clinics and service centers have been designed, built and remodeled by Richard. He is also known for designing the iconic black Aztec eagle, the powerful symbol that to this day flies on UFW flags.
Civil rights leaders say Richard Chavez laid foundations in communities and in the civil rights movement that will prove to be stronger and longer lasting than the concrete and timber that compose the buildings he helped build. Richard dedicated his life to fulfilling the dream envisioned by him, his brother and his family, in which farm workers, Latinos and all Americans would one day achieve full access to justice.
"Richard Chavez was a gentle and unsung hero of the farm worker and broader civil rights movements," said Thomas A. Saenz, president and general counsel of the Mexican and Legal Defense Educational Fund, in a statement. "His quiet and reassuring presence will be greatly missed."
In 1993, after Cesar's death, Richard Chavez crafted the simple wooden coffin that carried his brother to rest in the La Paz compound in Keene, Calif., the UFW's current headquarters.
Dolores Huerta, his longtime companion of over 40 years, ten children, seven stepchildren and three great grandchildren survive Richard Chavez.
Photo: Richard E. Chavez/UFW Facebook page.