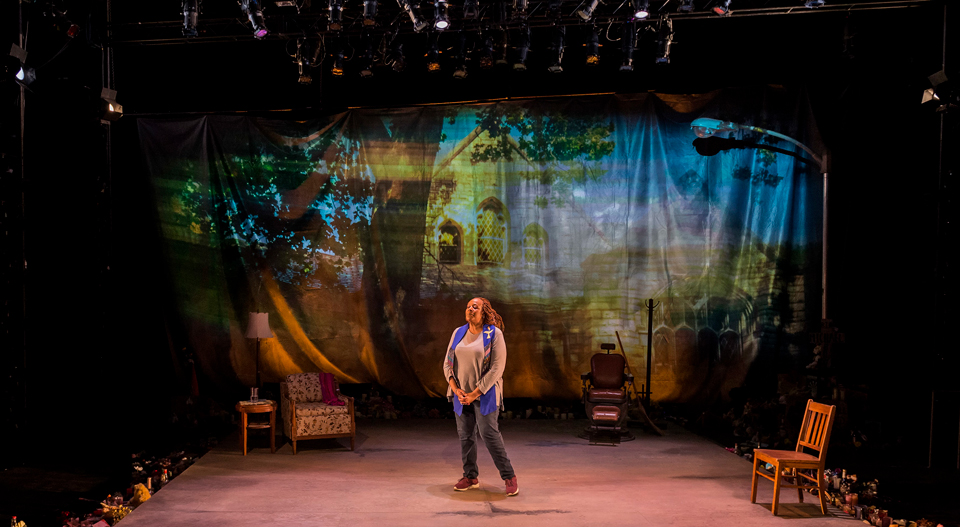 CULVER CITY, Calif.—You'll meet eight quite different people at the Kirk Douglas Theatre here over the course of Dael Orlandersmith's one-woman, 70-minute Until the Flood about the August 9, 2014, killing of Michael Brown in Ferguson, Missouri.
Orlandersmith's technique as a playwright has been compared to Anna Deavere Smith's, but there is a significant difference. While both interviewed witnesses, neighbors, and participants in the tragic events their plays aim to memorialize, Smith attempted to replicate the speech and mannerisms of specific individuals she had met. Orlandersmith, on the other hand, took the aggregate of her subjects and created representative composite characters of her own, but similarly to portray the broad range of reactions to and experiences of those events.
Until the Flood was commissioned by Repertory Theatre of St. Louis in the immediate aftermath of the fatal shooting of Michael Brown, an unarmed, 18-year-old African American, by the 28-year-old Darren Wilson, a white police officer in Ferguson. A common thread of her exploration is the search for the roots of community unrest before and after the killing, and for paths toward healing. Each of her characters brings their own perspective, and although they are all quite different, Orlandersmith accords to all the dignity and respect of a careful listening and an empathetic telling. There are reasons why people feel as they feel.
Orlandersmith has been an active playwright since the 1990s. Some of her titles include Monster, Yellowman, The Blue Album, Beauty's Daughter and Stoop Stories. After debuting in St. Louis, Until the Flood went on to productions in New York, Milwaukee, Chicago, Seattle, Portland, Ore., the UK and Ireland. After her run at the Kirk Douglas, she takes the show to Denver and the Spoleto Festival in South Carolina. Since its inception is has been directed by Neel Keller.
Orlandersmith's stage is surrounded by the remains of a people's memorial to Michael Brown—candles, flowers, toys, food, and drinks. The unencumbered stage has three chairs (one a barber's chair) and a clothes rack, which the actor will use to put on a shirt, a shawl or a jacket to assume a different character's identity.
The show opens with the recorded sound of police communications indicating the location and movements of a Black male in a t-shirt, who had been seen walking out of a store in a possible theft incident. The racial and emotional stage is set.
We first meet Louisa Hemphill, a Black woman of retirement age who grew up in the area and recalls an all-white police force and the ubiquity of posted "sundown" laws. After sundown, people of color and Jews had better not be found on the street. Unlike her parents and most people in her community, who quietly accepted racial laws with resignation, Louisa tells us, "I would not keep my place." She left town to study at City College in New York, returning in her late thirties. She acknowledges the legacy of self-hate that racism has burned into people's unconscious, but doesn't quite know how to overcome it—in society or in herself. If Michael Brown indeed stole a package of Ripples from that store, wasn't he setting himself up? "I'm angry at him," she admits. "I'm angry in general."
Rusty Harden, 75, is a retired white policeman born poor who likes to think of himself as unprejudiced. He only believes in the law. There were times he raised his gun in tense situations and was shocked to confront angry crowds calling him "honky" and daring him to shoot. "It's like they want to die," he tells us as if they were saying, "I don't care about dying, I will take you with me." Colorblind as he claims to be, still, any cop is his brother. "I feel for Michael Brown and his family, and I feel for Darren Wilson…. You just gotta go with the flow." But in the end, as Wilson's brother in the law, he defaults to respecting the cop's judgment.
What is virtually colorblind, if not retired Officer Harden, is Orlandersmith's portrayal of him: As the white retired cop comes more distinctly into view, the African-American identity of the actor recedes quietly into the wings.
Hassan, Black and 17, now appears, his fluid rap modality refecting his pent-up resentment at the way his life has shaped up. Clearly a young man with intelligence and talent, he's been looking for the father figure he never had in life. He's envious of kids with two loving parents, and can identify with Michael Brown, who "felt that way too." "I just want out," Hassan says. "Spill my blood out. Do it, fluid." He would seem to exemplify the type Officer Harden identified, people who "don't care about dying."
No one seems curious enough to examine why a person could feel that way. What is so wrong with life to make a person say such things?
Orlandersmith's next character is Connie Hamm, 35, a white high school teacher, enjoying a glass in a Ferguson wine bar, where she retreats to escape the tension. She has her own backstory of abuse both from her father and from her husband, so she can relate to Michael Brown's family history. She wonders aloud to her good friend Margaret, a Black teacher who not long ago left for a prestigious job in Chicago, about Darren Wilson and what his childhood must have been life. Margaret, however, could not accept that the killing was equally tragic for both Brown and Wilson, and cut off her friendship with Connie as just too racially obtuse to tolerate.
No wonder the Black Lives Matter movement erupted: Even the white liberals who might have been expected to understand the rage simply couldn't.
Now we meet 70-ish Black barber Reuben Little. The Michael Brown case has been "a hot topic here." His big gripe is with two young college women, one Black, one white, who turned up to research a paper they're writing about the case, based on the premise that "All Black people are victims." But Little feels patronized. Those two young women aren't white and Black, he says, "They're both green." He owns the shop, and the building it's in, has renters, earned a college degree, and resents being constantly told he's "intellectually inferior." He dislikes white liberals "trying to save me…. Don't judge me or any of us by appearances. You don't know nothing."
Dougray Smith is used to being judged by his background, "white trash," as he puts it, from a West Virginia family of brutal drunks. But he has lifted himself up, reads Hemingway and F. Scott Fitzgerald, got a college degree, owns land, works as an electrician. He is not intimidated by anyone and instructs his traumatized five-year-old to swing back at a group of Black kids who are tormenting him. He reveals himself to be a thorough racist trying to clear Ferguson of Black people and bring "clear, pure, white" people in.
His is the über-gentrifying approach. Urban removal. Colonialism. Lebensraum.
Paul is another 17-year-old, a Black high school student with not much talent as an artist but an intense curiosity to know what makes artists tick. On the way home from his school library he's stopped by a white cop. "How do I know you didn't steal those books?" the cop demands. "I kept my cool," Paul tells us. "Every day I see that memorial spot for Michael Brown, that could have been me. One more year before I get out. Please, God, do not let that happen to me."
This is the kind of day-today experience most white people, including the white liberals, can never fully comprehend.
Edna Lewis, Black, late fifties, is a freethinking minister, whose mother always seemed to have a problem with Edna's choice of partner—first a woman, then a white husband. She goes to demonstrations and prays equally with and for everyone she meets—protesters, police, Black and white. "That is how my God speaks to me."
Finally, we come home to Louisa Hemphill, who still has so many questions. About her faith, about forgiveness. "I often ask of Michael Brown, Did you have to put yourself between a white man and a gun?" And to Darren Wilson, Did you have to kill that boy? Where was God? Where were you?…. What kind of family did Darren Wilson come from? Does it play over and over in his mind and soul?"
A collage of images about both cop and victim melts into Dael Orlandersmith, no longer in character, now just her own poetic self center-stage reaching for imagery and metaphor that can possibly begin to make sense of this tragic pilgrimage: "Boy. Man. Boy. Man. Black. White. Gun. Shot."
The myth of Orpheus is still, always with us, shape-shifting in time and form. None of the characters in the play actually saw the incident, so we are already interpretively a step or two removed as an audience. Now it falls to an actor of immeasurable talents trying to make transcendent art out of unspeakable tragedy. Nothing will bring back Michael Brown…nor any of the hundreds more cut down in the early career of their lives. Can any hope be salvaged? What will that look like? Questions beget questions and more questions.
The creative team features scenic designer Takeshi Kata, costume designer Kaye Voyce, lighting designer Mary Louise Geiger, sound designer and composer Justin Ellington, and projection designer Nicholas Hussong. The production stage manager is Brooke Baldwin.
Until the Flood runs through Feb. 23 at the Kirk Douglas Theatre, 9820 Washington Blvd, Culver City 90232. Tickets are available online at CenterTheatreGroup.org, by calling Audience Services at (213) 628-2772 or in person at the Center Theatre Group Box Office (at the Ahmanson Theatre at The Music Center, 135 N. Grand Ave., Los Angeles.
A "30 to Curtain" podcast conversation with Dael Orlandersmith and Neel Keller on bringing Until the Flood to the Kirk Douglas Theatre can be viewed here.