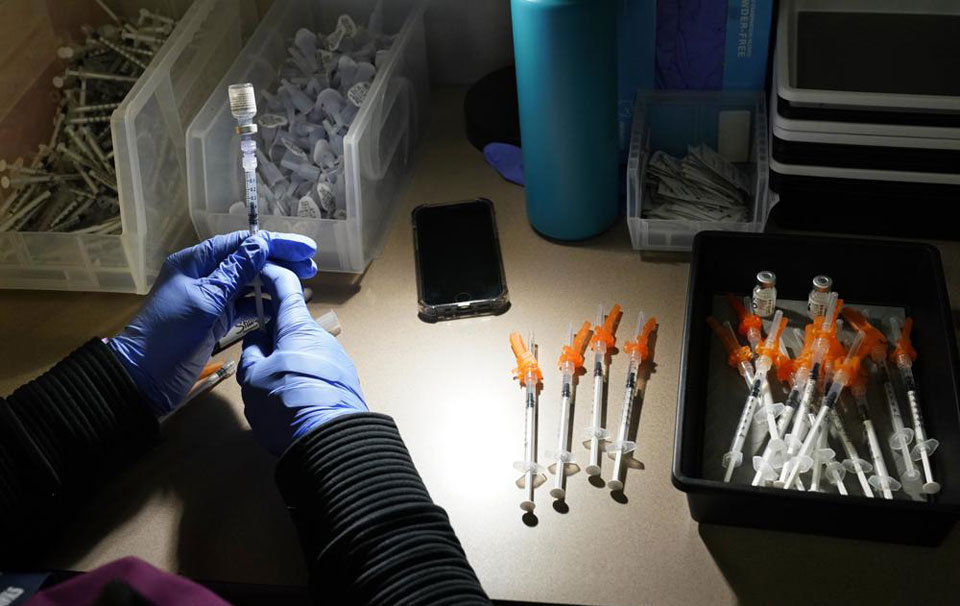 A double dose of the Covid-19 vaccine means a return to (somewhat) normalcy. It is the moment we have all been anxiously waiting for, and it has been a long wait. So, by that logic, one would assume everyone would see compelling reasons behind getting vaccinated, taking off those face coverings, and breathing in a deep sigh of relief.
And for some people around the U.S, this is the reality. On any given day in some towns, people are now going about their daily lives.
The coronavirus pandemic, we hoped, would no longer be a present danger about which we would need to worry. Sadly, this is not the case for the whole of the United States.
On a recent trip to Arizona to visit family, I could not help but ask around about how folks there felt about the Covid-19 vaccine—given the state's right-wing bend, like my home state of Missouri.
"It's so nice not worrying about forgetting my mask, now that we're all getting vaccinated, isn't it?" I asked the cab driver who picked me up from Sky Harbor Airport.
"I suppose I never cared about wearing one…and we weren't that strict here about them anyway," he said. "The coronavirus is nothing but a new version of the flu, and I don't ever get the flu shot, so why would I get the COVID vaccine? The government is pushing it, and I do not believe the government has the right to force it on me. I won't be getting it."
His answer was not too surprising. Conservative talk radio was a low hum from the front two seats. But as my visit continued, the truth set in. Most people were not vaccinated, were not planning on getting vaccinated, and echoed right-wing talking points about the vaccine, courtesy of Fox News.
Add in President Biden's speech last Tuesday, July 6, where he encouraged folks to go "community-by-community, neighborhood-by-neighborhood, and door-to-door — knocking on doors — to get help to the remaining people" who need to be vaccinated.
And we have a recipe for anti-vaccine hysteria manufactured by the right-wing:
South Carolina's Gov. Henry McMaster attempted to block door-to-door efforts to promote vaccination rates in this state.
Missouri Gov. Mike Parson said he doesn't want government employees going door to door urging vaccination—despite Missouri being a hotspot of Covid-19's delta variant and asking for help through the newly formed federal "surge response" teams.
When did caring for the well-being of our communities, our friends, families, and neighbors become a political lightning rod? The answer is quite clear. All one must do is look at the years 2016-2020 when two competing narratives over what the United States should or should not be, took hold.
All politics are human, and we are watching as the humanity in our politics fades away.
Misinformation, a rise in jingoism, and the erosion of trust in elected officials can only spell disaster for the U.S., and it will be the most vulnerable who will suffer.
Belief in conspiracy theories about Covid-19 and the vaccines can only lead to real-world consequences.
A recent public health study found that:
"A common thread has been the assertion that the true threat from COVID-19 relates to liberty (e.g., mask requirements, social distancing) rather than the virus itself. In some cases, individuals who have publicly derided proposed protective measures like social distancing have subsequently died from COVID-19."
The study continues: "In other cases, these disagreements have become vitriolic and couched as a deliberate infringement on Constitutional rights. For example, the Governor of Kentucky was hung in effigy during a protest during Memorial Day weekend, and there has been a series of incidents where preventive measures like mask-wearing in public have become brief, violet flashpoints, resulting in outcomes up to and including murder."
And who needs conspiracy when the recent statistics are frightful enough?
Here is where it stands currently:
So, what does it all mean? That despite having an abundance of vaccines allowing every American to get fully vaccinated, people are still getting sick and dying—mostly in right-wing states, with right-wing politicians—snake oil charmers that they are—peddling the conspiracy bullshit.
Americans have a choice: Get vaccinated and get back to normal or continue to be played as pawns by a certain political party invested in only doing what's right for themselves.
It's only a matter of life or death.