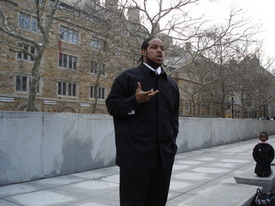 WASHINGTON — Organized labor hit the ground running March 10, bringing hundreds of workers to the capital to visit their senators and representatives to urge passage of the Employee Free Choice Act on the day it was introduced.
Sharmont Little, a Service Employees International Union Local 1199 member in New Haven, Conn., visited Connecticut Sens. Chris Dodd and Joe Lieberman. Aides told the delegation that "both are strong supporters of the EFCA so it's looking good," Little told the World.
But corporate America unleashed a vicious counterattack. Citigroup, a bank that has received more than $50 billion in taxpayer bailouts hosted a telephone conference call March 11 to strategize on how to wreck employee free choice.
Glenn Spencer, a senior executive of the U.S. Chamber of Commerce told the Citigroup participants that enactment of the bill will "hamper companies from competing effectively" according to a report in the online Huffington Post. Dan Pedrotty, director of the AFL-CIO's Office of Investments commented, "You have a company surviving on taxpayer largesse weighing in against workers who want to improve their lives."
Jay Timmons, national executive vice president of the National Association of Manufacturers wrote to every senator calling the worker rights bill "one of the most direct threats to economic growth and job retention and creation."
Among NAM's members is General Motors that received tens of billions in taxpayer bailouts while laying-off of tens of thousands of GM workers.
Little said he has worked five years at Yale New Haven Hospital, calling it a "poster-child" of the dirty tricks used to keep the union out. "We've been fighting for ten years to win union recognition," he said. Workers at the hospital get $3 to $4 less an hour than unionized workers at Yale University, Little continued. "We need this legislation to level the playing field so workers have a fair chance to win union rights."
He scoffed at the corporations' pose as a defender of "secret ballot" elections by the National Labor Relations Board. "Four times we had a majority of the 1,400 workers sign union cards. All four times Yale found a way to stop it. We never had an election," he said. Employers twist the NLRB rules to stall or block an election outright, he said. "They just use that time to bust up the union."
In fact, Employee Free Choice Act provides workers with the option of asking for an NLRB election but if a majority of workers in a shop sign union cards that is sufficient to certify the union.
The Huffington Post obtained tapes of a conference call last October 17 in which panic stricken corporate executives and their agents strategized on how to reelect enough endangered Republicans to the U.S. Senate Nov. 4 to block EFCA.
"Three days after receiving $25 billion in federal bailout funds, Bank of America Corp. hosted a conference call….to organize opposition to the Employee Free Choice Act," the Post reported.
Home Depot CEO Bernie Marcus snarled at the participants, "If a retailer has not gotten involved in this, if he has not spent money in this election, if he has not sent money to Norm Coleman and all these other guys, they should be shot. They should be thrown out of their god damn jobs."
He called passage of employee free choice the "demise of civilization" and warned, "If there are not enough Republicans operating as a firewall after this election, it is going to be very difficult to hold the line."
Incumbent Republican Senator Norm Coleman of Minnesota lost Nov. 4 to Democrat Al Franken. Coleman refuses to concede defeat and is litigating the results. If Franken is seated it will give the Democrats 59 seats in the Senate, just one vote shy of the 60-vote supermajority needed to enact EFCA over a GOP filibuster. Its passage in the House is virtually assured and President Obama has promised to sign it.
Also participating in the conference call was insurance giant AIG, which was given $170 billion in bailouts. AIG has just announced it is doling out $165 million in bonuses to the condemnation of the public and Obama administration.
The "Coalition for a Democratic Workplace" TV ads against the worker rights bill were created by Navigators Global, a PR firm whose clients include Coors, Home Depot and Wal-Mart, all notorious union-busters.
Navigator Global's vice presidents include Rhonda Bentz who served on the national finance committee of Republican presidential nominee John McCain. She was also a volunteer in the Bush/Cheney stolen 2000 and 2004 elections and a member of Norm Coleman's steering committee.
Another well-connected Navigator Global vice president is Mary Cheney, daughter of former Vice President Dick Cheney. She served as a senior adviser in the Bush-Cheney election campaigns and a former executive of Coors, the union-busting Colorado beer brewer.
Labor analysts point out that corporations getting federal contracts are required to pay the prevailing wage (Davis-Bacon law) so that taxpayer money is not used to bust unions and lower wages. It is time, some say, when corporations receiving public bailouts be required to remain neutral on union recognition issues as a condition of receiving that aid.