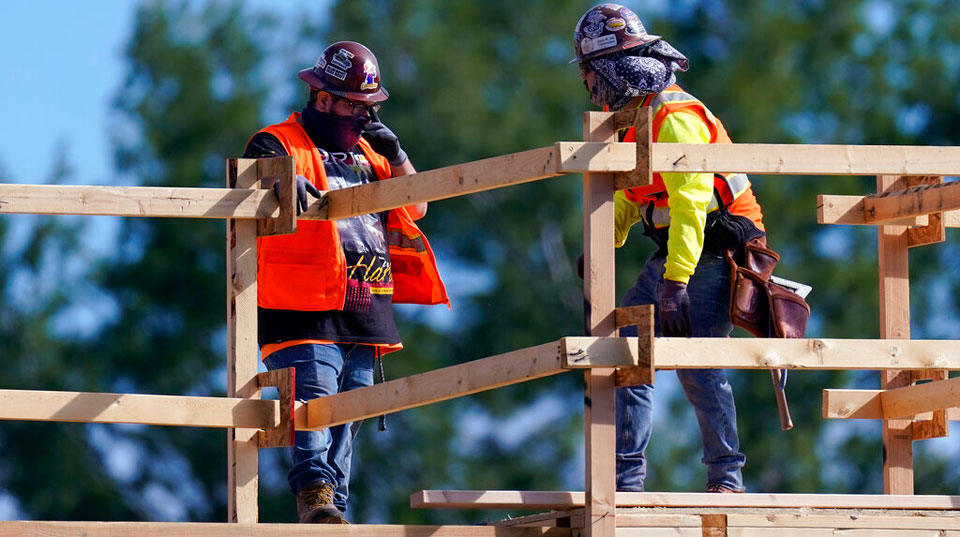 WASHINGTON —Building trades union leaders lauded the Democratic Biden administration's plans to revise and update the rules implementing the Davis-Bacon Act, improving enforcement, and expanding its reach. The Labor Department said the changes could raise the pay for at least 1.2 million U.S. construction workers.
The rewrite, announced March 11, is open for comments for 60 days before the Labor Department's Wage and Hour Division, which administers the law, analyzes them, and then issues final rules. Davis-Bacon and the rules cover at least 1.2 million workers right now and at least $217 billion worth of federally funded construction per year. Both numbers could rise.
And hundreds of thousands of more workers will be covered, assuming the rules are adopted, as federally funded construction—of everything from bridges to subways to airports to bus terminals–swings upwards thanks to the $1.2 trillion five-year infrastructure law Biden pushed through Congress last year.
"The act's purpose is 'to protect local wage standards by preventing contractors from basing their bids on wages lower than those prevailing in the area,'" Wage and Hour Division said in its official publication of the proposed rules.
In so many words, that cuts cut-rate construction contractors out of federal bidding, a key goal for the building trades. Those contractors are anti-union and also often exploit undocumented people who seek and work in construction jobs.
The Biden rewrite of the rules, the first since 1981-82, "will modernize and strengthen prevailing wage laws to protect thousands of workers on federal construction projects from rampant wage theft," AFL-CIO President Liz Shuler, an Electrical Worker, responded.
In the intervening 40 years, "wage theft continues to cheat thousands of construction workers every year on projects funded by taxpayer dollars. With more than $1 trillion of construction activity anticipated across the country in the next five years, effective enforcement is required to ensure fairness in the prevailing wage determination process," she warned.
In its proposed Davis-Bacon rule, DOL backed that assertion with numbers. "In the last decade, enforcement efforts resulted in the recovery of more than $213 million in back wages for over 84,000 workers. But the department also encountered significant enforcement challenges. Among the most critical is the omission of Davis-Bacon contract clauses from contracts that are clearly covered" by the law.
Ninety-one years after Congress passed Davis-Bacon, Biden is acting  "to ensure fair wages for those who build our nation," Shuler added.
"President Biden continues to fulfill his campaign promise to be the most pro-union president in our nation's history. Today's expansion guarantees America's infrastructure will continue to be built by the best-trained, highest-skilled workers in the world."
Laborers President Terry O'Sullivan hit many of the same points, adding DOL's proposed Davis-Bacon rules will also increase enforcement against cut-rate contractors. So did Operating Engineers President James Callahan,
"Effective implementation and enforcement of prevailing wages on federal construction projects help ensure that workers earn fair wages and benefits," O'Sullivan said. "As the jobs-creating investment from the $1.2 trillion Infrastructure Law rolls out, these updates will protect taxpayers' investment as well as construction workers' pay and benefits."
The rules "include debarment for contractors that cheat workers and anti-retaliation rules to protect whistle-blowers," he noted. Until now, DOL noted, debarment—and its threat—has been used mostly against individual lower-level bosses and subcontractors.
"Thousands of workers are cheated every year on projects funded through taxpayer dollars," Callahan added. "In 2017 alone, nearly 8,000 workers were cheated out of their wages" and Labor Department enforcement got them almost $30 million in back wages.
"But more must be done. Stealing workers' wages cheats the worker, the federal taxpayer, and the community where the project is located. It must stop. Updating the prevailing wage rule will help. It will improve enforcement, reduce cheating, and ensure taxpayers obtain the quality craftmanship they deserve."
DOL also wants a level playing field, meaning contractors who obey the Davis-Bacon Act should also be part of its enforcement. Congress increased Wage and Hour's dollars, by $5 million (2%), to $251 million for all its enforcement in the fiscal year ending September 30. It stays at 170 workers.
Still, Biden's proposed "regulations will restore the act's…purpose to protect the hard-earned wages of construction workers, and in doing so, shield them from exploitation," North America's Building Trades President Sean McGarvey said in a statement. The proposed rules "mark the start of a new day for construction workers and their families…We applaud the administration's efforts to ensure they are paid 21st century wages."
In the intervening years, Wage and Hour, quoting studies by both the Labor Department's own inspector general and the non-partisan Government Accountability Office, identified several big problems with the current system for determining "prevailing wages" for various construction crafts under Davis-Bacon.
And enforcement has been spotty and often laggard. DOL cited one particular case that got so tied up in the courts that a final ruling on whether the contractor underpaid the workers took eight years.
Another big problem DOL identified is the wage survey system used to set Davis-Bacon prevailing wages. Based on surveys of contractors county by county—or area by area–it flies in the face of the law's intent, DOL said. Surveys were supposed to be "the methodology of last resort," it explained.
That survey system replaced the prior Davis-Bacon wage bases, based on wages paid by at least 30% of area contractors—unless union wages were the big share of Davis-Bacon wages in a particular area. Wage and Hour proposed returning to that old system, in effect from 1935, four years after Congress approved Davis-Bacon, to 1983.
And buried within the proposal is a one-word change designed to tackle another big problem that cuts pay: Bosses' misclassification of workers as "independent contractors," unprotected by any labor laws, including Davis-Bacon.
Right now, Wage and Hour said, Davis-Bacon rules discuss "employment" only affecting workers who are on a payroll, with deductions for workers' comp, unemployment insurance, and Medicare and Social Security payroll taxes.
Independent contractors aren't on payrolls like that and contractors don't have to pay the taxes. Wage and Hour would expand the definition of "employed" workers to ensure they are on payrolls, at least under Davis-Bacon and its wage surveys and determinations.
The Davis-Bacon regs would be "revised to refer instead to 'workers,' 'laborers and mechanics,' or 'work,'" DOL said. "The department believes this language, particularly in the contract clauses themselves, will clarify this principle and eliminate ambiguity" about which workers Davis-Bacon covers, and which it doesn't.
"The proposed regulation would provide construction workers with the hard-earned wages they deserve while shielding workers from being exploited by employers seeking to drive down labor standards," Teamsters President Jim Hoffa's statement said. "Construction workers will be critical to fixing our aging infrastructure and bringing America into the 21st century. That's why it is crucial that they are compensated fairly—with 21st-century wages."