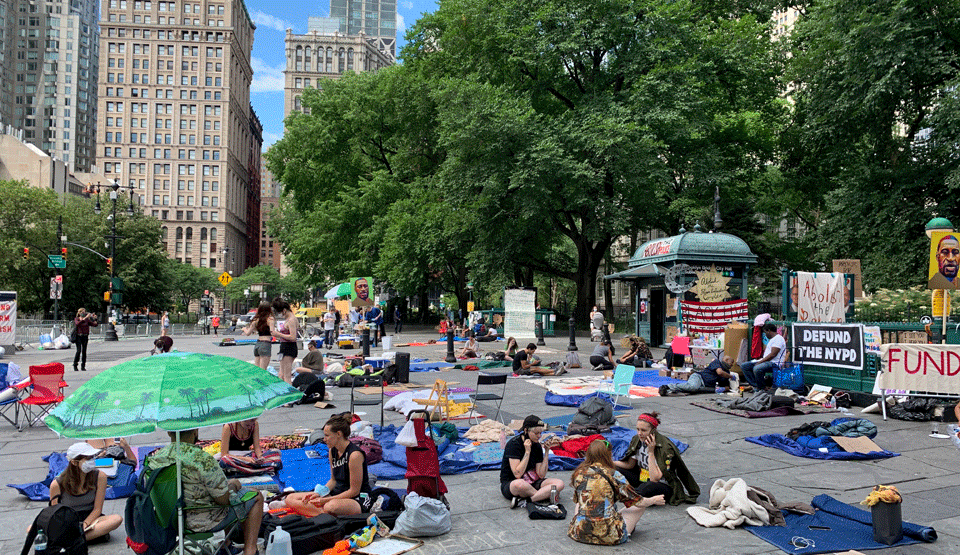 NEW YORK – One month after the murder of George Floyd in Minneapolis, protesters in New York City are occupying the space outside City Hall until the budget vote set to take place on Tuesday, June 30.
If passed, the New York Police Department's  budget could be cut by one sixth: One billion dollars of the $6 billion it is granted.
On the grassy grounds of this public space, protesters sing along with the all-day entertainers who come to the space to support the ongoing peaceful uprising across the country.
"We will be here until the budget vote and beyond if necessary. How many more George Floyds do we need to see murdered before it happens to our own children, friends, neighbors or even ourselves? Enough is enough," one of the demonstrators said.
Members of the New York State Communist Party and its Young Communist League Organizing Committee accompanied by the party's co-chairman, Joe Sims, showed up to express solidarity with the protesters.
In addition to the all-day musical entertainment, progressive churches and other groups gather at City Hall Park to hand out hand sanitizer, masks, gloves, water, and coffee.
Mothers of lesser-known victims of police violence attend the gathering to share their experiences in addition to young Black trans women who have also found themselves to be a special target of police brutality.
"Feeder marches" that start at various locations around town end up at City Hall Park, adding to the strength of the crowd.
The demands,  apart from defunding the NYPD by one billion dollars include: Remove police from the schools, demilitarize communities, invest in community governance, provide safe and affordable housing, repeal laws criminalizing survival,  and free people from prisons and jails.
People can be expected to demonstrate, rally and march until they see change. No more Trump and no more racism in the Unites States!