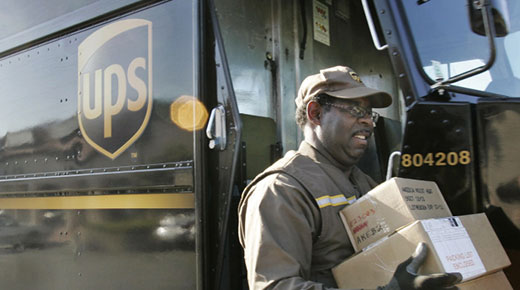 It started on Feb. 26 when a Teamster Local 804 shop steward challenged UPS management about a violation of the union contract at its giant Maspeth, Queens, New York facility. It led to the mass firing by UPS of 250 Teamster union members when they walked out in solidarity with the brother's firing on trumped up charges.
What unfolded over the next several weeks was a showdown between UPS, one or the largest and most profitable delivery services in the world, and the Teamsters union, behind whom ultimately stood New York City's organized labor.
In a big victory on Apr. 9, UPS was forced to rescind its PATCO-style firing. All 250 union drivers were hired back, including the fired worker, Jairo Reyes.
In a big public relations setback for UPS, it agreed "to improve labor-management relations at the company and to handle disciplinary disputes more expeditiously under the new grievance procedure." (Which was the issue raised by union activists in the first place).
Since the shifting of U.S. manufacturing overseas, UPS now possesses the largest number of unionized workers of any corporation located in the U.S. The Teamsters strike against UPS in 1997 was very successful.
Workers in interviews stated the job action was the result of intense speed-up and harassment, and a management that uses minor infractions of work rules to intimidate the workforce.
Countering management allegations this was an "illegal work stoppage," the union pointed to frequent violations of its contract at the facility, and the contractual right of the union to conduct work stoppages when the contract is violated.
For both sides, the stakes were tremendous. Labor knew if UPS got away with this, it would send a message to workers around the country that union contracts aren't worth much, let alone be a future weapon for workers in their fight for decent wages, a better life, of dignity and respect.
For UPS , it was intended as a warning to all workers who dared to protest the company's increasingly ferocious speedup, constant technological surveillance, and "flexible" work schedules.
Driver Tom Oliver, who participated in the walkout, said of the UPS reversal, "It's a sweet victory that only happened because we stuck together and we got tremendous support. Even with all the stress that came with the walkout and the aftermath, it brought attention to a lot of problems with our facility that I hope can be corrected."
The victory, and the labor-community campaign that paved the way for it, showed how old-fashioned labor solidarity, combined with imaginative methods of reaching out to the communities workers serve, can make the difference.
"At a time when good jobs are more and more difficult to come by, it is unconscionable that UPS workers are being fired for standing up for basic rights," said Vincent Alvarez, president of New York's Central Labor Council, at one of several rallies around the firings.
Also present at rallies were representatives of Local 100 of the Transit Workers Union, the New York State Nurses Association, Service Employees 32 BJ, the Laborers Union, and Communications Workers of America.
Newly elected Public Advocate Letitia James pointed to a $43 million contract with city and state agencies up for renewal, "and if UPS does not do right by the workers in this city, then the city will not do right by UPS."
Teamsters, with the help of elected officials, got out the word about a sweetheart deal with the now departed Bloomberg administration that continues to enable UPS to write off $20 million in parking tickets each year.
In an attempt to divide workers from the community they serve, UPS executives claimed that they "owed it to their customers" to fire the workers, because the 90 minute work stoppage "jeopardized our ability to maintain order in our delivery operations. "
But rather than UPS' action winning customer support, it only provoked public outrage.
Fired Local 804 drivers encouraged customers to show support, including through the use of iPhone videos. Customers posed with the fired drivers with signs that said, "What Can Brown Do For Me? Not This! Rehire This Guy!" Veterans of the successful 1997 strike showed younger drivers how it was done in the old days.
The Working Families Party, a political party of affiliated unions and community organizations, helped the Teamsters gather 105,000 petition signatures Over 3,000 calls were placed in one day to UPS CEO Scott Davis, protesting the firings. An MSNBC poll "Gutcheck" poll totaled 90 percent support for reinstatement of the UPS drivers on Apr. 8.
In forcing UPS to reverse the firing of the 250, the union did not get everything it wanted in the final agreement. Returning workers are required, for instance, to undergo a two week suspension, and the union must pay for loss of revenue to the company for delivery time lost.
But workers returning to work voiced satisfaction that Big Brown for now had been stopped in its tracks by labor unity.
UPS workers, Fedex workers, municipal workers, fast food workers – all those struggling in New York and nationally for a better life could not help but take notice. Labor solidarity worked!
Photo: A UPS worker delivers packages. Paul Sakuma/AP