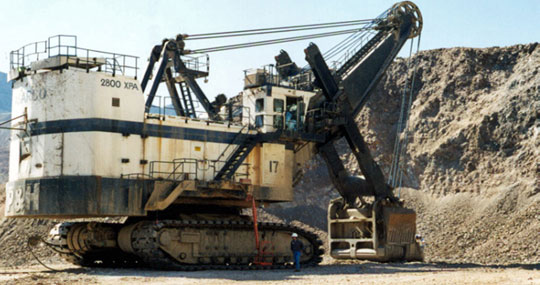 DANVILLE, Va. – Virginia's race for statewide office is getting closer to being over.
That may come as a relief to voters who may select the next governor based on which candidate they dislike the least, Democrat Terry McAuliffe or Republican Attorney General Ken Cuccinelli. The odd duck in the mix is Libertarian Robert Sarvis who is pulling votes away from the Republican.
Rural southern Virginia has been graced by visits from most of the candidates on the ballot.
One of the most controversial issues here is maintaining the current moratorium on uranium mining in Virginia. One of the largest uranium deposits is located 30 minutes north of Danville, which is smack in the middle of the Virginia-North Carolina border. Virginia Uranium dangles 2,000 new jobs in front of local governments if the ban is lifted. Some communities have balked at the idea that uranium waste could get into their ground water and flow into their river and streams.
Cuccinelli says he's not against the idea if it can be done safely. That's like saying he's not against firing a gun as long as the bullet doesn't hurt anyone. McAuliffe's position isn't much different. McAuliffe wants to see if mining and cleanup can be done safely. But no report has given a resounding yes to those questions.
Like his friend, Republican Governor. Bob McDonnell, Cuccinelli is mired in his own scandal. He also took gifts from Star Scientific, but not as much, and until recently, he wasn't giving anything back.
"To talk about real gift caps and types of gifts, I think that opportunity exists now and I'm going to drive hard for it as the next governor," Cuccinelli said in Danville.
Cuccinelli will drive for strong ethics reforms if the lobbyists provide the car.
McAuliffe met with local civil rights leaders in Danville during the 50th anniversary of Bloody Monday. Bloody Monday took place in Danville in June of 1963, when local police and deputized garbage workers attacked about 50 civil rights protesters with freshly minted billy clubs. However, the anniversary crowd was small because no one got the word out.
As Election Day gets closer, Republicans hope for solid turnouts in the 5th and 9th Congressional Districts in Southern Virginia. Democrats only have a few pockets of strength in these localities. Both the 5th and 9th Districts went solidly for Mitt Romney for president in 2012.
The McAuliffe campaign has all but pulled out of areas where they don't expect to do well. The job of identifying voters and getting people to the polls rests on the shoulders of local Democratic committees
This move has hurt at least two candidates running for the General Assembly in this party of Virginia. Democrats are putting their dollars in races where McAuliffe will perform well.Republicans egg on mostly older and nearly all-white crowds with the fear message of the day.
And, this election season closed with a brief recruiting drive by one of the branches of Ku Klux Klan seeking new members in racially mixed neighborhoods.
Photo: Uranium mining in Danville, Virginia.