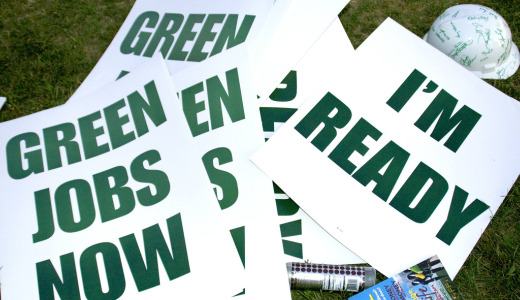 On March 1, nearly 1.2 million workers are scheduled to lose unemployment and COBRA benefits (health coverage) unless Congress acts. Hundreds of thousands more will fall victim in the coming months.
More than 6 million workers have been without a job for more than six months. This is twice the number in the next-worst crisis – the double-dip recession of 1980-83. Last year, the Stimulus Bill provided additional weeks of unemployment insurance, along with subsidized COBRA. That provision is about to expire.
In December, the House passed the Jobs for Main Street Act, which provides long-term extension of unemployment benefits. It also renews other provisions of last year's stimulus, like aid to state governments. But in the Senate a solid block of Republicans, along with a few right-wing Democrats, blocked the House bill. First, they watered it down to just three months of extended benefits, and stripped out aid to cities and states. And even that watered-down version has not passed.
In October 2008, when Wall Street banks were in trouble, Congress dropped everything and passed the infamous trillion-dollar bailout. Today, we are two weeks away from an emergency for over a million workers, and their families, and the places they do business – their landlord or mortgage company, the utility company, the local tax assessor, etc. – who will also suffer when the payments stop. Unable to overcome right-wing obstruction, Congress has recessed for a week.
While senators and representatives are home for the recess, give them a message:
"Extend unemployment compensation and COBRA benefits – not just for a few months, but for at least a year or as long as unemployment is above 5%. Then renew and expand the stimulus bill's aid to states and cities to head off the massive layoffs that are coming. Make this the first priority — no other action until this emergency is met."
How to deliver the message
1. Call your senators' local office – You can find your senators' names and phone numbers online or call the Capitol switchboard at (202) 224-3121. Call during business hours and ask the staff person who answers the phone to deliver a message to the senator.
2. In person – your senator will probably be holding public events while on recess. Call the local office and ask if the senator will be appearing in public and answering questions. Go to the event and deliver your message.
3. Bring a crowd – If your senator is having a public meeting, bring your neighbors, co-workers, members of your church or union. Bring signs. Deliver your message politely but forcefully. It is most effective if people who are themselves unemployed speak. If you are unemployed but not eligible to collect compensation, you can say "I support extending unemployment compensation for those who are about to lose it, but you also have to do something for people like me. I can't find work and I don't qualify for unemployment. I'd rather work, but if you can't pass a jobs bill, at least make me eligible for unemployment insurance."
4. Organize a visit – If your senator is not having a public meeting in your area, ask the staff person at the local office to meet with you and others. Bring as large a group as you can. Again, be polite but forceful.
5. Join with others – If you are a union member, see if your union is doing anything. Call the nearest Central Labor Council (even if you are not a union member) and ask what they are doing this week to get your senator on board with extending unemployment insurance.
Need help?
You want to help organize for jobs, starting with the fight for extending unemployment compensation, but you're not sure how to get started? Drop us a line at jobs@cpusa.org, and maybe we can help.
The AFL-CIO has a web site with information about the fight for jobs
The Jobs for America Now Coalition of more than 60 national unions, civil rights, environmental, religious and community organizations is coordinating efforts to win a national jobs program.
Spread the word
Planning an action – a rally, a phone-in, any group activity – for jobs or for benefits for unemployed workers? Let us know. And afterwards, send us a couple of paragraphs about how it went and a picture.
The fight for jobs, and for the unemployed, is central to any economic recovery and to any forward motion for a people's agenda. As part of preparations for the Communist Party USA convention, May 21-23, a committee to organize a Campaign for Jobs and Relief has been formed, chaired by Scott Marshall, CPUSA labor secretary, to help coordinate and develop the work at the local level. It is sending out periodic action updates like the one above.
Photo: http://www.flickr.com/photos/green4all/ / CC BY 2.0