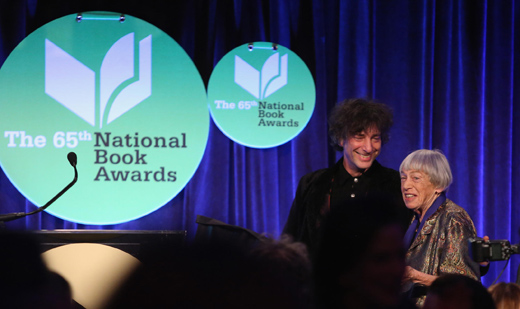 The 65th annual National Book Awards, which took place Nov. 20, were punctuated by an impassioned speech by fantasy author Ursula K. LeGuin. The writer attended the New York ceremony to receive the Medal for Distinguished Contribution to American Letters from the National Book Foundation. She seized the moment to talk about the importance of fantasy in modern times, and to decry the capitalist stranglehold on the arts, including the continuing commodification of literature. And it was met with a reaction of thunderous applause.
"To the givers of this beautiful award, my thanks from the heart," said LeGuin. "I rejoice in accepting it for, and sharing it with, all the writers who were excluded from literature for so long; my fellow authors of fantasy and science fiction – writers of the imagination, who for the last 50 years watched the beautiful awards go to the so-called realists. Right now, I think we need writers who know the difference between the production of a market commodity and the practice of an art."
Many readers of the fantasy genre and its offspring (epic fantasy, gothic fantasy, urban fantasy, etc.) are quite familiar with the big names – Tolkien, Lovecraft, Rowling – but less so with LeGuin, whose works have been powerfully progressive, and counterintuitive to classic fantasy tropes in the best possible way. With books delving into real-world issues including environment, race, gender, and sexuality, LeGuin molded her corner of the genre into a tool for speaking politically to readers. Indeed, her material would pose a potent argument against the anti-fantasy naysayers who dismiss the genre as silly or irrelevant.
In fact, according to LeGuin, in the face of today's cynicism and objectification, fantasy fiction has never been more important. "Hard times are coming," she remarked. And during such a period, "we will be wanting the voices of writers who can see alternatives to how we live now and can see through our fear-stricken society and its obsessive technologies to other ways of being, and even imagine some real grounds for hope. We will need writers who can remember freedom; poets, visionaries – the realists of a larger reality." (Story continues after video)
What's interesting is that LeGuin's comments essentially promote creative fantasy fiction as being an effective counterpoint to the sad or brooding post-apocalyptic works that seem to permeate U.S. pop culture today. Writer Josh Tyler, of sci-fi review site Giant Freakin' Robot, associated such doom-based stories with dwindling creativity and the representation of a kind of apathy that seems present in young readers today. "The offerings today are much the same," he said. "Every other premise seems to involve telling the story of a future where the Earth is doomed or society is repressed. It's no accident that [one of] the most popular [titles] is The Hunger Games, which tells the story of a time where humanity is fractured and forces children to murder each other for sport. This dismal outlook does nothing to inspire anyone; we can do better."
In an interview with the Guardian this month, LeGuin stated her displeasure with dystopian stories, remarking that, particularly within the fantasy genre, world-building is a very important component of the work itself, one that is by nature an engine of creativity, and which provokes real analyses of societal issues that post-apocalyptic narratives seem unable to address. "Neglect of rational questions in imaginative fiction is often excused, even legitimized, as literary license," she said. "I hated to do that."
But as LeGuin suggested during her speech, the recent stagnation of fantasy and sci-fi should not really be blamed on the attitudes of the time, but rather, identified with an uptick in capitalist greed, which has experienced a victorious emergence in the worlds of both literature and film. "Developing written material to suit sales strategies in order to maximize corporate profit and advertising revenue is not quite the same as responsible book publishing or authorship," she stated. "Yet, I see sales departments given control over editorial; I see my own publishers in a silly panic of ignorance and greed, charging public libraries for an e-book six or seven times more than they charge customers. And I see a lot of us accepting this – letting commodity profiteers sell us like deodorant, and tell us what to publish and what to write."
Like the stories she has written, however, LeGuin ended the speech with words that were thoughtful and constructive: "Books, you know, they're not just commodities. The profit motive often is in direct conflict with the aims of art. We live in capitalism; its power seems inescapable. But so did the divine right of kings. Any human power can be resisted and changed by human beings. Resistance and change often begin in art. We who live by writing and publishing want – and should demand – our fair share of the proceeds. But the name of our beautiful reward is not profit. Its name is freedom."
Photo: Ursula LeGuin is introduced at the National Book Awards by fellow fantasy writer Neil Gaiman. | Robin Platzer/AP