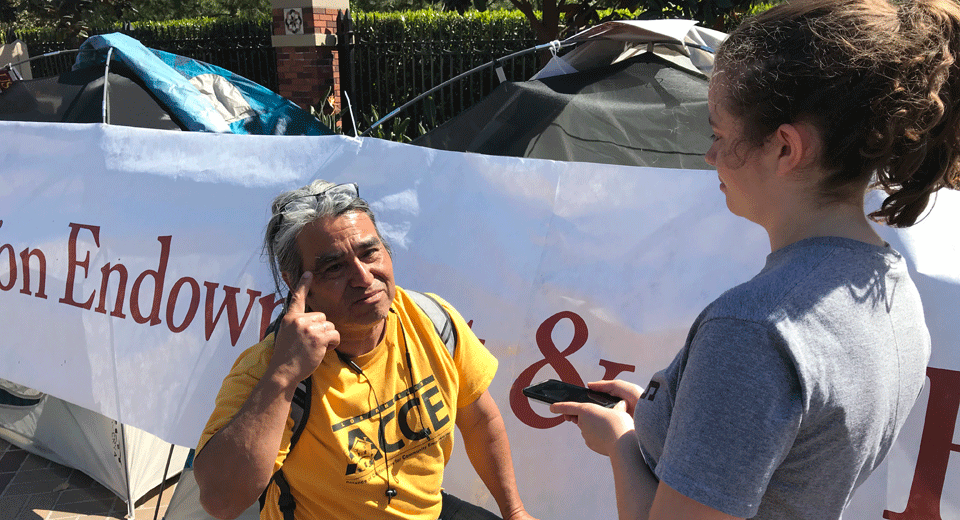 LOS ANGELES— A broad coalition of students, academia and various Los Angeles community groups is taking their Tent City at the University of Southern California (USC) directly onto Trousdale Parkway on campus late Thursday morning. The move takes place after the 48-hour deadline has passed for USC leadership to meet with the Coalition about a range of issues affecting the community. Those concerns range from South L.A. gentrification and USC graduate student unionization to the mishandling of alleged sexual assault of USC students and alleged bribery in the university's admissions process.
The action takes place at a time of momentous transition for USC. The university has been plagued by a series of widely reported scandals, forcing a change of leadership at the top. Former USC President C.L. Max Nikias resigned under pressure. Dr. Carol Folt has recently been chosen as USC's next president, but it is not clear whether she has already relocated to the campus. She has claimed that she wants to "make it right" under her tenure.
Last weekend, during the Los Angeles Times-USC Festival of Books, a vast literary event which took place on campus, a Tent City at USC appeared on Jefferson Blvd. just outside the campus gates. The Coalition also had a booth within the festival so that organizers of the protest could talk with visitors about the many problems on campus.
On Tuesday, representatives of the Coalition marched from the Tent City to administration offices at Bovard Auditorium, delivering their demands for reform directly to university leaders via David W. Wright, Interim Senior Vice President for Operations at USC. The Coalition gave USC's administration 48 hours to respond. The action took place one week after participants announced their demands and called for a meeting with the incoming president. Thus far there has been no response, and it appears like business as usual on campus.
The Coalition has presented demands in five major areas:
Accessibility: Admission and full scholarship for a designated number of low-income students from LAUSD, the Los Angeles public school system. USC tuition is 55% higher than the national median, leaving higher education out of reach for far too many Los Angeles families. With an endowment of $5.5 billion and assets totaling over $9 billion, USC must start to reflect its surroundings and designate a number of yearly automatic admission placements for LAUSD students.
Housing: Affordable housing for existing and displaced residents impacted by USC development and expansion. Last year, 80 residents on Exposition Blvd. were evicted and their homes turned into student housing. Between 2017 and 2019, at least 24 buildings adjacent to campus have changed owners, as speculators push out longtime residents in pursuit of more profit on the backs of students. USC must recognize its responsibility. Local billionaire real estate developer Rick Caruso is chairman of the university's board of trustees.
Community Benefits: Development and implementation of community benefits agreement in coordination with local residents and stakeholders. As the largest private employer in Los Angeles, USC is powered by and dependent on Angelenos. USC could not exist without the community around it.
Campus Safety: A campus free from sexual assault, harassment, and violence. In 2017, USC reported 34 sex offenses, 45 robberies, assaults and arsons, and 29 Violence Against Women Act crimes. The school has also lost four faculty members since 2017 under the cloud of allegations of sexual assault, harassment, and misconduct, including 30-year employee Dr. George Tyndall, who stands accused of assaulting hundreds of female students over decades in his capacity as gynecologist in the student health service. Journalists for the Los Angeles Times Harriet Ryan, Matt Hamilton, and Paul Pringle have just won the Pulitzer Prize for investigative reporting for their multi-part exposé of this scandal.
Labor Rights: Just compensation for graduate workers and faculty. For more than four years, USC has stymied the rights of non-tenure track faculty and graduate workers to organize and collectively bargain. Despite being ordered to bargain with faculty by the National Labor Relations Board, the school refuses to participate in good faith. The coalition demands just compensation, the right to organize free from intimidation, harassment, or retaliation, and for USC to immediately recognize and bargain with Roski faculty who won their union election three years ago.
Since popping up on Saturday, the Tent City has been buzzing with activity. Participants held a community Mass on Palm Sunday, listening sessions with local politicians, as well as tenants' rights workshops and legal clinics for residents affected by the rapid gentrification of South L.A. at the hands of USC's civic leaders. The action has drawn elected officials and prominent community leaders from across Southern California and beyond, including former California Senate President pro Tempore Kevin de León and Pastor William Smart, President and CEO of the Southern Christian Leadership Conference.
The Coalition comprises USC Forward, Fight for $15, the LA Tenants Union, Clergy & Laity United for Economic Justice (CLUE), the Alliance of Californians for Community Empowerment (ACCE), the Southern Christian Leadership Conference (SCLC), SEIU Local 721, as well as USC students, grad students and other concerned faculty.
People's World spoke with organizers at Tent City, including Clarisse Wangeline and Desiree Hunter from SEIU 721. "The shine is wearing off" USC, Hunter said. "But we're all on the same side. We all want USC to be better." She was present the evening before when a passerby, who might have been a faculty member, noticed Tent City and told his companion, "Hey, check out our new student housing." Hunter supposed he was making a joke, but the fact is that "there are actual students living out of their cars."
Among those who have been sleeping overnight in Tent City is ACCE's Javier Sarmiento, a Honduran-American who proudly claims Maya ancestry. He describes himself as a "líder comunitario"—a community leader. He knows neighbors around USC who just last year paid $1200 rent. After they were evicted, the new owners renovated the building and are now charging $5000. The displacements mainly affect people of color, but he asked us to be sure to say that they affect poor white people as well.
"A society is rich because it progresses through education," Sarmiento said. "If a student has good grades [from LAUSD], why can't they access a good education at USC? These people are not thinking with their heart. It creates division."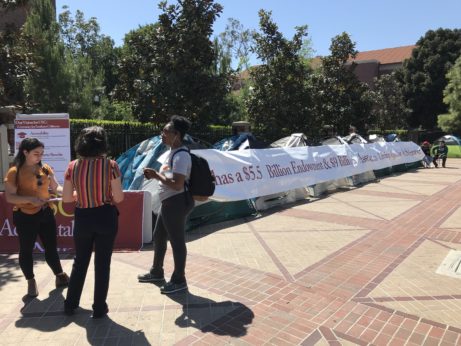 Sarmiento also knows workers on campus who have been forced out of local housing. "Workers commute two or three hours to get here because they can't live affordably anywhere near campus. It's unjust."
Sarmiento is a strong believer in God. "We're only here a few years on Earth and then we're gone. The way they're behaving with all the corporate greed is no good…. They don't know what it is to suffer. They have to make a commitment."
Right now, the Coalition is just asking to talk. "Be inclusive," Desiree Hunter says, "invite us to the table. Everything can be accomplished if you have the will."
Coalition organizers say the university has continued to dump money into lavish infrastructure projects and administrative salaries, while USC faculty and graduate workers struggle with contingent, part-time work for low pay.
"USC is a global leader in academic achievement but it is also a citadel of profit in higher education," said Bob Schoonover, President of SEIU Local 721, a key part of the coalition creating the Tent City this week. "As a great power in this town, USC has a great responsibility to its students, to its employees and to the surrounding community…. It's long past time for USC to begin ridding itself of its reputation as a bad neighbor, bad employer, and bad leader. We demand a real investment in student learning. We demand a real investment in the surrounding community. We demand accountability now—and we will fight until we get it."
The Coalition asks for a "new beginning": "There is a long way to go but we believe USC can once again return to being the guiding light for California that its founders intended. Together we can go further so USC is not just the University of Southern California, but the University FOR Southern California."
Rossana Cambron contributed to this story.