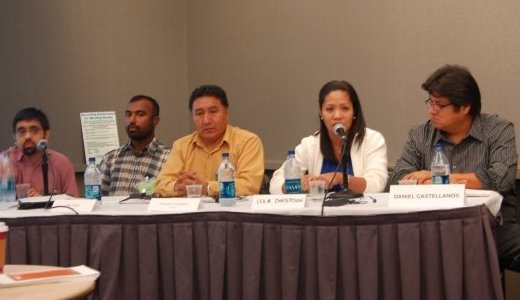 PITTSBURGH – The room grew quiet as she told her story. Leila Concepcion paid $15,000 to come to the United States and teach. It was a painful decision to leave her country, The Philippines, and place her family in debt.
The first time she set foot in the U.S. the labor agency told her she had to pay a new round of fees or she wouldn't get work. And it wasn't just Concepcion on this H1-B visa. There were others.
"We were forced to sign a contract. We were left with no choice but to sign," Concepcion told the Workers' Rights Board convened at the recent AFL-CIO convention here. The rights board was investigating the impact of the U.S. immigration system on workers' rights.
"All the stress I went through." I shake when I remember it all, Concepcion said "I was sued by the agency," she said as tears started welling up and her voice started to shake.
"I received harassing phone from the agency recruiters. They said I cannot join any organization, especially AFT (American Federation of Teachers). On behalf of all victims, I appeal for collaborative efforts to end the exploitative agencies that are circumventing U.S. law."
Indentured workers
Concepcion was one of four "temporary" workers that testified about paying huge fees to get a temporary work visa and once these workers arrive they become indentured slaves to unregulated agencies and unscrupulous employers.
Temporary visas for professionals, skilled workers and agricultural workers are often called "guest worker" programs. Former Labor Secretary Ray Marshall says these programs have a "superficial appeal as a way to reduce temporary labor shortages."
However, abuses of these workers are well documented.
Plus, more and more evidence is coming to light that some of the largest corporations use these programs to drive down labor costs, drive up their profits and undermine hard-won labor rights for all workers in the U.S.
The labor movement supports comprehensive immigration reform that includes a path to legalization and citizenship, family reunification, workplace and civil rights for all. Some sections of business support legalization as well.
But where the labor and business part company on immigration is on "guest workers."
In "Immigration For Shared Prosperity," published by the Economic Policy Institute, a labor-backed think tank, Marshall advocates for the "improvement, but not expansion" of the "temporary indentured worker programs."
He also advocates for a commission to get a more comprehensive assessment of the real labor needs filled by temporary and permanent immigrant workers and make the recommendations on the number of visas annually to Congress.
Both the AFL-CIO and Change to Win labor federations agreed earlier this year to a joint approach on immigration reform, including on guest workers.
Employer associations including the U.S. Chamber of Commerce, Associated General Contractors of America, International Association of Amusement Parks and Attractions, National Association of Realtors, Truckload Carriers Association, American Hotel & Lodging Association and the National Tooling & Machining Association have joined together to form lobby groups like The H-2B Workforce Coalition and Essential Worker Immigration Coalition to press for an expansion of guest worker programs and other immigration reforms that further their corporate interests.
Because of the high profit margins these visa programs afford, they are extremely popular among employers. The Wall Street Journal recently editorialized in favor of increasing the number of H1-B visa quotas, now at 65,000, even after the Journal ran a front page story that said thousands of H1-B visa applications were still available.
Labor shortages?
Saket Soni, the executive director of New Orleans Workers' Center for Racial Justice, testified at the AFL-CIO's rights board about an employer who chose to exploit foreign workers and try to pit them against American workers.
In Tennessee, a labor broker, Gary Lang, swore to the U.S. government that he couldn't find any U.S. workers to work for his company, Cumberland Environmental Resources, Inc. So, Lang imported workers on H-2B visas. The workers from Peru, Bolivia, El Salvador and Costa Rica paid thousands of dollars in recruitment fees to Cumberland's agents for the jobs.
Upon arrival workers had to wait for weeks and even months for work they were promised. Lang finally contracted out to employers across the South. The Cumberland guestworkers worked on Maxwell Airforce Base in Alabama, Camp LeJuene in North Carolina, Vanderbilt Hospital in Nashville, Tenn., University of Kentucky and other hospitals and universities across the region.
When the workers decided to organize and confront Cumberland, they retaliated with threats of firing and deportation.
Soni said that the workers and their supporters went door-to-door and talked to local unemployed workers. "Every one of them wanted a job with Cumberland. All the U.S. workers asked 'what can I do to help. They are not stealing our jobs.'"
The temporary workers even met a local African American man who testified he was denied employment by Cumberland.
Soni said he believes the Bush administration made it "public policy" to pit foreign-born workers against American-born workers and the current guest worker system pits people in a never-ending "race to the bottom."
Gulf Coast recruiting
After the devastating Hurricane Katrina battered the Gulf Coast, leaving thousands of Americans homeless and jobless, labor recruiters went into high gear advertising throughout Latin America and Asia for workers to come rebuild the coastal areas.
Employers seemed to salivate at the chance to hire these workers and possibly get a cut of the extravagant fees. One of the companies was Signal International, a marine oil rig construction company based in Pascagoula, Miss.
Aby Raju was one of the Signal workers. He also testified in Pittsburgh, and in Congress. He spoke through a translator.
"I'm a metal worker that came from India, and I have over a decade of experience as a welder. I'm here representing migrant metal workers who arrived on H-2B visas and were shipped to labor camps in Mississippi. We were recruited through the newspapers with promises of good jobs and permanent stay. We paid up to $20,000 each of us. That's a big amount in India. We sold our homes and inheritance. My father had to sell his pension fund for me to come here.
"When we got to the U.S., we found out everything the recruiter told us was completely false. We had only a 10 month visa. We were treated like animals when got here. We couldn't pay off the entire debt in 10 months. The recruiter threatened to burn up our passports if anyone argued with them.
"They forced 24 people to live in shipping container and pay $1,000 each for rent. The camp was within a company compound and they used security guards so we couldn't go anywhere and they isolated us from the community."
Organizing in Mississippi
But the isolation didn't last for long. The workers found Soni's organization and others willing to help. But when the company found out about the workers organizing efforts they retaliated.
"The company used armed guards to lock up members and force deportation," Aby said. Then the workers did something extraordinary. They struck en masse, marched out of the labor camp and reported themselves and the company to the Department of Justice.
The Justice Department dismissed the case. But the Indian workers decided to march, like Gandhi, across the South to Washington D.C. to press their case to Congress.
"We traveled through the areas of this country where slavery was most rampant like Alabama. We received help from civil rights organizations. ICE was doing surveillance and even though we were so scared we had to go to Washington DC. And when we got there and our concerns were not taken seriously, we went on hunger strike."
These workers received help from the AFL-CIO and other worker rights groups. The case is still pending and Aby appealed for help from the workers' rights board and audience.
Outraged by Aby's story rights board panelist Becky Moeller, president of the Texas AFL-CIO, quipped, "I hope when the Signal guy gets caught he serves in a cell with 24 other people."
Alliance of Guest Workers
Temporary workers in 11 states in the South are organzing and have founded a one of a kind organization, Alliance of Guest Workers.
Founding alliance member Daniel Castlellanos from Peru testified with others on the H1-B program in Congress. Castellanos was also recruited after Katrina. An industrial engineer, Castellanos paid $4,000 to get a job and visa in the U.S. and left the economic and political problems confronting his home country.
Castellanos said he was hired to do construction but when he got to New Orleans he was placed as a hotel worker.
"We were being used to displace African American workers. Before Katrina, New Orleans hotel workers made $13 an hour and were mainly African American women. After Katrina, immigrant workers were hired for $9 an hour and then they hired us guest workers with $6 an hour. Our boss said he could not find any American workers. At the same time workers were living in hotels because they were displaced from their homes by the flood. But they forced us to evict poor, African Americans living there.
"It's for that reason 200 workers from three countries organized and filed a class action suit. But more important than that we joined with guest workers throughout the South – and set up our own organization so we could raise our own voices and fight for the rights of guest workers. In short, it's our own union."
Castellanos concluded his testimony to the rights board and thanked the AFL-CIO for the opportunity to speak.
"We don't want a guest worker program that enslaves us or pits us against U.S. workers. What we want when we have to come and work here is that we can come with dignity, be part of labor unions and have rights. To defeat this guest worker program we have to sit down together so we can set a common strategy so we don't fall into the trap that the employers have set for us. Employers want to divide us by race, gender, color of skin, status as guest workers.
"Now in this globalized world it's a great moment for us workers to join together to make sure we are not cheated and exploited. We can join together to not be divided and be used by bosses because in that situation we all loose."
The Workers' Rights Board is a Jobs with Justice format. The moderators at the AFL-CIO's Workers' Rights Board were JwJ Executive Director Sarita Gupta and formers Labor Secretary Ray Marshall. The panelists were Moeller, Jerry Lee, president of the Tennessee AFL-CIO, Marielena Hincapie, executive director of the National Immigration Law Center, Dr. Steven Pitts of UC Berkeley Labor Center, Ron Ault, president of the Metal Trades Department of the AFL-CIO.
Photo: Leila Concepcion testifies at the AFL-CIO's Workers Rights Board in Pittsburgh, Sept. 14, along with other guest workers. Teresa Albano/PW