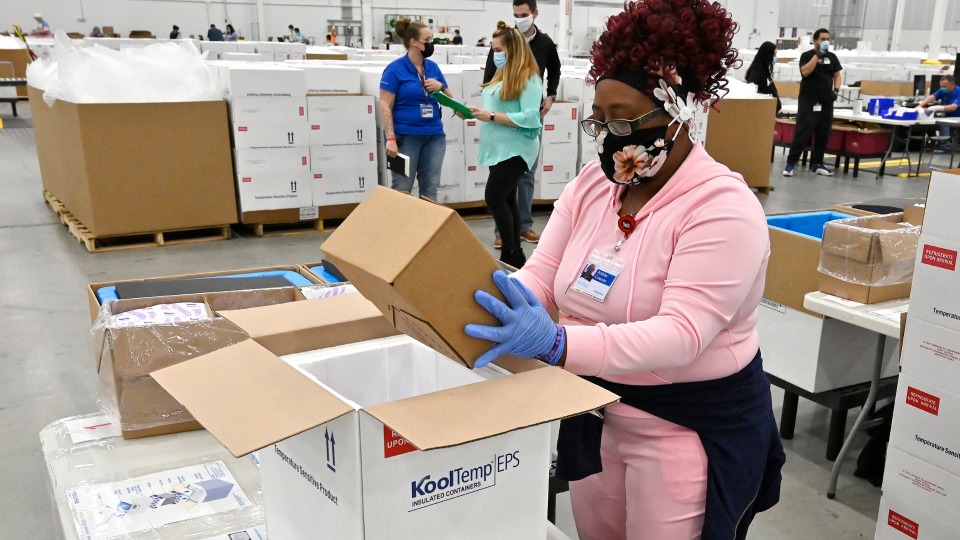 President Joe Biden made history in the nation's fight against the coronavirus Tuesday by announcing that the United States will have enough vaccine supply to vaccinate all American adults for coronavirus by the end of May, two months earlier than the end-of-July date he had previously rolled out.
Biden credited the stepped-up timetable to his ongoing use of the Defense Production Act and the establishment of a partnership between two long-time corporate rivals, Merck and Johnson and Johnson.
The two companies will drop their rivalry for the time being and, according to Biden, begin a 24-hour-a-day operation in each and every one of their facilities to produce Johnson and Johnson's single-dose vaccine.
The rollout announced by the president is expected to increase weekly vaccine doses to 15.2 million, a rate surpassing anything going on right now anywhere in the world. A major pharmaceutical company working around the clock to produce a vaccine created by one of its rivals is also something never seen before.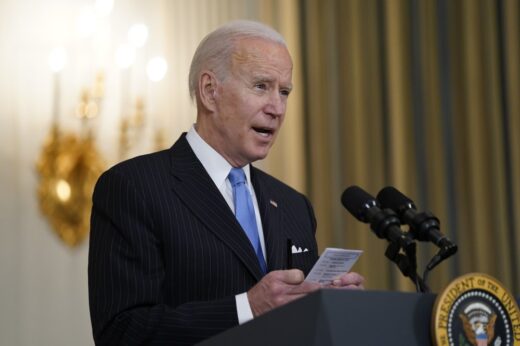 Biden said the country is in a "war" against the coronavirus, justifying his sweeping measures against it.
"We're now on track to have enough vaccine supply for every adult in America by the end of May," Biden told the nation Tuesday afternoon at the White House.
He did not shy away from criticizing the Trump administration for having done an inadequate job of preparing to vaccinate the U.S. population.
"When we came into office, the prior administration had contracted for not nearly enough vaccine to cover adults in America. We rectified that," the president declared yesterday.
Biden coupled his dramatic announcement with a strong warning to Americans not to let up their guard. He said, "we are too close to success to let up now in a way that will set us back." He pointed to the dangerous coronavirus variants that are circulating and said letting up on mask mandates, social distancing, and business restrictions would be foolish and dangerous at this point.
Immediately after the president made that plea to all Americans, the Republican governor of Texas, Greg Abbott, announced that he was ending all mask mandates in Texas and that in one week businesses in that state will be allowed to open 100%.
Abbott's announcement was met with shock and horror by mayors and local leaders in Texas. In Houston, for example, there are now four variants of the coronavirus circulating in that city alone. Texas has within its borders 11 of the 20 counties in the U.S that have the highest rates of transmission, hospitalization, and death due to the virus.
The moves by Abbott immediately put essential workers in the retail, dining, entertainment, and health sectors—among others—at unnecessary risk. Service industry workers—already some of the most overworked and underpaid in society—will now be forced to interact with unmasked customers for hours on end and in crowded settings, or face employer disciplinary action.
Republican responses in the minutes and hours after Biden's good news Tuesday demonstrated yet again that nothing, not even blowing up the success of the vaccination program, is beyond the pale for them in their effort to increase the nation's pain and suffering as part of a perverse political comeback plan.
First, the Republican governor of one huge state announces he will ignore the president's pleas for caution and that he will end mask mandates and immediately open up his state entirely. Then, the Republican governor of another big state, Ron DeSantis of Florida, instead of welcoming the announcement and honoring Biden's request to remain cautious, bragged that his state will continue to be an "oasis of freedom against COVID restrictions."
Following them, Fox News host and right-wing media figure Tucker Carlson warned again that the president's massive vaccination program will be used as a means of "social control."
The cause for optimism, however, is that the people's movements have removed these types of misleaders from the White House. The occupants there now are pursuing a course of fighting the virus that, when it finally succeeds, will strengthen the progressive movements going forward. The pandemic nightmare isn't over, but it's getting smaller and smaller in the rear-view mirror.