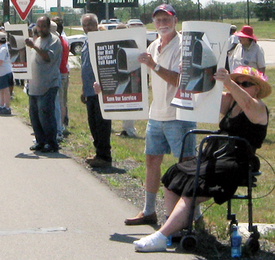 CLEVELAND — Protesting another attempt to cut government services, 60 postal workers and their supporters picketed the Cleveland Airport Mail Center July 31 responding to a threatened shutdown by the U.S. Postal Service.
"Save Our Airport Post Office!" the protesters, strung out along the highway leading to the facility, chanted as drivers of vehicles waved and honked in solidarity.
If the facility, one the three most efficient airport mail centers in the country, closes, parcels and priority mail would have to be shipped to Pittsburgh or Columbus for processing and then shipped backed to Cleveland for delivery, Danny Pride, President of Cleveland Area Local 72 of the American Postal Workers Union, explained.
This would only delay mail delivery and increase costs, he added. No jobs would be lost because of a no-layoff clause in the union contract. But the reduced service would encourage customers to shift to private parcel delivery companies.
Due to the intervention of Cleveland Congressman Dennis Kucinich, the post office has agreed not to close retail operations employing about 20 workers at the airport. However, it has refused to commit to continue processing mail involving up to 150 workers at the center.
"I remain concerned over a nationwide effort outlined in the Postal Service Network Plan to close airport processing facilities across the country," Kucinich said in a statement distributed at the rally. As a member of the House Subcommittee on Federal Workforce, Post Office and the District of Columbia, Kucinich said he had secured agreement from Deputy Postmaster Patrick Donahoe to keep retail operations open at the airport "for the foreseeable future."
In addition, he said, the Subcommittee Chairman, Danny Davis (D-Illinois) "agreed to investigate the prudence of these closings and the role of privatization."
Curtailment of customer services to encourage privatization has also been charged at other government agencies including the Social Security Administration where, as reported in the People's Weekly World May 9, federal employees have protested the closing of centers and reduction in staff.