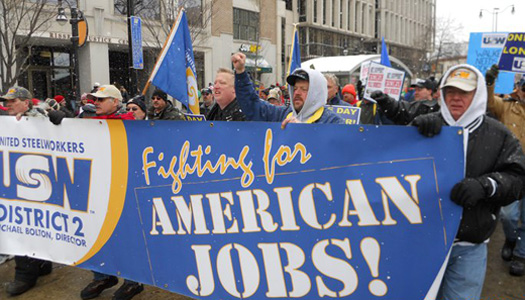 PITTSBURGH – Contract negotiations between the United Steel Workers and two of the nation's largest steelmakers, U.S. Steel and Arcelor-Mittal, took two different directions right around Labor Day, the union reported.
At U.S. Steel, where the union represents 16,000 workers, the two sides reached a tentative 3-year agreement, which was sent to members. Details of the pact were not disclosed, pending its ratification over the next few weeks. The old contract expired at the end of August, as did the Arcelor contract.
But at Arcelor-Mittal, where the union represents another 14,000 workers, "long and frustrating negotiations" continued, Steelworkers President Leo Gerard said. Arcelor, the world's biggest steel company, now includes several former U.S. steelmakers.
"Throughout the summer, USW members worked tirelessly to achieve an agreement we believe is fair to both sides," Gerard said after the tentative pact was reached with U.S. Steel. "We are proud of the work we have done to ensure a stable future for our members, our retirees and the company."
One key issue in the talks was how to keep providing high-quality health care to U.S. Steel retirees at a reasonable cost. USW Vice President Tim Conway said it was resolved, though he did not provide details.
At Arcelor, the 2008 contract ran out, but talks continued while its terms stayed in force with both sides agreeing to abide by them, said David McCall, the union's District 1 director and chair of its bargaining team. In what the union called a hopeful sign, Arcelor began restarting blast furnaces it temporarily shut down just before the old contract expired.
"We take this as a sign the company may now recognize that neither the USW negotiating committee nor the union membership as a whole will be intimidated into accepting unwarranted concessions by the implied threat of a lockout," he added.
"We still face a number of obstacles – including our desire for modest wage and benefit improvements, outstanding contract language items, the company's demands for concessions that remain on the table and issues that should have been addressed in plant-level negotiations weeks ago," added USW District 7 Director Jim Robinson. "We cannot and will not allow management to forget that we all have a stake in the plants – no matter whose name is on the door."
Photo: Steelworkers show solidarity with Wisconsin public workers at rally in Madison, Wisc. USW Facebook page