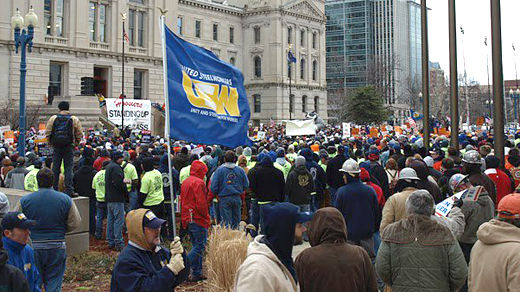 METROPOLIS, Ill. – Members of Steelworkers Local 7-669 ratified a new three-year contract with Honeywell Corp., on Mar. 30, ending a long lockout of the 150 union workers at the nation's top nuclear fuel production and uranium reprocessing plant in Metropolis, Ill.
The plant was scheduled to reopen Apr. 1 after a three-month scheduled maintenance shutdown, but the federal Nuclear Regulatory Commission must recertify the workers – who have been locked out since Aug. 2 – before all can return. They'll replace contractors.
News reports said the agreement includes two percent yearly raises and that the workers will stay on Honeywell's consumer-driven health care plan. But Honeywell also contended it gained the right to use contractors at the plant in some cases.
"Once again, our brothers and sisters in Metropolis have proven that we are all stronger when we stand together," said Steelworkers President Leo Gerard. "Their solidarity has been an inspiration and an example to Steelworkers across the country whose employers engage in similar union-busting tactics." It was Honeywell's second straight lockout of Local 7-669.
Photo: Solidarity rally for USW Local 7-669 workers. Support for Honeywell Workers-Metropolis, IL Facebook.