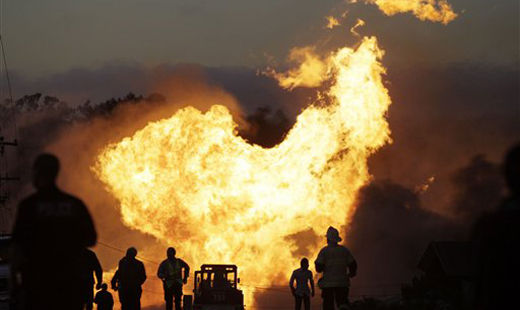 OAKLAND, Calif. – After a gas pipe explosion devastated a residential neighborhood in a San Francisco suburb Sept. 9, killing at least four residents, the National Transportation Safety Board is investigating the incident while state regulators are ordering Pacific Gas & Electric Co. to inspect its entire natural gas transmission system and report how much it is spending on pipeline safety.
The early evening explosion left a crater 167 feet by 26 feet and ignited a fireball that raged for hours through a San Bruno residential neighborhood west of San Francisco International Airport, completely destroying dozens of homes and severely damaging others.
PG&E said Monday it is allocating up to $100 million to help rebuild the neighborhood, including $50,000 per affected household for interim living expenses as well as compensation to the city of San Bruno.
A 28-foot section of the pipeline, shot 100 feet away by the blast, was reported to contain several smaller segments welded together so the pipe could bend to go under a roadway, along with a seam running the length of the segment. The pipe segment and slices of pipe from either end of the rupture were on their way to NTSB headquarters in Washington, D.C. for analysis.
PG&E, California's largest utility company, operates over 5,000 miles of gas transmission lines. Line 132, site of the blast, runs 51.5 miles from Milpitas north into San Francisco. PG&E officials said the pipeline had been inspected for leaks in March, and examined for corrosion last November.
In the days before the explosion, residents had reportedly complained to the utility that they smelled gas. PG&E said it could not confirm the reports, but was continuing to search its records of phone calls from the neighborhood.
Elected officials including U.S. Senators Dianne Feinstein and Barbara Boxer, and U.S. Rep. Jackie Speier, who represents the area, urged investigators to speed up a process that some said could take a year and a half to complete.
"We cannot wait for answers to this," Boxer told a Sept. 11 press conference in San Bruno.
Boxer and Feinstein said in a letter to the federal Pipeline and Hazardous Materials Safety Administration, "Californians must feel confident that their communities are safe and that the regulatory agencies responsible for maintaining natural gas pipelines are doing everything possible to guarantee their safety."
The consumer group Utility Reform Network (TURN) said in a statement that the tragedy may have been avoidable. TURN noted that after a gas pipeline explosion killed a man in a Central Valley town in 2008, PG&E had pledged to improve its response to customer calls about potential gas leaks.
"The previous explosion … should have been a wakeup call not only to PG&E but also to the California Public Utilities Commission," said TURN executive director Mark Toney.
PG&E had earlier compiled a list of the 100 highest risk segments among its transmission lines, but the utility said it would not release the list for safety and security reasons.
TURN attorney Mike Florio told the San Jose Mercury News that PG&E should make the list public, along with inspection records.
"There are thousands of miles of these lines, and the number of incidents around the country has been relatively few," Florio said. "You've got to put these things in context. But we want to make sure PG&E is doing it right."
Meanwhile, this week the state Public Utilities Commission is considering a proposal PG&E backs, that would make customers pay costs of catastrophic fires that exceed a utility's insurance coverage. The proposal was initiated by a southern California utility company after devastating wildfires in 2007. But a PUC lawyer said the measure would apply to the San Bruno explosion.
In June voters soundly trounced PG&E's efforts to pass a ballot proposition to make it extremely difficult for communities to set up or expand a public electric power utility. PG&E spent over $46 million, to opponents' $100,000-plus.
Photo: A massive fire is roars through a mostly residential neighborhood in San Bruno, Calif., Sept. 9. (Paul Sakuma/AP)