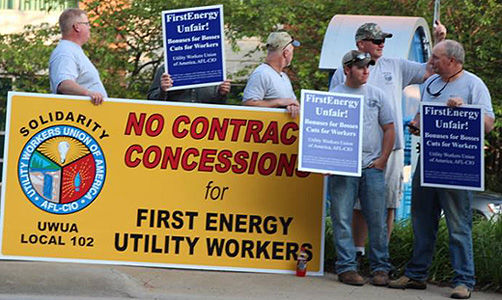 WASHINGTON (PAI)-The Utility Workers are taking their battle to keep open two electric power plants in western Pennsylvania, run by FirstEnergy Corp., to federal power regulators. They're making the case that not only would a total shutdown cost hundreds of jobs – including almost 200 union jobs – but that, more pertinently for the regulators, that region would suffer a key blow to its electric power grid and capacity.
And that's important, as union President Mike Langford pointed out on August 14, because it was a failure in FirstEnergy's grid that set off the great northeastern power blackout precisely a decade ago, on Aug. 14, 2003.
FirstEnergy announced in early July that it wants to shut, for good, the Hatfield's Ferry Power Plant in Greene County, Pa., and Mitchell Power Station in Washington County, Pa., by October 9.
"The first thing the company has to answer is can they actually close Hatfield's Ferry and Mitchell and have safe, reliable electricity to all its customers in Pennsylvania," said Bob Whalen, president of Utility Workers Local 102, after he heard that. His local would lose 183 workers at the plants.
"The other thing that folks need to start asking before these places are actually shut down is what is this going to do to the cost of electricity in Pennsylvania and other states," Whalen added.
"We believe rate-payers of our state are being ripped off," he said. "Someone has got to stand up and stop this, and that is what the union intends to do."
The national union stepped in to try to stop the closure in a letter to the Federal Energy Regulatory Commission. The BlueGreen Alliance, a joint union-environmental group, sent its own letter to FERC in mid-August, supporting the Utility Workers' stand.
Utility Workers of America President Mike Langford's letter asked the five FERC commissioners to have the agency's Office of Enforcement immediately probe "FirstEnergy's unexplained haste" in shutting the two coal-fired plants.
Plant closures would not only "significantly harm" workers and their families but would affect "energy capacity and prices" in the PJM transmission area, Langford said. That area covers western Pennsylvania, far western Maryland and adjacent areas of Ohio and West Virginia. The two plants account for 10% of FirstEnergy's total capacity.
FirstEnergy claims it must close the plants because it will not be able to make them comply with the U.S. Environmental Protection Agency's new standard curbing industrial emissions of mercury and airborne toxics. Langford challenged that assertion. He told FERC the standard doesn't take effect until April 2015, and that EPA gave FirstEnergy a 1-year waiver after that date to let the Hatfield's Ferry plant comply.
"FirstEnergy has not shown either plant is losing money, nor are we aware of any efforts to sell the plants," Langford wrote to the federal panel. "In these circumstances, a premature closing of the plants may constitute a form of physical withholding" of energy "and an improper effort to affect market prices."
The union also worries about the impact on the workers, "many of whom have devoted their lives to the delivery of reliable power." FirstEnergy says there are no retraining opportunities for them and "they have been told the transfer to other jobs" within the company "is unlikely."
And consumers "deserve assurance" the firm's closure of the plants "will not artificially inflate prices or harm reliability" of electricity in the area, Langford added.
In a separate statement, which he did not send to the FERC – yet – Langford reminded electricity consumers throughout the Northeast, plus Quebec, that that's exactly where FirstEnergy fell down on the job after a transformer tripped in northern Ohio a decade ago. Utility Workers leaders told PAI then that the reason for the massive outage was that FirstEnergy had, in pursuit of profits, cut maintenance.
Langford repeated that linkage in recalling the blackout.
"Failures in FirstEnergy's transmission and generation systems…cascaded out of control, quickly forcing 256 power plants throughout the eastern U.S. and Canada offline and triggering a blackout affecting 50 million people. A joint U.S.-Canadian government task force subsequently found longstanding institutional failures and weak-nesses by FirstEnergy caused one of the largest power system failures in history.
"Ten years later, FirstEnergy and other companies are still ignoring the lessons of that failure," he said. They don't invest in plants or people "necessary to maintain a reliable, 21st century power grid." Instead, "companies such as FirstEnergy have slashed utility worker staffing to the point" where they can't restore power "during routine emergencies, let alone during disasters such as Hurricane Sandy.
"Utility Workers know first-hand the existing 'mutual aid' staffing system relied upon by companies to restore services following outages is grossly inadequate to protect the public safety. We call upon regulators to make certain that utilities are required to invest in an adequate, skilled workforce and the physical infrastructure necessary to maintain a reliable, safe, and modern electric power grid," he concluded.
Photo: Utility Workers of America Facebook page.