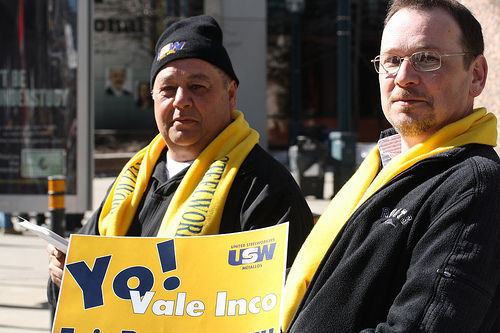 Last week mediated talks broke off between United Steelworkers Local 6500 and Vale Inco, the giant Brazilian owned transnational mining company, at two mines in Ontario, Canada. More than 3,000 USW members have been on strike at two mines in the Sudbury, Ontario area for over 10 months over pension and union rights issues. Despite $13 billion in net profits in 2008, the company demanded steep cuts in 2009 contract negotiations including a two tier pension system that includes weakening the seniority system for new workers. The workers went on strike in July of 2009.
Besides stonewalling two prolonged sets of mediated bargaining attempts, Vale Inco has mounted an international campaign against the unions. In an ironic twist, the company accused the steelworkers of "racism" for refusing to accept the take away demands of a Brazilian company. An accusation immediately rejected by Brazil's largest trade union federation, CUT. The CUT called for global trade union solidarity with the Canadian steelworkers. The CUT said bogus claims of racism and national chauvinism by Vale Inco will not work to divide workers internationally, and vowed to redouble their efforts in solidarity with their Canadian brothers and sisters.
In response to the break off of talks last week, Local 6500 members and community supporters have erected barriers at the plant gates. A previous court injunction had limited the union to eight pickets per gate. But spontaneously, the crowds have grown at each gate as frustration and anger build among strikers, their families and the community. Inco Vale lawyers immediately went to court demanding that Sudbury police take action to remove the protesters. The unions lawyer characterized the company demands as "war like" and an "impetuous desire to use force, arrest and imprisonment" that amounts to a call for the police to "bust heads."
Union members and supporters immediately declared their willingness to go to jail if necessary. When the Sudbury police came to the Clarabelle Mill entrance to give the protester two hours to disband their occupation of city owned land, they were met with chants of "Hell no, we won't go!"
The union's position is that they are on public land and that they are demonstrating, not picketing. The police have been to the plant gate sites in the last few days and warned that the barricades are illegal, but have not taken any actions so far.
Obviously the situation is developing further into a major labor battle in the current economic crisis. Even highly profitable giant global corporations like Vale Inco are ready to use the economic crisis to attack workers with severe cuts and curbs on union rights. The situation in Sudbury well illustrates the need for much greater international labor solidarity and action. The next few days could be critical for the strikers and their families. You can follow the breaking news from Sudbury here at the PW and at the union website here.
You can take action to support the strikers on the internet through LabourStart, the international labor solidarity site, here. And you can send messages of support to John Fera, the president of USW Local 6500, at jfera@uswsudbury.ca
Photo: http://www.flickr.com/photos/danielle_scott/ / CC BY-SA 2.0