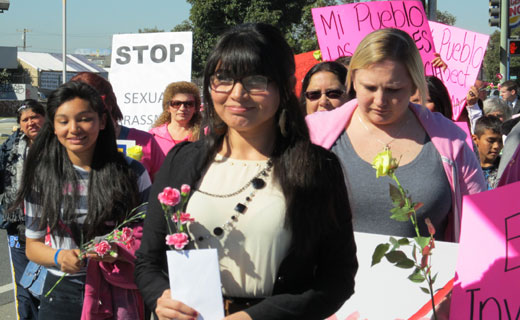 OAKLAND, Calif. – No chocolates were to be seen, but flowers were everywhere as over 70 women and men – union, community, immigrant rights, and faith group members – gathered on Valentine's Day in front of Mi Pueblo Foods, in the heart of the heavily Latino Fruitvale district.
There, they prepared to join former Mi Pueblo worker Laura Robledo in attempting to deliver a Valentine's Day letter to the store's owner.
In her letter to Mi Pueblo owner Juvenal Chavez, Robledo told how, after she asked the company to investigate unwelcome sexual advances by a fellow employee, she was first suspended and then fired over alleged misconduct.
While Chavez boasts of being a benefactor to the community, and claims Mi Pueblo is a safe and dignifying place to work, wrote Robledo, "the reality is that we are under a lot of pressure to make sure your company achieves its weekly and yearly sales goals. As a result, we suffer accidents and stress levels skyrocket."
Robledo urged Chavez to meet with her and with community leaders about employees' working conditions, and to sign the Justice for Mercado Workers' code of conduct launched by the United Food and Commercial Workers, Teamsters, and faith and community leaders to protect the rights of workers at ethnic grocery stores around the country.
She also called on the chain to stop participating in the government's E-Verify program to determine the status of immigrant workers, and to call on Immigration and Customs Enforcement (ICE) to halt "the ongoing silent raid at your stores."
After a brief rally, Robledo led the crowd of UFCW members, workers organizing at Walmart, and community members to the store's entrance, where a phalanx of security guards barred their entry. Depositing flowers at the door as crowds of customers looked on, the demonstrators vowed to continue a boycott of the chain launched last fall.
Mi Pueblo Foods employs some 3,200 workers at 21 stores in northern California. Workers there are seeking to join the UFCW, and are protesting the chain's participation in E-Verify, in an effort to thwart organizing efforts. Workers also charge the chain with speed-up, discrimination against women workers, and failure to hire black workers.
Photo: With her daughter, Litsi, by her side, Laura Robledo leads marchers to Mi Pueblo's entrance.