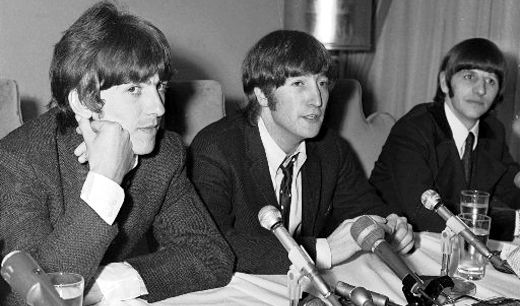 Maybe the Catholic Church just needs a break these days amid sweeping allegations and controversial reports surfacing about decades of child sex abuse by its priests worldwide.
And maybe that break comes in the form of honoring the Beatles.
That's right, the Vatican in its newspaper L'Osservatore Romano paid tribute to the Fab Four in its weekend editions, praising the rock stars with two articles and a front-page cartoon reproducing the crosswalk immortalized on the cover of the band's album "Abbey Road."
The tribute marked the 40th anniversary of the band's breakup.
However some suggest that perhaps by "making peace" with the one of the world's most famous rock bands of the 1960s and '70s, the Vatican is trying to divert from the public scandal that continues to unfold.
The Vatican said that although the Beatles used drugs, led "dissolute" lives and even claimed that they were bigger than Jesus, these were all in the past – while their music lives on.
"It's true, they took drugs; swept up by their success, they lived dissolute and uninhibited lives," said L'Osservatore Romano. "They even said they were more famous than Jesus," the paper added, recalling a 1966 comment by John Lennon that outraged many Catholics and others.
"But listening to their songs, all of this seems distant and meaningless," the paper added. "Their beautiful melodies, which changed forever pop music and still give us emotions, live on like precious jewels."
L'Osservatore noted that the Beatles' songs have stood the test of time, adding that the band remains "the longest-lasting, most consistent and representative phenomenon in the history of pop music."
Giovanni Maria Vian, editor in chief of L'Osservatore, told the Associated Press he loves the Beatles.
He said that at the time of Lennon's sensational statement, the paper "commented that in reality it wasn't that scandalous, because the fascination with Jesus was so great that it attracted these news heroes of the time."
But critics say the real scandal is the Catholic Church's response to the sex-abuse crisis.
The Vatican may have forgiven the Beatles over the weekend for their "satanic" messages, but Ringo Starr, the band's legendary drummer, told CNN he couldn't care less.
"I think the Vatican, they've got more to talk about than the Beatles," he said.
Photo: John Lennon of the Beatles, center, apologizes for his widely publicized remark that "the Beatles are more popular than Jesus," at a Chicago news conference in 1966. At left is George Harrison, at right is Ringo Starr. (AP file photo)