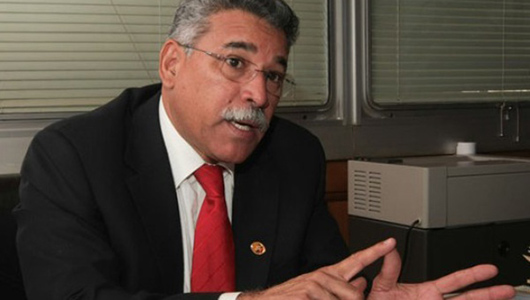 On Thursday, Feb. 12, the left wing government of Venezuelan President Nicolas Maduro announced that it had nipped in the bud a plan to carry out a coup d'etat with backing of unnamed political sectors in the United States. A number of mostly junior level active service and retired air force officers have been arrested for their part in the plot. Senior retired officers and civilian politicians are also implicated.
In the first half of 2014, opposition organizations carried out violent protests called "guarimbas" in upper and middle income communities in several cities. Forty-three people, most of them government supporters, security force members and bystanders, were killed.
The government has also been struggling with problems of inflation and the scarcity of some consumer items, part of which it blames on deliberate economic sabotage. It blames hoarding of consumer goods by businesses as well as smuggling operations which move scarce, price subsidized goods across the border into neighboring Colombia, as the causes. The government has been carrying out crackdowns on businesses engaged in these practices. However, the task has been made harder by the worldwide slump in the price of oil, caused by a glut on the market that began last summer. Venezuela is a major oil producing nation and uses oil sales to obtain dollars necessary to import goods not produced locally.
Evidently, the right wing opposition has decided to take advantage of this unfavorable situation to make a new push to remove Mr. Maduro and his United Socialist Party of Venezuela and its communist party and other allies from power.
So the right promised to renew the guarimbas after the space of one year. On Feb. 2, President Obama signed legislation passed by the U.S. Congress imposing sanctions on certain Venezuelan officials. The spurious motive for the sanctions vote was "violations of human rights" in the battle with the guarimbas, but most observers believe that the Venezuelan government exercised great restraint in the face of huge provocations. The mostly symbolic move of imposing sanctions contributes to the tension and to the portrayal of the Maduro government as being in the wrong in its conflicts with the right wing opposition. Corporate controlled U.S. media have piled on.
During the week of January 26, three former right wing presidents of Latin American countries, Andres Pastrana of Colombia, Sebastian Piñera of Chile and Felipe Calderon of Mexico. came to Venezuela to meet with the jailed right wing opposition leader Leopoldo Lopez, who is detained and facing trial because of his part in last year's violence. The Venezuelan government would not let them meet with Lopez.
The government complained that there were major efforts afoot, coordinated from the United States, to destabilize Venezuela. Maduro convoked meetings of UNASUR (Union of South American Nations) and CELAC (The Community of States of Latin America and the Caribbean, which includes all Western Hemisphere states except the United States and Canada) which unanimously denounced outside interference in Venezuela's internal affairs. Ernesto Samper, the Secretary General of UNASUR and former president of Colombia, has been delegated to speak to the Obama administration and urge no U.S. intervention in Venezuela. Venezuela is also exploring new trade relationships with China and other countries.
On Wednesday, Feb. 11, a trio of right-wing opposition leaders issued a statement calling for President Maduro's removal from power and replacement by a "transitional" government. These included Leopoldo Lopez, the scion of one of Venezuela's wealthiest families, metropolitan Caracas Mayor Atonio Ledezma and former parliamentarian Maria Corina Machado whose family is heavily invested in the "Polar" retail chain and the SIDOR steel company. Polar has had friction with the government, and SIDOR was nationalized by Hugo Chavez in 2008 in the context of labor disputes.
The statement strongly suggests that such a transitional government would back away from the Chavez-Maduro program of empowering the poor and working class and promoting Latin American independence from the United States. There is also a hint of prosecution of members of the present government.
On Thursday, Feb. 12, the Venezuelan government announced that it had nipped in the bud an armed coup attempt to be carried out by low ranking Air Force officers, several of whom, along with some civilians, were arrested.
According to the Speaker of the Venezuelan parliament, Diosdado Cabello, a Tucano jet plane, originating from outside the country but painted with Venezuelan insignia, was going to launch bombing or strafing attacks on targets in downtown Caracas, including the Miraflores presidential palace, the Ministries of Defense and Justice, the Supreme Court, the parliament building and the TELESUR TV network headquarters among others. Cabello pointed out that deaths of officials, including perhaps Maduro, and ordinary civilians would result from such attacks.
Cabello, Maduro and other leaders complained that there are signs of collusion by U.S. officials in the plot, because the U.S. Embassy in Caracas had provided visas for some of the officers to go to the United States in case the plot failed. State Department spokesperson Jen Psaki said such accusations are "ridiculous", but in fact there is precedent for them: In 2002, some of the same forces in Venezuela carried out a coup in which President Hugo Chavez was taken prisoner and only freed by a mass mobilization of his working class base. In that coup, U.S. involvement was blatant. In 2009, the left leaning president of Honduras, Manuel Zelaya, was overthrown by the military with the connivance of U.S. persons, and Zelaya's return to power was blocked by U.S. Secretary of State Hillary Clinton.
Photo: The Latin American Parliament President Angel Rodriguez denounces the recent coup attempt. | Telesur