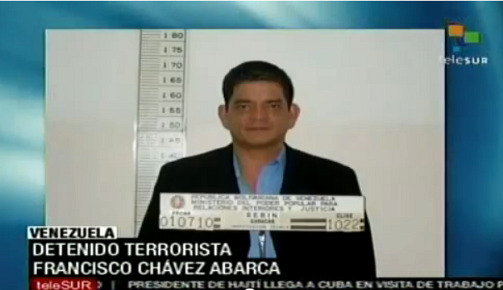 The Venezuelan government and news media have announced the arrest, and extradition to Cuba, of accused Salvadoran terrorist Francisco Chavez Abarca.
Chavez Abarca came into Venezuela with a false Guatemalan passport last week, but was detected and arrested by the Bolivarian Intelligence Service, Sebin. He was already wanted in Cuba for his part in a series of 1997 bombings of tourist sites, in one of which an Italian tourist was killed.
The Cuban and Venezuelan governments accuse Chavez Abarca of being the "right-hand man" of Luis Posada Carriles, a right-wing Cuban exile operative who now lives in the United States. Posada, a long-time CIA asset, is accused of organizing the bombing of a Cuban civilian airliner in 1976, an incident in which 73 people died.
Venezuelan government statements suggest that the entry of Chavez Abarca into Venezuela last week may have been related to some new "conspiratorial activity" perhaps directed at disrupting legislative elections in September. Chavez Abarca is accused of having recruited Rene Cruz Leon, another Salvadoran now imprisoned in Cuba, for the actual deed of setting the 1997 bombs, at the instigation of Posada.
The arrest was carried out with the help of Interpol, according to Cuban and Venezuelan sources.
Posada was arrested for the airplane bombing but managed to escape. After living for a while in Central America, where he hooked up with people like Chavez Abarca, a convicted car thief, Posada tried to enter the United States in 2005 but was caught in some lies to immigration authorities. The U.S. government indicted him on nine immigration charges, but the trial has dragged on because of various continuances and other maneuvers.
The Cuban and Venezuelan governments have demanded to no avail that the United States extradite Posada. The U.S. has refused to do this on the questionable grounds that he might be tortured if sent to either country. The reluctance of the U.S. to either extradite or indict Posada has led to accusations that he must know CIA secrets whose revelation would be highly embarrassing to the United States.
Venezuela's U.S.-based attorney in the Posada extradition case, Jose Pertierra, points out that Francisco Chavez Abarca is a big fish in the terrorism pond, and that his arrest and extradition may bring about the arrest of a number of his collaborators.
Photo: Telesur announces the capture of Francisco Chavez Abarca.