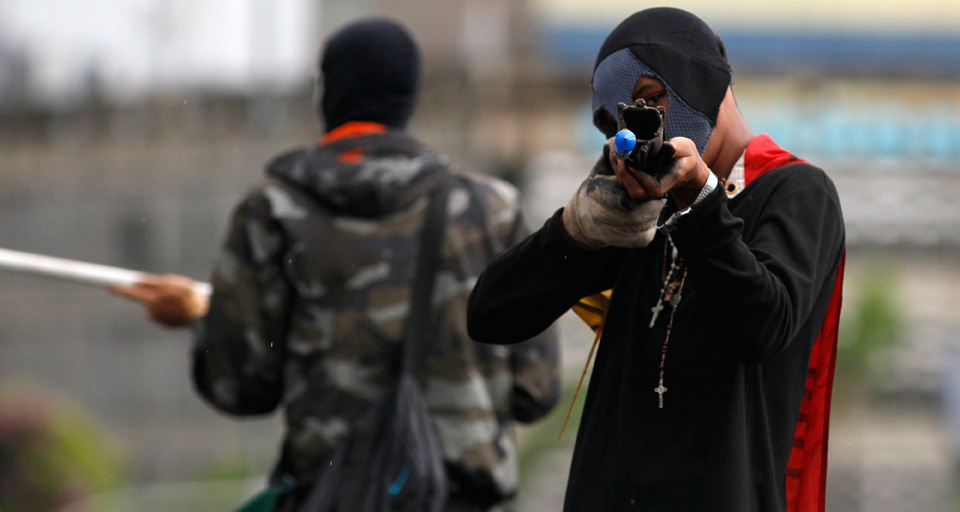 Venezuela's opposition played down the significance yesterday of an overnight helicopter-borne grenade attack on the Supreme Court building in Caracas, suggesting it could be a government hoax.
Opposition National Assembly president Julio Borges insisted that he and the rest of the opposition were still analyzing what had happened.
"There are people who say it was a government-staged hoax, others who say it was real," he said. "Whatever it was, it all points in the same direction – that the situation in Venezuela is unsustainable."
President Nicolás Maduro had no hesitation in calling the incident – in which a police helicopter fired 15 shots at a government building and dropped four grenades on the court – a terrorist attack. "It could have caused a tragedy with several dozen dead and injured," he said.
Just hours earlier, Maduro had warned the opposition not to pursue violent tactics and said he and his supporters would take up arms if any "undemocratic forces" try to overthrow his government.
Speaking at a rally in support of his call for a constituent assembly to rewrite Venezuela's constitution, Maduro declared, "If Venezuela was plunged into chaos and violence and the Bolivarian Revolution destroyed, we would go to combat. We would never give up, and what we failed to achieve with votes, we would do with weapons. We would liberate the fatherland with weapons."
Information Minister Ernesto Villegas said that the gun attack had been perpetrated against the Interior Ministry as a reception was taking place for 80 people celebrating national journalists' day.
It then flew a short distance to the court, which was in session, launching four Israeli-made grenades of Colombian origin, two of them against national guardsmen protecting the building.
The twin attack took place as the president was speaking live on state TV and as the Supreme Court was handing down a series of rulings against the opposition.
Among the rulings was one lifting National Assembly members' immunity from prosecution, leaving open the possibility of deputies being called to account in the courts for frequent comments that government supporters see as incitement to violence.
One of the grenades launched at the court failed to go off, helping avoid any loss of life.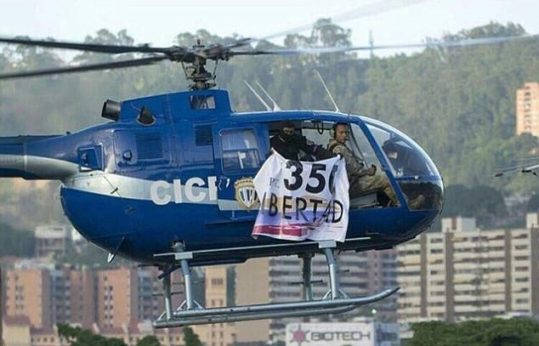 Pictures of a blue police helicopter carrying an anti-government banner appeared on social media at about the same time as a video in which movie-star-turned-police-pilot Oscar Pérez, claiming to be part of a coalition of renegade security force members, urged a popular uprising.
At press time, the authorities said that they were still searching for the man.
Opposition deputies were involved in clashes with police on Monday evening when at least 68 supermarkets, pharmacies, and liquor stores were looted and several government offices burned in the city of Maracay in Aragua state. Videos posted to social media showed at least a dozen stores being emptied by looters, and reports emerged that the local headquarters of the governing party, Maduro's United Socialist Party of Venezuela (PSUV) was burned down.
A number of countries issued swift condemnations of the helicopter attack, including Bolivia, Ecuador, Nicaragua, Guatemala, Cuba, Palestine, Turkey, and 17 countries from across Africa.
Nikki Haley, U.S. Ambassador to the United Nations, did not mention the attack in comments on Venezuela made the following day to the U.S. House Foreign Affairs Committee. Instead, she called for increased "pressure" on President Maduro.
This article features material from Morning Star, the Associated Press, and other soures.