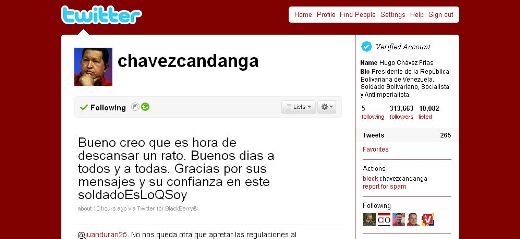 I've not joined the "Twitter Generation" because somewhere deep down my leftist ideology believes that Marx really would not want a believer to go along with the technology pushed by large corporations. I may have to change my thinking after the news this morning that Venezuelan President Hugo Chavez has "tweeted."
Twitter, for those of us who grew up before Generation X, is a micro blogging website where an individual can sent a message, no more than 140 characters, to cell phone users who sign on to the sender's account. The message is called a "tweet."
The president's first tweet, translated said, "Hey, how's it going? I appeared as I said, at midnight. I'm off to Brazil and I'm very happy to work for Venezuela. We will win!"
Chavez sent his first Tweet at midnight Wednesday, April 28. Just 22 hours later more than 79,000 persons had signed on the Chavez's account. Press reports on Thursday morning, April 29, stated that number had almost increased to 100,000.
President Barrack Obama has 3.7 million followers on his Tweeter account, so Comrade Chavez has a bit of catching up.
The second Tweet sent by Chavez read, "This has been an unexpected explosion. Thanks, I'm here with Evo. We will conquer." Chavez was hosting Bolivian President Evo Morales.
Both messages were brief and to the point. Not too bad for a guy known for giving some speeches which lasted several hours.
Under the Chavez administration, the Venezuelan government set up 668 "info-centers" to fight false information generated by opposition leaders or media. These centers offer free Internet service and computers to the population.
Chavez's twitter address is twitter.com/chavezcandanga for those interested. Something tells me that if it is good enough for Chavez it would be good enough for Marx.
"Candanga" is Venezuelan slang for people who are restless or tireless. It is also used to mean blunt and to the point.
Newspapers accounts in the U.S. however report "candanga" means devil or rabble rouser, another indication most U.S. media unfairly portray Chavez.
Until I decide to sign up I'll just have to visit www.venezuelanalysis.com to get Chavez's side of issues.
A life-long resident of Chicago's South Side, Tomás frequently clashes with co-workers over his support of Hugo Chavez and other progressive issues. He can be spotted at White Sox games wearing his Venezuela World Baseball Classic tee shirt.