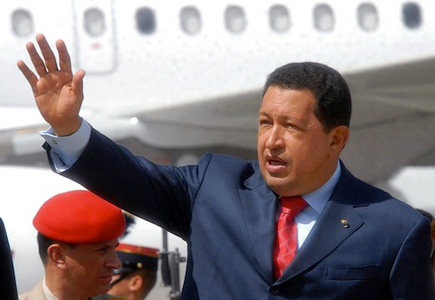 The right-wing opposition in Venezuela is claiming the country faces a constitutional crisis should it not be possible for President Hugo Chavez, re-elected by a margin of 55 to 44 percent in October, not be able to come back to Venezuela from Cuba by Jan. 10.
However, Chavez supporters and constitutional experts say this is not so.
Chavez flew to Havana, Cuba, on Dec. 11, 2012, to undergo a third operation for a cancerous growth in the hip region. After surgery, he came down with a respiratory infection, which has seriously delayed his recuperation. He is listed as being in stable condition, but to fly him back to Caracas for the swearing in ceremony Thursday is considered by his doctors as too risky.
Elements of the right-wing opposition immediately tried to use the situation to push Chavez out of power. They claimed that if the president can't be sworn in on Jan. 10, he is to be automatically considered incapacitated, in which case the head of the Venezuelan National Assembly would take temporary power until a new presidential election can be held within 30 days. Diosdado Cabello, a Chavez ally and a member of the president's United Socialist Party of Venezuela (PSUV), currently chairs the National Assembly, but the opposition is hoping that in a new election they can reverse the decision of Venezuelan voters in October.
It does not appear, however, that their reading of the Venezuelan Constitution is accurate. What it actually says that a power vacuum must be declared by a panel specified in the constitution; the vacuum does not occur simply because the January date is missed. Thus, the Jan. 10 date can be postponed if necessary.
In fact, according to constitutional expert Herman Escarrá, who is not a Chavez supporter, the current situation can be handled by declaring a "temporary absence" of the president, who can be sworn in later.
Just before he left for Cuba, Chavez asked his PSUV supporters that, should he die or not be able to resume the presidency and an election takes place, they support the candidacy of Vice President Nicolas Maduro. Maduro, a former bus driver and labor union activist, is close to Chavez's own worldview and is generally respected by all but the right wing, who disparage his working-class origin.
Chavez's PSUV and allies enjoy a large majority in the legislature. There seems to be no sign of destructive infighting in the PSUV leadership because of Chavez's situation.
Opposition figures nevertheless are calling for intervention to push Chavez out of the presidency if he is not back for the ceremony. They have unleashed a spate of rumors about Chavez's condition as well as misinformation of what the Venezuelan Constitution actually says.
Vice President Maduro accuses opposition figures of trying to whip up foreign support for the deposing of Chavez by writing misleading letters to foreign ambassadors, and by bidding for U.S. support.
(U.S. State Department spokesperson Victoria Nulland has so far commented by hinting that the Venezuelan government is keeping the truth about Chavez's condition from the Venezuelan people, which also echoes the opposition's line. In fact there have been almost daily bulletins in which the seriousness of the president's condition has not been minimized, though the exact location and type of cancer have not been specified).
The opposition has also asked the Organization of American States (OAS) to intervene.
The stakes in this situation are high not only for Venezuela but for the entire Latin American and Caribbean area. Venezuela under Chavez is the keystone of the "Bolivarian" project, which seeks to free the region of U.S. (ie military, right wing and corporate) domination by greatly increasing cooperation and solidarity among the individual countries.
Venezuela has taken the lead in creating the Bolivarian Alliance for Our America (ALBA) and the CELAC, a body that is bidding to replace the OAS.
Venezuela's immense oil wealth is an important part of this. Venezuela provides sharply discounted oil to poorer countries in the region including especially socialist Cuba. The Venezuelan opposition says that if it comes to power, it would cut off this aid.
Photo: Venezuelan President Hugo Chavez arrives in Guatemala in this 2008 photo. (Valter Campanato/AgenciaBrasil/CC)