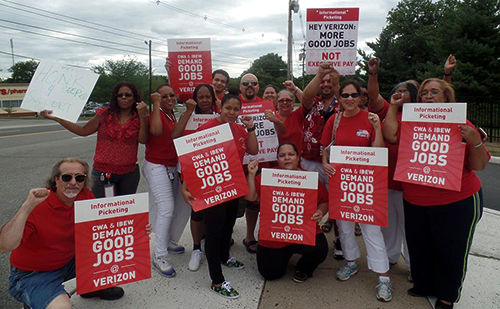 The Communications Workers and the Electrical Workers (IBEW) went into early September in continuing contract talks with Verizon – talks, IBEW said, that featured absolutely no change in the firm's wide-ranging giveback demands.
But the unions also took to the streets to show mass solidarity for their bargaining teams, with rallies all over the Northeast and mid-Atlantic states.
And they enlisted political support, from New York state lawmakers and the mayors of Salisbury, Md., and Yonkers, N.Y. In Albany, N.Y., CWA members demanded the New York Public Service Commission – which regulates telecom firms – get involved and pressure Verizon to bargain in good faith.
"We're fighting to maintain what we have and what we've earned over the past 60 years, both for our members and for our retirees to ensure livable wages and, of course, health care and fair retirement packages with a company that can easily afford all of this," said CWA Local 13101 President Jim Ryan of Wilmington, Del., during a rally there.
"A company that makes $12 million in profit per day can afford things like that," Ryan added. Verizon countered with full-page newspaper ads touting itself as a great place to work and not mentioning what it wants the workers to yield, or what it offers at the bargaining table.
The talks cover more than 40,000 Verizon workers up and down the East Coast. They're one of two big union negotiating sessions now going on with major well-known employers.
The other involves the Steelworkers facing off against U.S. Steel and ArcelorMittal. That contract expired at midnight, Sept.1. A recent rally at U.S. Steel facilities in Duluth, Minn., drew more than 2,000 people, as did a rally in Gary, Ind. (see story in Aug. 28 edition).
CWA District 1, which covers New England and much of the Northeast, and IBEW's New England Regional Committee led the Verizon bargaining and reported virtually no progress. The workers are toiling under terms of their expired contracts with the firm.
"Your bargaining team is working hard and is committed to finding ways to address both concerns of the company and needs of our members in this round of negotiations," IBEW said. Verizon "continues to have only one goal, givebacks. Their agenda continues to include retro-gressive demands across virtually every area of our contracts from job security to pensions to health care and work rules. The company has no interest in any of the union's issues.
"While the tone of the conversations was somewhat better than talks prior to expiration,
the company has not gotten off a single one of its concessionary demands," IBEW added.
Verizon is demanding elimination of job security, "thousands of dollars in increased health care costs to active workers and retirees," forcing workers to choose between a traditional pension that would be frozen after 30 years' service or a 401(k) account, and elimination of some disability leave, all family care leave and cost of living increases. Verizon also wants to increase contracting out, IBEW said.
"We know that working without a contract is challenging and that sacrifices have to be made. But at this time your bargaining team believes that we are pursuing the most effective available strategy," IBEW concluded.
CWA is also bargaining with AT&T and those talks are difficult, too. "The only reason this company is successful, the only reason it can buy DirectTV or companies in Mexico, is because the people here today break their backs every day to make this company successful," new CWA President Chris Shelton told a rally of more than 1,000 AT&T workers in Atlanta.
CWA noted that last year, AT&T earned $6.5 billion in profits and that it recently bought DirectTV, the satellite telecom provider, for $48.5 billion. AT&T's second-quarter revenues topped $33 billion, the union reported.
"You should be extremely proud of the mobilization and the solidarity that you show, not only by being here, but every day since bargaining started. That's what's going to get you a contract. We can do all the yelling we want. If management knows you're behind us, they're going to have to move, and they've already started moving, because they knew this rally would be a tremendous success," Shelton added.
"It seems AT&T is only interested in one-sided negotiations," said CWA Vice President Richard Honeycutt, whose District 3 covers the Southeast. "Our members have proven they are willing to do whatever it takes to secure the contract they deserve."
Photo: Activists from CWA Local 1000 rally to raise awareness about Verizon's corporate greed in Livingston, NJ.